More to Shotts L-D change story as Kilpatrick releases statement
With rare exceptions, pipe band leadership changes are less than amicable, try as parties might to create a solution that pleases all. The announcement from 2015 World Champions Shotts & Dykehead Caledonia had appointed Blair Brown as the band's leading-drummer, replacing 59-year-old and 29-year band leading-drummer Jim Kilpatrick was at first positioned as an agreeable move, but further details have emerged.
pipes|drums received a statement from both Shotts & Dykehead and Jim Kilpatrick and agreed to publish each verbatim.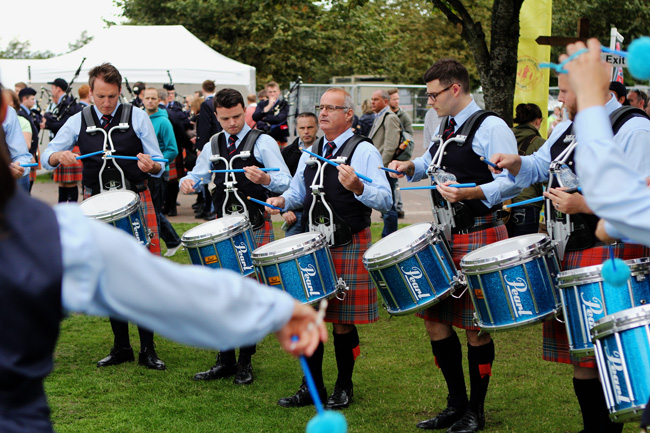 Kilpatrick contends that he did not agree to step down, and was actually forced from the position. Further, he says he has no plans right now to retire from competitive pipe band drumming, and that he has the support of the strong majority of the 2015 Shotts drum section, inferring that they might well follow him should he decide to play elsewhere.
pipes|drums was notified of the change by the band approximately an hour before the band went public itself with the news.
Shotts & Dykehead contends that Kilpatrick originally agreed to step down when the band decided that it was time, and in fact resigned.
The band said that the original decision to make a change was made together by Canning, Kilpatrick and Blair Brown to make a transition, with 2016 being the last season for Kilpatrick as L-D. Canning, Brown and Kilpatrick reportedly discussed and reconfirmed the 2016 succession plan again before the 2015 World Championships. Sources close to the band said Kilpatrick was asked to begin a transition to Brown over the course of the year, sharing some leadership responsibilities. Kilpatrick reportedly felt the approach, which would include Brown having a say in who would join and leave the corps, would hinder his power, and was unacceptable. Kilpatrick submitted his resignation on Sunday, October 11th, a day before the band communicated the move to pipes|drums and subsequently published its own announcement on the band's website.
"Upon his departure, Jim was very clear to [Shotts band manager] Ewan McAllister and myself that he would be putting out his own independent press release, rather than coordinating with the band's official press release, which was his own choice," Pipe-Major Ryan Canning said. "I can only reiterate the sentiment which the band has already shared, which is to thank Jim for his many years of service after a remarkable career with Shotts, and to wish him all the best."
Kilpatrick said that he learned that the band had officially made the move only after hearing from others who read the news on pipes|drums, which broke the story.
Shotts & Dykehead called a special meeting on the evening of Monday, October 12th, following the release of the news. The meeting was reportedly attended by . . .