Oban Day 2: Henderson wins both A-Grade events
Oban, Scotland – August 27, 2015 – The second day of solo piping competitions brought competitors outdoors to the Argyllshire Gathering Park on the outskirts of Oban for most of the light music events.
Alasdair Henderson repeated Craig Sutherland's feat of 2014 by wining both the A-Grade light music events, catapulting him into the Former Winners MSR competition in future years. Henderson barely missed a perfect day, second only to Fred Morrison in the Jig event. Morrison also won the Jig contest in 2014. In the A- and B-Grade events, there were short leets of six created for a final contest. The judging benches were swapped for the qualifying rounds and finals.
As is tradition, the previous day's winner of the Gold Medal, this year John-Angus Smith, led the march to games, starting from the train station and winding through the town.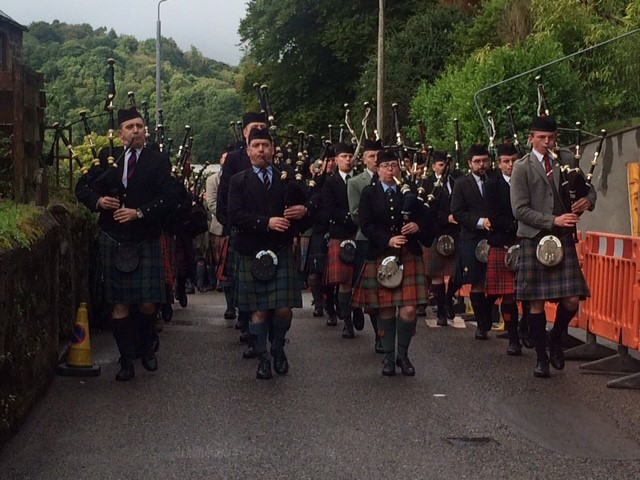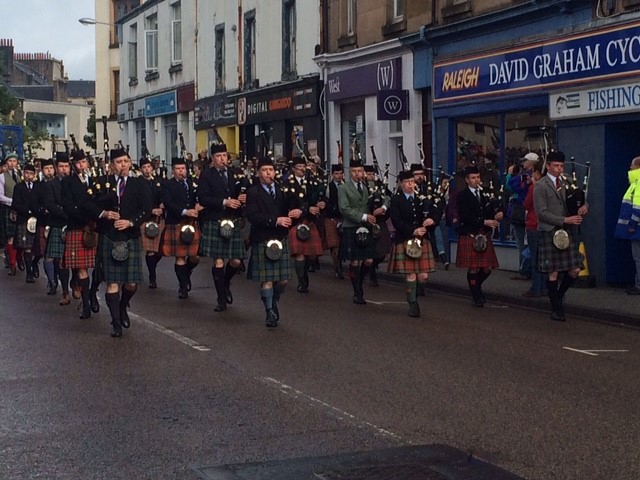 Weather was misty rain for the march to the park, and then heavy rain throughout the morning, giving way to warm sunshine with intermittent showers, making conditions trying, and not a little "demoralizing," according to one contestant, for the world's best exponents of the Highland bagpipe at one of the world's most important events for the instrument.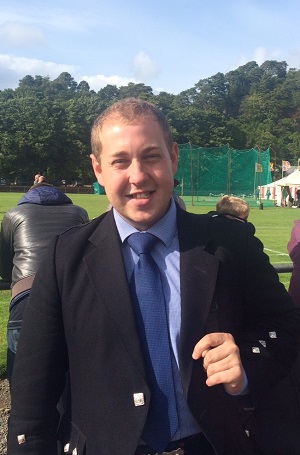 A-Grade (38 entered overall)
March (six in final round)
1st Alasdair Henderson, Dunoon, Scotland
2nd Calum Beaumont, Bo'ness, Scotland
3rd James P. Troy, Victoria, British Columbia, Canada
4th Innes Smith, Stirling, Scotland
5th Peter Hunt, Stevenston, Scotland
6th Euan MacCrimmon, Inverness, Scotland
Judges: Jimmy Banks, Bill Livingstone, Ronnie McShannon
Strathspey & Reel (six in final round)
1st Alasdair Henderson
2nd Iain Speirs, Edinburgh
3rd Mike Fitzhenry, Paisley, Scotland
4th Gordon McCready, Renfrew, Scotland
5th Sean McKeown, Toronto
6th James P. Troy
Judges: Barry Donaldson, Iain MacFadyen, Stuart Samson
B-Grade (35 entered)
March
1st Angus J. MacColl, Oban, Scotland
2nd Andrew Lee, Coquitlam, British Columbia, Canada
3rd Liam Kernaghan, Dunedin, New Zealand
4th Greig Wilson, Cardenden, Scotland
5th George Stewart, Perth, Scotland
Judges: Willie Morrison, Robert Wallace, John Wilson
Strathspey & Reel
1st Sarah Muir, Campbeltown, Scotland
2nd Ben Duncan, Edinburgh
3rd James MacHattie, Summerside, Prince Edward Island, Canada
4th Decker Forrest, Skye, Scotland
5th Liam Kernaghan
Judges: Andrew Frater, Iain MacLellan, Andrew Wright
Premier & A-Grade Jig
1st Fred Morrison, Bishopton, Scotland
2nd Alasdair Henderson
3rd Jenny Hazzard, Edinburgh
4th Sarah Muir
5th James MacHattie
Judges: Alan Forbes, Patricia Henderson, Bob Worrall