Paisley getting behind British Championships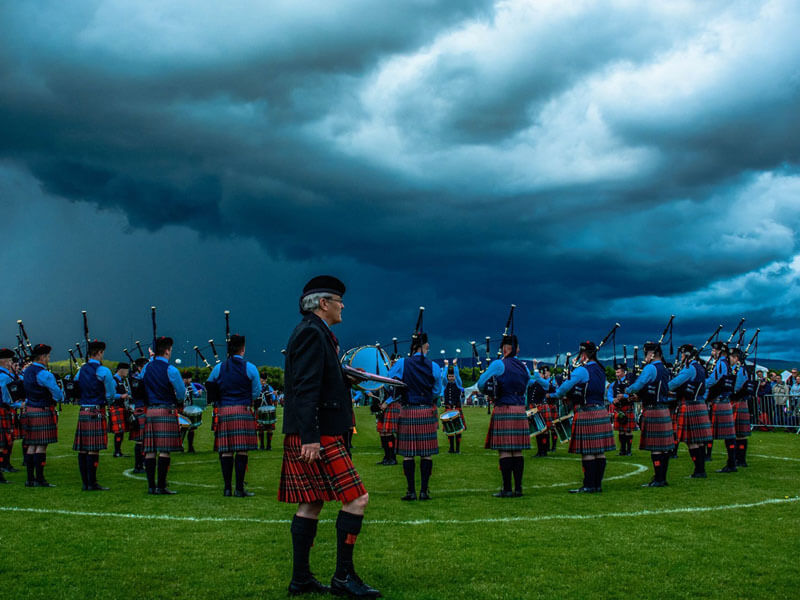 The town of Paisley, Scotland, just west of the city of Glasgow, will once again host the British Pipe Band Championships, the first major of the RSPBA season, this year on May 19th, and the municipality is getting behind the event with a marketing and communications push rarely seen outside of the pipe band colossus that is the World Championships.
Organizers with the local Renfrewshire Council are investing large funds in an attempt to maximize awareness of the event, including a broad public relations campaign with the mainstream media, and an advertising blitz that comprises full-page ads in major local newspapers.
The event anticipates more than 4,000 pipers and drummers taking over the St. James Playing Fields, within sight of jets leaving and landing from nearby Glasgow International Airport. Free shuttle buses will be provided for anyone who wants to attend the competition, which otherwise does not provide parking on the grounds.
It's the third straight year of the British being held at Paisley, and is contracted with the RSPBA for another three years, as the city makes a bid to be the official UK City of Culture in 2021. Organizers said that the 2017 British Championships attracted 12,000 visitors and injected nearly £300,000 into the local economy.
"We are delighted to be once again hosting this great event, and welcoming our friends at the RSPBA, and thousands of the world's best pipers back to Paisley," Renfrewshire's Provost Lorraine Cameron said in a statement to media. "Hosting major events like this is helps to build on Paisley's now-established reputation as a key destination on Scotland's events map."
RSPBA chief executive Ian Embelton commented, "Paisley offers a central location with excellent transport links to and from the town and event site – and hopefully next Saturday will see a big crowd come down to enjoy a day of top-class piping."
About 160 bands are entered for the first of the RSPBA's five major championships, including 15 in Grade 1 and 14 in Grade 2. The Grade 1 event calls for a medley, adding musical excitement to the contest as many of the world's best bands will unveil new selections.
Last year's British Championship was won by Inveraray & District, setting the stage for the band's most successful season in Grade 1, culminating with the band winning the 2017 World Championship.
+ Inveraray: 2017 British Champions