Parkes makes it a 2019 doctorate double with Ulster Uni accolade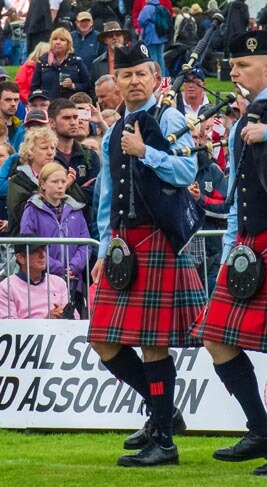 Field Marshal Montgomery Pipe-Major Richard Parkes will receive a second honorary doctorate, this time from his alma mater, Ulster University, in Belfast. The honour comes on the heels of an equivalent accolade from Queen's University Belfast, which he picked up in a ceremony on July 1.
According to Ulster University, Parkes is being recognized "for his contribution to music through his work with pipe bands both nationally and internationally."
He will receive his award at Ulster University's commencement ceremony on July 4. The university said, "Ulster University has a long tradition of awarding honorary degrees to individuals who have distinguished themselves in their chosen field – people who, through creativity, talent and determination have made a meaningful contribution to society."
"I am honored to receive an Honorary Doctorate from Ulster University, my alma mater," Parkes said. "I hope it will help bring further recognition to piping and drumming in Northern Ireland and the impact our musicians have worldwide."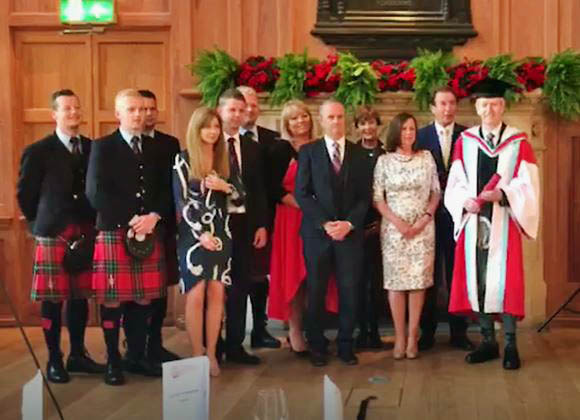 Parkes has served as pipe-major since 1981, when Field Marshal Montgomery was in Grade 2. The band entered Grade 1 in 1985 and won its firs World Championship in 1992.
Richard Parkes is the most successful pipe-major in Grade 1 history. As the leader of Field Marshal Montgomery, he has taken the band to 12 World Championship titles and 67 major championship wins, and the only pipe band in history to have won all five RSPBA championships in a year three times (1993, 2011 and 2013). The band under his direction has won the RSPBA Grade 1 Champion of Champions prize 14 times.
Even though he is in great demand as a teacher and judge and travels extensively, Parkes maintains his career in engineering and works for the Canadian company Bombardier Aerospace. He holds a Master of Science degree in Polymer Engineering from Ulster University.
In 2004, he was made a Member of the British Empire by Queen Elizabeth II in her annual Birthday Honours.
At the July 1 ceremony at Queen's University Belfast, Field Marshal Montgomery pipers Matt Wilson, Ryan Cupples-Menendez, Alan MacPherson, Alastair Donaghy and Glenn Ross played and attended along with members of Parkes's family, including his wife, Ruth, and his brother, long-time FMM lead-drummer Gordon.
pipes|drums published a three-part interview with Richard Parkes in 2007, exclusively for subscribers.

Richard Parkes: The pipes|drums Interview – Part 1
September 30, 2007

Richard Parkes: The pipes|drums Interview – Part 2
October 31, 2007

Richard Parkes: The pipes|drums Interview – Part 3
November 30, 2007
---
Related articles

Dr. Richard Parkes, as Queen's bestows honourary PhD on legendary pipe-major
March 23, 2019
---

2011 marks 30 years of Richard Parkes at the helm of FMM
July 31, 2011
---

Richard Parkes awarded MBE
June 30, 2004