pipes|drums Set Tunes Series 2017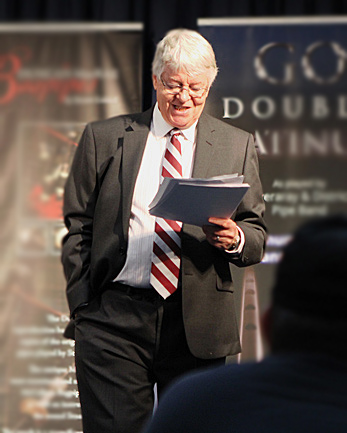 pipes|drums exclusive and groundbreaking Set Tunes Series of piobaireachds exhaustively analyzed by Dr. William Donaldson continues in 2017, adding the more than 160 pieces already in the project that began more than 15 years ago.
This year's feature will include not only ceol mor set by the Piobaireachd Society for the major competitions, but, because many tunes set this year have already been covered, Donaldson will examine a few obscure piobaireachds.
+ Set Tunes '17 a Silver salute to MacLeod
The 2017 series will comprise:
"The Battle of Glenshiel"
"The Battle of the Bridge of Perth
"The Carles with the Breeks"
"The Company's Lament"
"Drizzle on the Stone"
"The Half-Finished Piobaireachd"
"The Laird of Contullich's Lament"
"The MacDougalls' Gathering"
"Salute to Sir James MacDonald of the Isles"
"You will note that these are not actually in the Piobaireachd Society's list of Set Tunes; nor have they been set in the recent past," Donaldson said. "But if we were to stick to what the Society gives out from year to year, our progress would be slow indeed, because in this last two or three years, we have already covered nearly everything they stipulate."
In one case, "Drizzle on the Stone" is not in the Piobaireachd Society's Collection.
"'Drizzle on the Stone' is an interesting piece, with an interesting history, " Donaldson continued. "It was the tune John Grant used in the Edinburgh Castle pipe-major's course he ran immediately after World War I, when Lord Lovat hired him to replace John MacDonald, Inverness, who, by that time, had a permanent alternative job (the Castle was always part-time, even in Willie Ross's days), and Lovat didn't tell anybody else he'd done it. There was the most tremendous dust-up and echoes of it reached me on the edge of Birkhall Forest sitting in Bob Nicol's cottage half a century later. But it's a nice tune, though."
William Donaldson was a pupil of Robert Nicol – half of the famous "Bobs of Balmoral' – for nine years. His book, The Highland Pipe and Scottish Society, is considered a seminal work on the art. Donaldson is a lecturer in the Literature department at the Massachusetts Institute of Technology in Cambridge, Massachusetts.
Here's a brief interview with William Donaldson . . .