Reay Sutherland Mackay – a tribute
By Michael Grey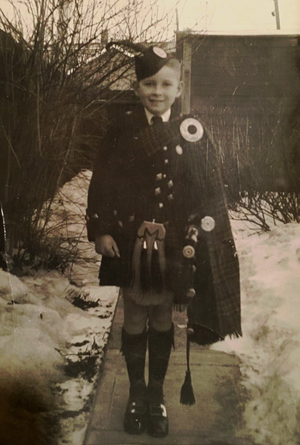 Reay Sutherland Mackay was a great man. A family man first and a music man a close second, Reay was one of those rare people imbued with an aura of authentic sincerity. The follow-up questions he'd always ask when we'd meet, that after, "How're you doing?" were, "How's your mum?" "How's the family?" It's funny when reflecting on a person's life – and the impression they left with you – that it's the little things that stick. Reay gave much of himself and his gifts to the world but among it all it's his thoughtful and appealing curiosity that I will remember right alongside his music.
He was interested in people, in things past, in things present. He was seriously great company. He loved a dram. He loved music as much as anything. As a teenager in his band, the Pipes & Drums of the 48th Highlanders of Canada, I remember waiting many – oh, so many – times after practice, to the small hours of the morning, for Reay, George Walker, Jimmy Cooperwhite, Stan Robertson, Darby McCarroll, Sandy Dewer – and others – to wrap it up so I could mooch my ride home to Rexdale. There was Reay, Pipe-Major of the band, and at the centre of the conversation, debating with the others topics like the merits of Muirhead's march phrasing ("superior," thought Reay) or how best to shave a McAllister reed. All this in the backdrop of a Bobby MacLeod or John Ellis record blaring away, with drams "nursed" in that old Moss Park Armouries basement pipe band bar. It's restraint beyond doubt to say his passing is a great loss: to his family, to his friends but also, to piping. In his piping, in his deep experience, Reay was one of our most important tradition bearers. This cannot be underscored enough.
Reay was born in Toronto in 1939 to Colin and Mary (Spence) Mackay. Both his parents were Scottish immigrants, both from the far northern islands of Orkney: his father from Hoy and his mother hailing from Brodgar, Orkney. I knew both his parents a little. I will never forget his mum, Mary. One summer I and some piper pals from the 48th, painted the Mackay summer cottage on Lake Couchiching north of Toronto – a painting-for-piping-lessons deal. Mary was there and in full control. She could never get over the fact I wouldn't eat an egg. I think it was her secret mission to get one in me. She was a happy, droll, ruddy-faced, compact, dynamo of woman. Reay took after her in many ways.
Reay was a school teacher by profession but, like so many, a piper by avocation. He was a childhood prodigy. He was taught first by his father and later by Murdo MacLeod of Benbecula, a pupil of John MacDougall Gillies. On John Wilson's arrival to Ontario in 1949, Reay would be among the Edinburgh maestro's first Canadian students. Reay stormed the vibrant Ontario piping scene and by 1953 – at the age of 13 – was ready for his first professional solo piping contest: the Toronto Indoor Games. Against the greats of the day, including his teacher the legendary John Wilson and Detroit's George Duncan he won the march ("Miss Elspeth Campbell") and the strathspey and reel events ("Shepherd's Crook" / "The Little Cascade"). In fact, unbelievably, there are recordings in the hands of the family of these historic performances. At 13, Reay the solo piper was off-and-running.
In his solo piping Reay experienced unprecedented success. He won all the prizes of his time (as a remarkably young person), including the North American Championship, Maxville, many times over. In part, perhaps, to having great success so early, Reay stepped away from solo piping in his late twenties. His young family called on more attention, his band, the 48th Highlanders, was one of the busiest in the city of Toronto, and Reay, the ever-inquisitive musician, found himself drawn to the box: by the 1970s, Reay had become an accordion aficionado – and, as one might expect, one that could really do the business. He featured regularly in Bobby Brown's Dance Band, the foremost combo of the time, and was on-call for dance band work everywhere. In the Toronto of thirty or forty years ago – this amounted to a lot of good gigs.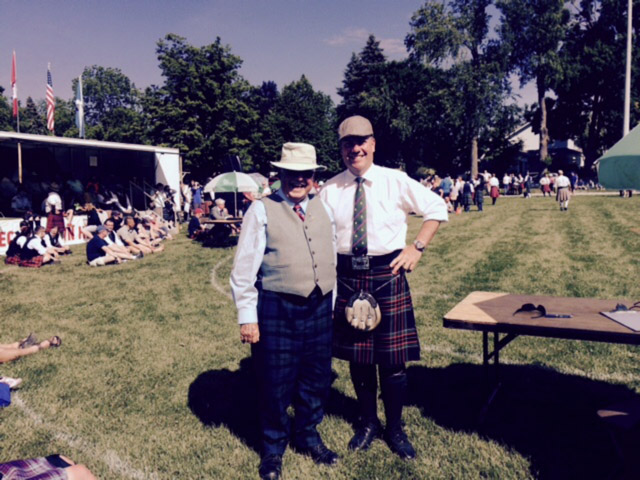 With the backdrop of this intense musical and family life at play Reay was still an active member of the Canadian Armed Forces. He was "on strength" in the Canadian militia (the UK Army Reserve) and rose to the rank of Chief Warrant Officer. His father, Colin, and Uncle Douglas Mackay, were both members of the 48th pipe band and so he surely honoured them in his achievement of becoming Pipe-major (1975-1985). Reay was to lead the band to great success, including great results around the Ontario grade one competitive circuit – this despite the chronic military band challenge: uncompetitive drumming.
Soon after the 48th Reay found opportunities in the civilian world of pipe bands. Not so long after his time in the 48th Reay would take the helm of the Toronto Police Pipe Band's competitive band and lead the team to a victory in the 1986 grade two Cowal Championship.
My favourite hornpipe, and a tune among all my favourites, is Reay's, "Colin Mackay," a tune he wrote when he was just 13. Reay was a superb composer of music. I recently had the privilege to proof material from two of Reay's planned music books – books I know will be published before too long. The exercise confirmed what I know: the man knew how to build really fine tunes.
But back to Reay the tradition-bearer: Reay lived a life that was witness to the better part of the 20th century's great piping events and, as importantly, the culture that supported these events. It was only a few weeks ago that I talked to Reay about such things. He told me a great story, here it is, verbatim: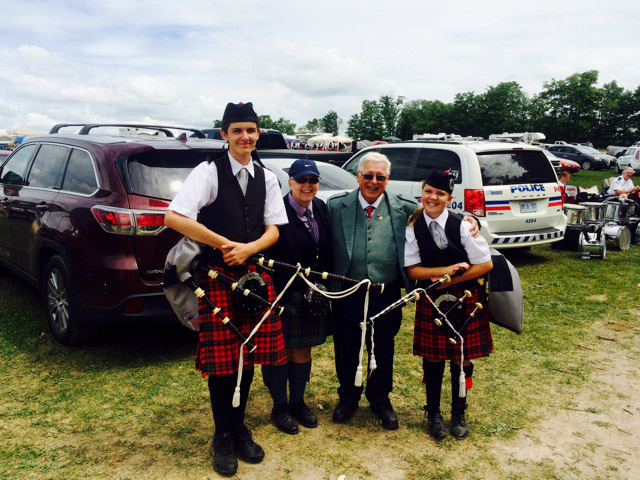 "I remember my two uncles – Uncle Tom and Uncle Jock [Mackay] – they lived on Whitmore Avenue in Toronto and right next to my Uncle Tommy was Murdo MacLeod and right next to him was Allan MacLean – you see Murdo MacLeod and Allan MacLean were both from Lewis . . . at one time, Michael, there were four different Murdo MacLeods in Toronto. The fellow that lived next to my Uncle was Big Murdo, and the other Murdo who lived in the east end was Little Black Murdo, and then the Murdo from Benbecula was Murdo a Phiobair – and what the hell was the other Murdo – yes – Red Murdo. And oh they all love pipes."
Thank you, Reay and God bless you. You surely had a kindred spirit with the four Murdos.
Our sincerest condolences to Reay's wife, Joan and family, Sheila (Michael), Glenna (Alasdair) and grand-children, Katryna, Colin and Kayleigh.
Dileas gu brath.
Michael Grey was a pupil of Reay Mackay for many years when they each were in the Pipes & Drums of the 48th Highlanders of Canada.