RSPBA judges to hold confabs at Belfast and Forres
As pipes|drums reported as long ago as April 2015, the RSPBA will finally implement a "Consultative Pilot Scheme" for adjudicators, rolling out the program at the 2016 UK Championships at Belfast on June 11th and the European  Championships at Forres, Scotland, on June 25th.
Judges will have an "option to confer" between each performance, underscoring that discussions would be "minimal and will allow each adjudicator the option to clarify any pertinent issues that may crop up during the contest" specifically about the details and anomalies of the performance, "without specific reference to adjudicators individual placings."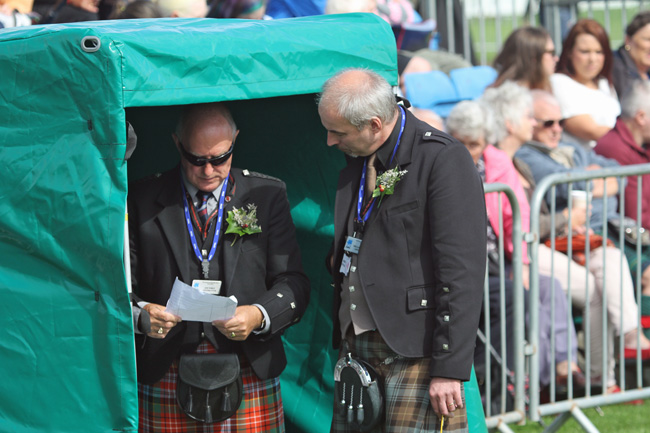 Following the entirety of the event and after each judge has handed in his/her result to the administrators, a "consultation" will be permitted in which all four judges will leave the competing arena, with an RSPBA Director chairing the discussion.
The organization has highlighted the need in the post-contest consultation section to highlight "placings radically out of sync with each other" with the primary goal to be "educational."
A new third copy of the scoresheet will be used by judges "to check that the written comments and critique justify the place awarded. In the event of an anomaly the adjudicators involved should refer to the 3rd copy as a reference, with written content, terminology and vocabulary being shared within the group."
The organization cited an underlying objective of stimulating "a process of self-monitoring allowing continuous improvement and personal professional development."
The RSPBA for several years in the early 1990s allowed consultative judging, but abandoned the system due to allegations and reported complaints that some judges were exerting undue influence – or bullying – their colleagues into changing their placings. The RSPBA has endured criticism for especially piping judges' rankings within events being significantly out of step with one another.
As recently as the British Championships on May 21st, events have had spreads of as many as 10 placings between the piping adjudicators, sunch as the Grade 2 event with 18 in the event. Such spreads leave competing bands wondering which judge was correct, and then inevitably convincing themselves that the one who gave them the higher mark was right.
Throughout its history the RSPBA has prohibited adjudicators from saying anything to each other during a competition, until all results have been handed in to officials.
The Pipers & Pipe Band Society of Ontario implemented consultative judging of bands for almost a decade until its members who attended the organization's annual general meeting in 2013 voted to eliminate the practice.
Solo piping competitions with more than one judge have traditionally allowed and encouraged adjuidicators to discuss the performances after the event, and ultimately come up with with a mutually agreeable result.