Seasoning dispute could get messy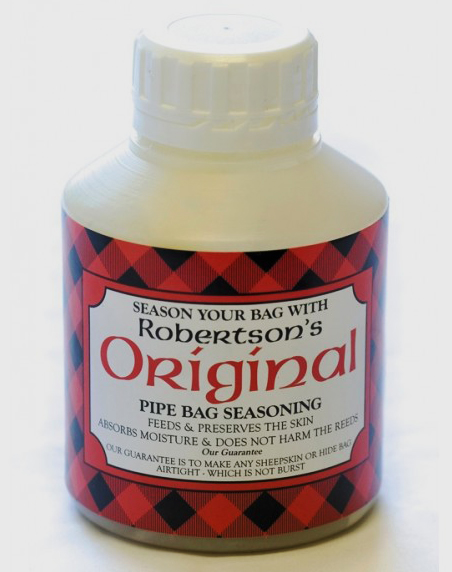 marketing and endorsements, with famous ads of Dysart & Dundonald Pipe-Major Bob Shepherd providing testimonials. Interestingly, Shepherd would go on to start his own bagpipe making business, as would another Kintail employee, Kenny MacLeod, now the owner and proprietor of McCallum Bagpipes.
Hardie and Weatherston had purportedly made a deal with Sharp, which included the recipe for Airtight, but there is no known publicly documented evidence to support this. The hand-written list of ingredients – the bagpipe industry's equivalent to the food industry's recipe for Coke, or the seven secret herbs and spices that the Colonel puts into Kentucky Fried Chicken, or the MacKinnon family's recipe for Drambuie – were allegedly given to Sharp.
But apparently no formal deal was signed, and days after a verbal agreement was allegedly made, Weatherston got cold feet, rescinded the offer, and decided that he would continue the business.
But Sharp had the recipe for Airtight, which apparently has never been patented. As long as someone knew the ingredients, they were free to make an equivalent product if they wanted to, but, the piping world being small, the Kintail company elected to keep making and selling its own brand of seasoning.
Eventually, R.G. Hardie & Weatherston was sold to the Band Room, a Glasgow-based company started by the famous leading-drummer Joe Noble, who subsequently gave up the company to one of the organization's directors, along with the Airtight recipe, which was still in production even in the wake of a massive move to synthetic pipe bags, which of course do not need seasoning. At that time, the trend towards synthetic pipe bags was in full swing, and the demand for seasoning had declined to the point when some questioned whether there would be a market again for pipe bags of sheepskin or hide.
"In 1983, [Hardie and Weatherston] looked to sell R.G. Hardie to Greig Sharp at Kintail, offered the recipe as a deal clincher, but [Weatherston] decided not to sell his share, but that as the recipe was given in good faith, Grieg could keep it," Ogilvie said. "He swore he wouldn't make it while Hardie was in business. And when the Band Room shut down, he started producing it again."
The Band Room indeed went under and the R.G. Hardie assets were eventually sold to the incorporated R.G. Hardie & Co. Ltd., and now the Airtight recipe was back with them, and they also claimed rights to the intellectual property.
And for the first time in the company's history, the names R.G Hardie & Co., Peter Henderson and Airtight Seasoning were registered as trademarks.
According to Ogilvie, the verbal agreement between R.G. Hardie & Weatherston and Greig Sharp said that the recipe for Airtight would not be used as long as R.G. Hardie & Weatherston existed. But during the years when the company was not in name operational, Sharp started to make a product that he named "Robertson's Airtight" – a product similar to the Airtight made by R.G. Hardie & Weatherston.
Greig Sharp died in 2009, and by the late 2000s, the pipe bag market began to move back to natural products, with sheepskin seen by many as producing a better sound. So the demand for seasoning correspondingly rebounded.
The Sharp company continued to make products that used the various names associated with the Hardie company, which did not sit well.
"There has followed years of correspondence between R.G. Hardie & Co. Ltd. and initially Mr. Sharp and later his family who now own these companies to try and obtain agreement to stop either using or holding our trademarks," Dunn continued in his statement. "We were awarded costs against Peter Henderson (Bagpipes) Ltd., but to enforce the debt and force liquidation would have cost thousands. We sought to buy the company name but have been constantly rebuffed and providing it does not trade we can do nothing. I would ask why [are] our trademarks represented by the above limited companies and held by another."
According to Ogilvie, Weatherston used to prepare the ingredients for Airtight himself and then had the staff mix it. But he said when the recipe was purchased by Paul McComish in 2002, McComish allegedly shared the secret ingredients with his staff.
Dunn said that it was Bob Hardie who guarded the recipe and the mix and then passed it carefully and in confidence to Duncan Campbell, an employee who worked with the firm for 49 years, retiring in 2011.
Ogilvie maintains that a "gentlemen's agreement" was struck . . .