Seasoning dispute could get messy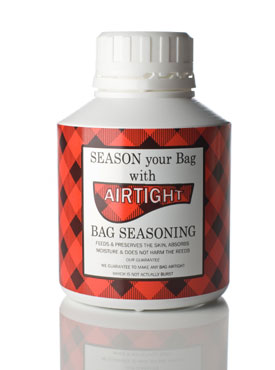 There are relatively few truly iconic brand identities in the business of Highland piping, but few would dispute that the red-and-black tartan container that has held R.G. Hardie's Airtight Seasoning, as well as the distinct odoriferous smell of the creamy viscous stuff itself, is one of the most identifiable products on the market – that's clear.
Clear as mud.
David Ogilvie, who has been a piper with various bands since the 1990s, including posts as pipe-major of two now defunct Grade 2 bands, Barron of Lee and Chivas Regal, is currently marketing a seasoning product that is remarkably similar to Airtight Seasoning, both in terms of ingredients and branding. He recently purchased the product from Sharp & Co., which in many ways is where the plot becomes as thick as the seasoning itself.
Ogilvie's seasoning is called "Robertson's Original" – a product he said Sharp & Co. has made and sold since 2006.
"Airtight" is a brand name owned by R.G. Hardie & Co., which is in turn owned by Gaelic Themes, a company that acquired Hardie and all of its assets in the 2000s, after Hardie had been owned by The Band Room, which itself had gone through a few ownership changes.
"It was not common practice in the 1960s and '70s for companies to trademark or copyright and 'Airtight,' R.G. Hardie, Robertsons were never registered, but ownership was in the public domain and has never been disputed," said Alastair Dunn, managing director of R.G. Hardie & Co. Ltd., in an exclusive statement to pipes|drums.
A nephew of John Weatherston, who was a partner in the Hardie business, Ogilvie has been marketing his product via social media, complete . . .