Six non-piping-related bids for Skye estate, but MacCrimmon Cairn is safe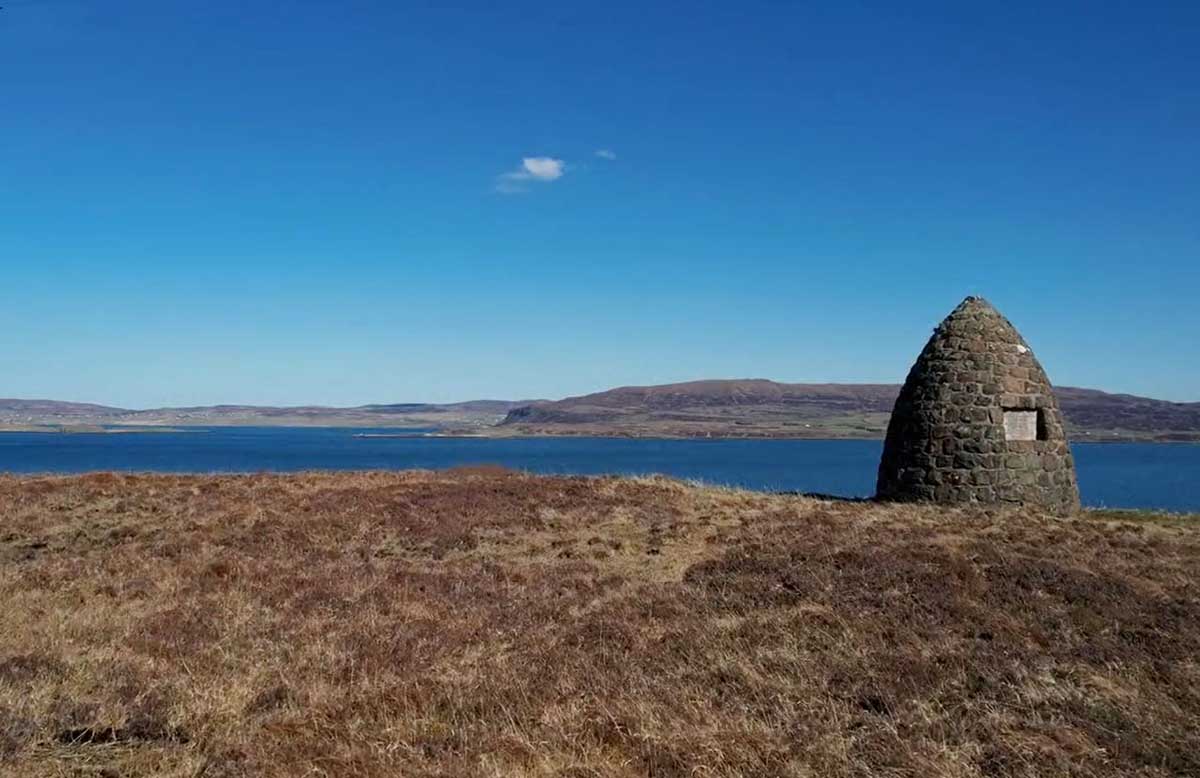 None of the bids for the 2,500-acre Husabost Estate on the Isle of Skye submitted at the June 29th closing date are connected with piping, but there's no threat to the hallowed MacCrimmon Cairn at Borreraig, which is part of the property.
Skye resident and Highland Society of London Gold Medallist Euan MacCrimmon has worked on the deal in his role as director for the real estate agency managing the transaction. He reported that six bids over the asking price of £1.325-million were received and that the estate is now officially under offer. The respective lawyers for buyer and seller will work to agree on the sale contract, and the sale is expected to be completed in the next two months.
Reportedly, there was not a bid from a coalition led by piping impresario Eric Stein, who had considered pulling together interested parties to invest an estimated £2.5-million to purchase the Husabost Estate and renovate the derelict laird's house, so that the 2,500-acre property could come under the ownership of pipers for pipers with a vision to develop a school of piping at the Victorian era house.
The Florida-based Stein made inquiries about purchasing the estate, which includes 22 active tenanted farming crofts.
But Stein said that, while his group did not submit a bid, "We have raised sufficient funds to purchase and renovate. Plan B us to approach the winning bidder to see if we can buy or lease a portion. Plan C we are looking at alternative sites. We are still looking for serious investors."
There is no threat to the cairn, as it is protected. The monument as a tribute to the legendary MacCrimmon dynasty of pipers who taught and composed piobaireachd for some 300 years around the site.
Every year, particularly when the often wild Skye weather is decent, pipers and piping enthusiasts make the long pilgrimage to Borreraig, often to play a MacCrimmon-authored tune at the site.
The translated Gaelic inscription on the cairn reads, "The Memorial Cairn of the MacCrimmons of whom ten generations were the hereditary pipers of MacLeod and who were renowned as composers, performers and instructors of the classical music of the bagpipe. Near to this place stood the MacCrimmons' School of Music, 1500-1800."
MacCrimmon said that he believes the winning bid party will run the estate in the right way and upgrade the house with not many more changes.
The cairn was gifted to the College of Piping in 1958 by General I.S. Martin for fee of 1 penny and a piobaireachd to be played at the site annually. The "penny and a piobaireachd" ceremony was conducted each year but reportedly lapsed from 2020 on.