Stalwart Henderson retires after 34 years with ScottishPower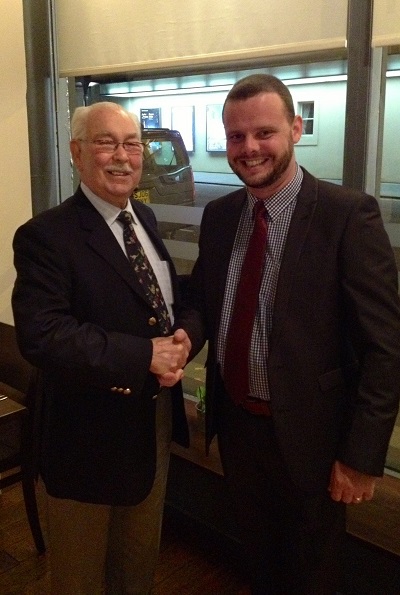 These days a stint of five years with a band might be considered veteran commitment, but compared with retiring ScottishPower Pipe Band secretary Jack Henderson, five years are only just a brief beginning.
Henderson, 83, is stepping down from the organization after 34 consecutive years with the band under various names since 1981, starting as British Caledonian Airways in, then Power of Scotland, and now as ScottishPower.
Henderson announced his retirement at the band's recent annual general meeting and was celebrated for his contributions at the band's annual dinner. His affiliation with the organization actually started in 1947 when he joined the Grade 1 Renfrew Pipe Band as a piper at the age of 15. Renfrew was the band that changed its name in the 1970s to British Caledonian Airways when it landed a major sponsorship deal.
Henderson reluctantly became band secretary in 1989 after then pipe-major Harry McNulty persuaded him to accept an interim role.
Apart from brief stints with the now defunct Red Hackle Pipe Band and a hiatus from bands in the 1960s, Henderson's legacy affiliation with ScottishPower amounts to the better part of 68 years.
In addition to McNulty, Henderson has worked with several of history's greatest pipe-majors, including Roddy MacLeod, Donald Mackay and, currently, Chris Armstrong.
"I would like to personally thank Jack for his many years commitment to the band, as a player and then as secretary," Armstrong said. "This was not only for all the hard work shown during his tenure but under all previous pipe-majors. Having a keen, competent and enthusiastic secretary like Jack took away a great deal of pressure from the administrative side of the band, which was a fantastic help. Everyone involved with the band would like to take this opportunity to thank Jack once again for all his many years of dedication and hard work that he did behind the scenes to ensure the smooth running of the band. Thank you!"
Taking the secretary (better known as "band manager" to those outside of the UK) spot with ScottishPower is Drum-Major Billy Jordan.