Steven McWhirter: 2016 World Solo Drumming Champion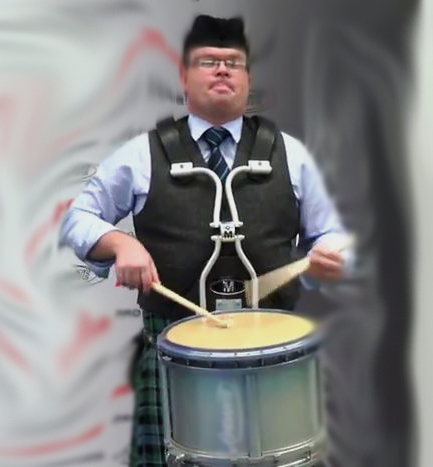 Glasgow – October 22, 2016 – Steven McWhirter was the winner of the 2016 World Solo Drumming Championship, held at Glasgow Caledonian University. It was his sixth straight win of the award and seventh overall in his career. At his relatively young age, the victory puts McWhirter within realistic striking distance of the all-time record of 16 World Solo Drumming Championship wins held by Jim Kilpatrick. McWhirter was accompanied by Field Marshal Montgomery piper Matt Wilson.
There were the usual multiple heats and sections, with 53 contestants total in the first round, narrowed to 33 in a two sections of a semi-final that included 15 added who had pre-qualified from last year's final and other RSPBA events, with ultimately 12 playing in a two-event final using the same order of play.
McWhirter gained the win with two first-place rankings from the six judges. In an extraordinary disparity between judges in the MSR, William Glenholmes was awarded two firsts and an eleventh from Gordon Craig, Paul Turner and Alex Dudgeon, respectively. And in the Hornpipe & Jig, Grant Cassidy was first, sixth and eleventh from, respectively, Jim Baxter, David Brown and Greg Dinsdale.
The contest was streamed via YouTube Live, and gained a maximum audience of about 560 when McWhirter was the last to play in the MSR event at 6:30 pm.
Adult
Overall
1st Steven McWhirter, Glasgow, Inveraray & District
2nd Michael McKenna, Dublin, St. Laurence O'Toole
3rd Jake Jørgensen, Edinburgh, ScottishPower
4th Stephen Creighton, Dublin, St. Laurence O'Toole
5th Blair Brown, Portland, Oregon, St. Thomas Alumni
6th William Glenholmes, Northern Ireland, Vale of Atholl
7th Grant Cassidy, St. Laurence O'Toole
8th Derek Cooper, Inveraray & District
9th Andrew Lawson, Shotts & Dykehead Caledonia
10th Christopher McNicholl, Inveraray & District
11th Craig Lawrie, Lomond & Clyde
12th John Henderson, Inveraray & District
MSR
1st Steven McWhirter (2,1,3)
2nd Michael McKenna (6,3,2)
3rd Jake Jørgensen (4,2,6)
4th William Glenholmes (1,11,1)
5th Stephen Creighton (5,4,7)
6th Blair Brown (3,8,8)
7th Grant Cassidy (9,6,4)
8th Derek Cooper (8,10,5)
9th Andrew Lawson (11,5,9)
10th Christopher McNicholl (7,9,12)
11th Craig Lawrie (12,7,10)
12th John Henderson (10,12,11)
Judges: Gordon Craig, Alex Dudgeon, Paul Turner
Hornpipe & Jig
1st Steven McWhirter (2,1,3)
2nd Blair Brown (5,2,2)
3rd Michael McKenna (6,3,1)
4th Stephen Creighton (3,4,5)
5th Jake Jørgensen (4,5,6)
6th Grant Cassidy (1,6,11)
7th Andrew Lawson (9,7,7)
8th Derek Cooper (11,10,4)
9th Christopher McNicholl (10,8,8)
10th Craig Lawrie (8,9,9)
11th William Glenholmes (7,11,10)
12th John Henderson (12,12,12)
Judges: Jim Baxter, David Brown, Greg Dinsdale