TARRAN – traditional music in Scotland is in great hands
Emerging Talent – TARRAN
National Piping Centre Street Café
12 pm, August 16, 2023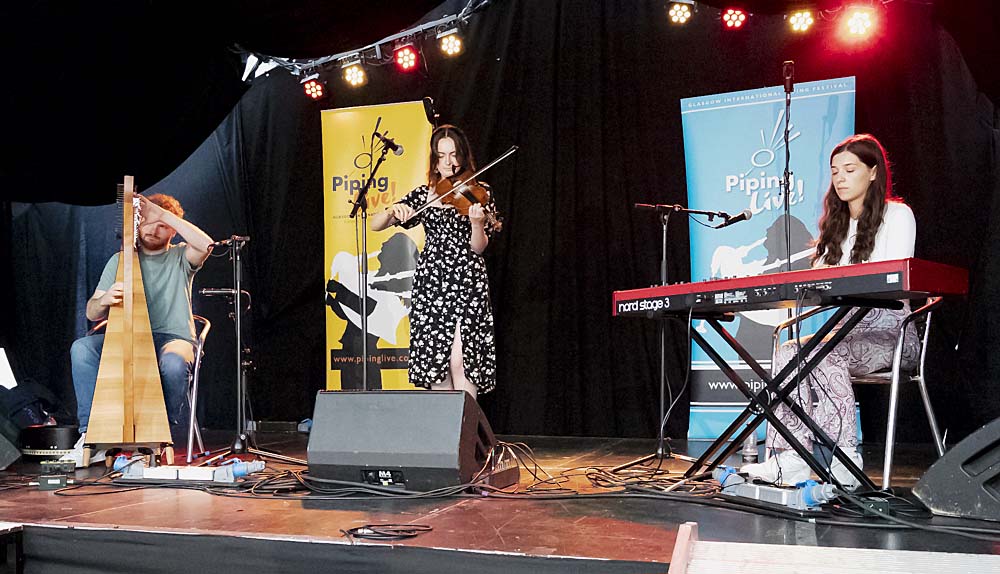 TARRAN was the latest in the Piping Live! "Emerging Talent" series, and they arrived with some buzz remaining from winning the Battle of the Bands event at Glasgow's 2023 Celtic Connections Festival.
They appeared today as a trio rather than the usual quartet, missing member Rory Stark on whistles. Still, the other three members held the stage in fine style, Malachy Arnold playing harp, and bodhran and making excellent use of a bass foot pedal. He supported Breanna Wilson on fiddle, who carried much of the main melody, and it was all held in place by Sophie Joint on keyboards.
It's always interesting to see the ways instruments are used to support each other, and I was really interested in the harp in this context, which sometimes carried the melody, sometimes highlighted it, and other times added rhythmic flavour. The use of the bass pedal added some great drive.
Many of the tunes were composed by the band members, and they have a unique sound that is sometimes set by the slightly minor, jazzy builds on keyboards, and at times driving forward with clearly articulated fiddle and harp melody. It was an enjoyable set, highlighted by a great set from Shetland, an air "Fridays in Morningside" written about using music as therapy for care home residents, and a lovely tune written by fiddler Breanna for keyboard player Sophie. The Irish traditional "Mother's Delight" saw harpist Malachy break out the bodhran, and he has a fine way with that also.
Once again, Piping Live! highlights the strength of traditional music programs. All three of these amazing young musicians are alumni of the Royal Conservatoire of Scotland, BMus Traditional Music program.
The future of traditional music in Scotland is in great hands.
– Contributed by Iain MacDonald, Regina