The Style Guy: sartorial suggestions for your situation
It's been awhile, and The Style Guy's been saving up your questions on piping and drumming dress, your conundrums on kilts, your confusions on caps.
Let's see what the mailbag holds . . .
Hey, Style Guy:
You've often talked about your desire for pipe bands to be original, to add a little flash to their flashes, to sporadically spot their sporrans, of even to tie-dye their ties. Is that happening? Are you seeing a trend towards the creative?
Signed,
Tommy Gofigure
PS: Does anyone even listen to you?
Thanks for asking, Tommy. Sadly, to your first set of questions, the answer is no. Pipe bands are more predictable than ever. Apart from the slight distinction in their always-inoffensive tartans, there's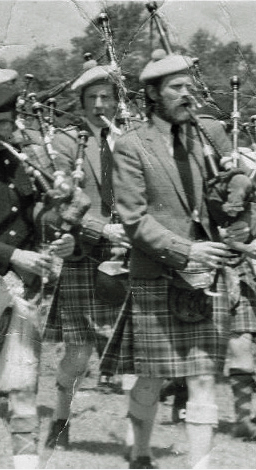 less and less to tell bands apart these days. Some might say that that is a good thing, as bands put more emphasis on the music and put more of their budget into instruments and travel, but their uniform dress is a creative element that can speak volumes about who they are, or once were.
Why can't a band deck themselves out in nice Harris Tweed jackets and vests? What of the balmoral? How about making a bold move and give up the laced-ghillies for plain brogues? Or maybe burnt-orange shirts? Hey, wait! That's the Guelph Pipe Band of the 1970s, today still one of the most elegant and distinctive ensembles ever put together.
I'd say the only top-grade band right now making a true statement with its tartan is St. Laurence O'Toole, because their kilts aren't even tartan. They're green. And what communicates the Emerald Isle of Ireland better than green?
And, to your final question, Yes, sometimes. I can't take full credit, but the number of bands wearing short-sleeved shirts and vests/waistcoats is now tiny, and we have nearly eradicated the use of belts with vests/waistcoats. There are miles to go, though, before I sleep.