Trailing Drones: rosters, weather and badges, oh my!
Welcome to the season, fellow afflicted self-flagilators (say that three times fast). Yer auld pal Harry is off on adventures this summer, disguesting with a pretty famous pipe band in hopes of taking the hardware in the hotly contested "Juvenile Adults" category. It's going to be yuuuuuge, like that time Henrietta had a half-dozen oysters before she discovered it was the spittoon and not the oyster pot. I told her to lay off the cider.
Yuuuuge adventures and tunes are certain to be had this summer when Stuart Liddell, Angus MacColl, Callum Beaumont and maybe even Gordon Walker go round the Scottish games this summer. These smaller events have suffered from small turnouts from pipers, and it's rare these days when any the top-flight players are at the wee games. With their CPA gradings well established and their places in the big contests unassailable, why venture out to where the Grade C and B players are wrestling musically for the £25 first prize? Harry thinks it's fantastic, and wishes there was more of it, even if the C-Grade players just come out to listen and learn from these masters. A fair weather day at the games is brilliant: great tunes, great craic, and generally everyone is happy to just be there having a tune, tea and a chockybicky, and maybe a sneaky dram in the carpark when it's all done. On the other hand, a bad weather day generally means running out of the car to play as quickly as possible, and then running back to the car for quite a few more drams. But all part of the joy of going 'roon the games.
Good to see former SFU pipe-major Terry Lee with clipboard in hand at the British. Smart move to get such an acknowledged expert straight onto the Grade 1 panel in record time. No "taking your turn" judging Novice Juvenile and Grade 4B for three years before getting on a Grade 1 circle. There is hope yet, dear readers. Or maybe it's only five-times-or-more-World-Championship-winning P-Ms who get put on the fast-track. Gold star, RSPBA!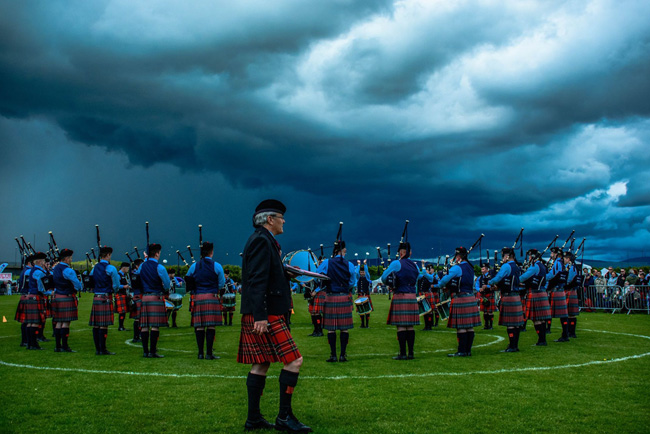 Of course, weather is on everyone's mind at the games, and none more so than that canny genius Richard Parkes M.B.E. Famous for his ability to gauge tuning by the conditions, P-M Parkes reportedly brought Field Marshal Montgomery to the line five minutes early at British Championships, craftily ensuring that his band avoided the rain that dumped a little later on others. No rain, some gain. Who says drawing first on doesn't have its benefits? Brilliant.