Trailing Drones: rosters, weather and badges, oh my!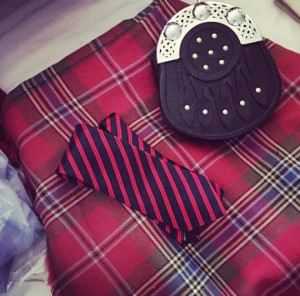 Harry loves a well-turned-out band, and social media is all a-twitter with new uniform photos as bands get ready for the season. In his last installation (Harry considers himself a written-performance artist), Harry waxed prolific about the projected cost of all of one band's gear going to the UK. Well, social media shows that they saved a few bob on sporrans, as they clearly opted for the £13 model from Pakistan. All band members please double check your chains before the majors. We don't want to see any wardrobe malfunctions. C'est chic!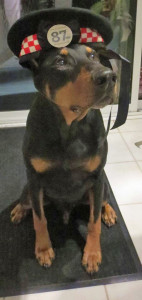 The big suppliers are going hard on the custom cap badges too. Every band now seems to have their own cap badge of honour, so to speak. Harry's a little disappointed that nobody has brought back the Balmoral bonnet with blackcock feather. With just one major in, it's not too late. Who's in? And wouldn't everyone just love to look like the official re-enactment pooch from last January? (Right after the photo was taking the killer canine lunged at his owner with killer drool.)
Speaking of hunting things down, Harry hears the RSPBA rovers were doing spot checks (see what I did there?) of band personnel at the British Championships alongside the motorway at Paisley, making sure that "guest" players are properly registered and there's no hanky-panky with the lists. Remember, you need 14 days clear from the last competition and an official release from your association. To all you bands loading up rosters for the Greater Glasgow Green Gala, get your papers in order. Remember to return all custom cap badges and budget sporrans and kilt pins. Still, it'll be good exercise for the RSPBA admin folks, and it'll cut down the budget at the officials' hospitality tent. Stay safe out there, comrades.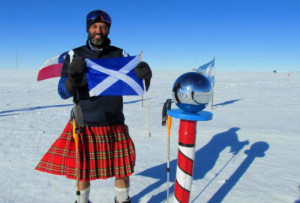 All this talk of uniforms brought to mind a news story from January, when the icy blasts were shrivelling all before them at the outdoor toilets in Aberdeen. The roads to hell and the South Pole are paved with good intentions (might be the same road, Harry thinks) as shown by the plucky Palestinian/Scot who went all the way to the South Pole, only to put his kilt on backwards. No doubt the fingers were fair frozen and he couldn't get it turned around Harry hopes he then didn't realize he was actually at the North Pole.
Harry thinks of May/June as "YouTube Season," as the bands rush to post and re-post their new medleys on social media, begging, pleading beyond hope that you listen to their stuff. Most of the time it's absolute rubbish. "Let's get the judges used to the breaks, and build a little positive steam for the next one." Yeah, all the judges are whiling away their spare time searching for your band's third-prize medley at Ratatouille, South Carolina, so they can be ready for when you blow that break again.
So get they YouChubes streaming, the pipes played and the new cap badges affixed. The season has begun, and Harry is stoked to hear yer blether, so just drop me a line with your anonymous dirt. Ask me no questions, I tell you no lies!