Troy, Lee, Maxwell victorious at Victoria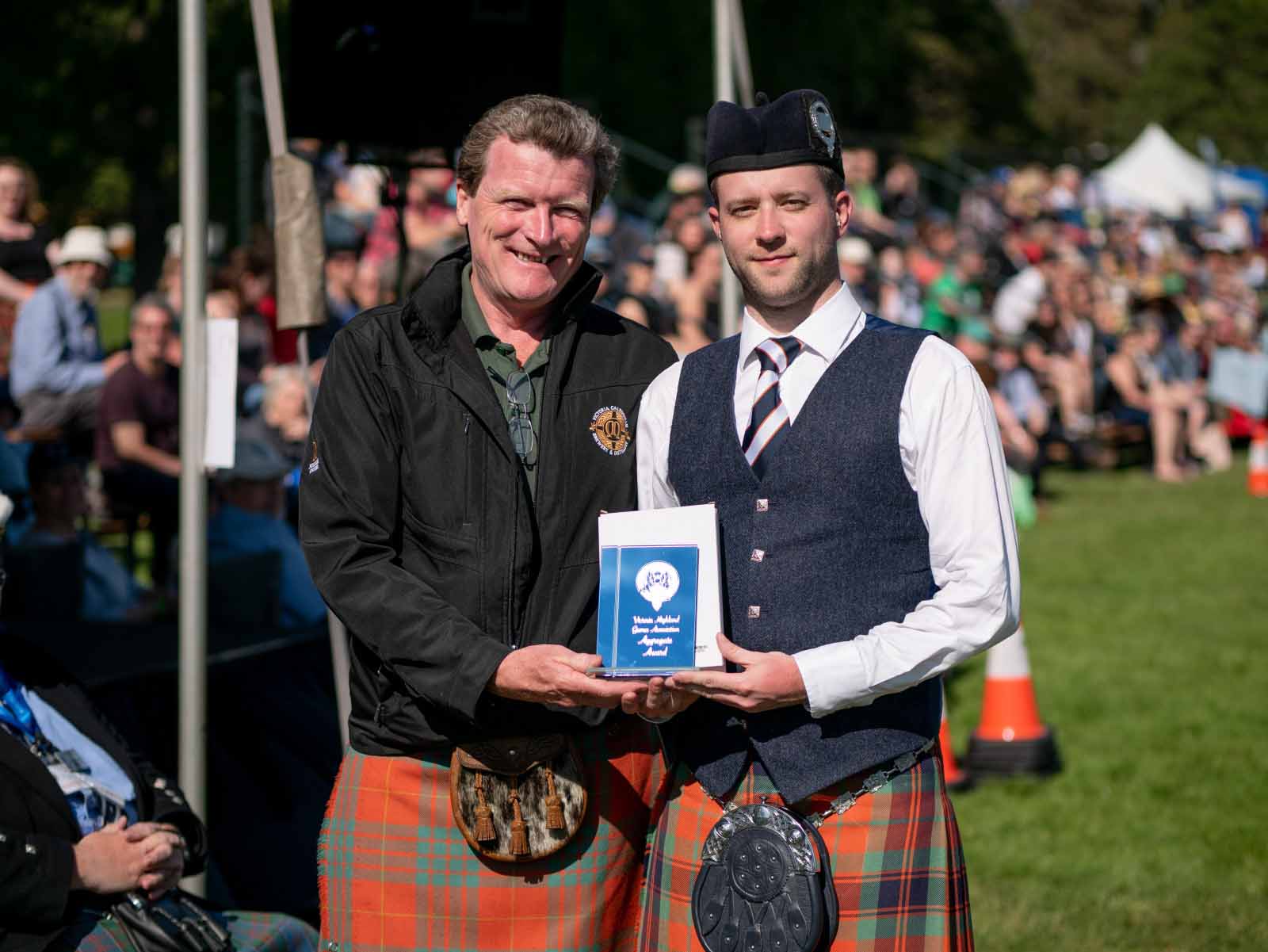 Victoria, British Columbia – May 18-19, 2019 – In typically warm and sunny late spring weather, James P. Troy, Grant Maxwell and Bridget Hall won the overall Open awards, respectively, for Solo Piping, Snare Drumming and Tenor Drumming at the 2019 Victoria Highland Games & Celtic Festival at Topaz Park. Almost 150 soloists and 12 bands competed. On the Sunday, the Open Piping Piobaireachd was won by Alastair Lee and the significant prize money donated by Victoria Caledonian Brewery & Distillery.
The competition brought in Roddy "R.S." MacDonald from Australia and Donald MacPhee from Scotland to judge.
Bands
Grade 1 (overall)
1st Simon Fraser University
Drumming: Simon Fraser University
Grade 2
1st Robert Malcolm Memorial 2
Drumming: Robert Malcolm Memorial 2
Grade 3 (overall)
1st Robert Malcolm Memorial 3
2nd Greighlan Crossing
3rd Van Isle Caledonia
Drumming: (three-way tie) Robert Malcolm Memorial 3, Greighlan Crossing, and Van Isle Caledonia
Grade 4 (overall)
1st Salt Lake Scots
2nd Greater Victoria Police
3rd White Spot 4
4th Kamloops
5th Robert Malcolm Memorial 4
6th 96th Highlanders (Gr5)
Drumming: Greater Victoria Police
Grade 5 (overall)
1st 96th Highlanders
2nd 443 Squadron RCAF
Drumming: 96th Highlanders
Solo Piping
Open
Piobaireachd
1st Alastair Lee
2nd Zephan Knichel
3rd Edward McIlwaine
4th James P. Troy
5th James Beaumont
6th John Lee
Judge: Donald MacPhee
MSR
1st James P. Troy
2nd Alastair Lee
3rd John Lee
4th James Beaumont
5th Zephan Knichel
6th Gordon Conn
Judge: R.S. MacDonald
Jig
1st James P. Troy
2nd Alastair Lee
3rd Zephan Knichel
4th Gordon Conn
5th John Lee
6th Kevin McLean
Judge: Hal Senyk
Solo Drumming
Snare
MSR
1st Grant Maxwell
2nd Robert Graham Jr
3rd Taylor Killoran
Hornpipe & Jig
1st Grant Maxwell
2nd Bryce Kreger
3rd Robert Graham Jr
Tenor
MSR
1st Bridget Hall
Hornpipe & Jig
1st Bridget Hall