Undeniably great
Pipers: A Guide to the Players and Music of the Highland Bagpipe
by William Donaldson
163 pages, Birlinn Ltd.
Reviewed by Andrew Berthoff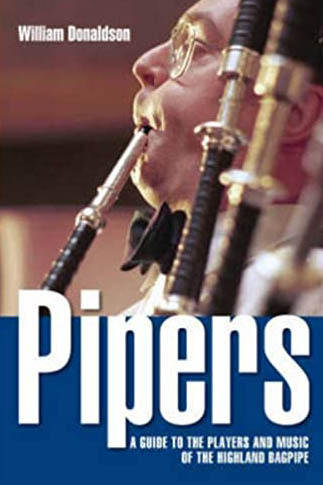 More than a few very experienced and well-read pipers have said that William Donaldson is the best writer that Highland piping has seen. Donaldson's new book, entitled, simply, Pipers, is utterly brilliant.
Donaldson combines his abilities as a researcher, a writer, and a high-level piper and student of piping in a way that perhaps no other person in the world can to deliver a completely illuminating guide to the history, structure and culture of the unique world of Highland piping. Pipers is not so much a guide as it is an anthropological study. Donaldson welcomes the reader into the arcane culture that is piping, and explains it in a lucid and flowing style.
The first part of the book, "The Pipes and their Music," thoroughly explains how everything works, the origins of the instrument, its mechanics, the peculiarities of the piping and pipe band scenes, and the structures of the music itself, from gracenotes to crunluaths.
Donaldson tells the story of piping and bases it on indisputable, historical facts. We have learned from his seminal book, The Highland Pipe and Scottish Society, that he is not afraid of the past or present piping establishment, and, in particular, the Piobaireachd Society. His theses are never based on personal bias or on some obscure axe to grind, but only on meticulous research and pure proof. The competitive and regimented culture of piping subliminally trains pipers to think cynically of anyone with a differing view. Pipers are automatically tempted to dismiss solid research that goes against traditions and myths as heresy. And about that debilitating attitude, Donaldson clearly couldn't care less.
One of the most startling sections is where Donaldson dispels "conventional beliefs" about piping. Here's an example:
"—that royalty and aristocracy have within historically recent times been effective patrons of pipers. They employed them as servants or gamekeepers with an additional role as 'pipers.' In R.U. Brown and R.B. Nicol's day there was little piobaireachd at Balmoral; they paraded around the dining room on high days and holidays wearing silly hats and even sillier socks and the startling pale grey 'Balmoral' tartan designed by Victoria's Prince Albert, playing 'lollipops' from the light music repertoire like mess-night in one of the more benighted Highland regiments. Although the music of the pipe had accompanied the British royals through large stretches of their lives from the days of Angus MacKay onwards, it is not clear that this resulted in very much knowledge, taste or judgment of the art, although, to be sure, Willie Ross did manage to get Edward VIII to play a bit, but it seems to be at a pretty low level."
Donaldson, even though he clearly holds Brown and Nicol in the highest esteem possible, is not afraid to say what these two humble Aberdeenshire pipers were often made to do to earn their keep at Balmoral. It is a startling image, but one that summarizes the puppeteering that pipers, even those at the highest level, have accepted in order to pursue their passion.
In Pipers Donaldson continues to tell the truth about Archibald Campbell's negative impact on piobaireachd as a living art. He also continues to bring to light the plight of C.S. Thomason and Lt. John McLennan, two under-appreciated giants of piping who were ostracized by Campbell and the influence of the new piping establishment that emerged in 1906. Donaldson perhaps identifies with Thomason and McLennan as people who were not afraid to fight and take a principled stand for the truth.
"Thomason's quiet persistence in the face of every obstacle, his great knowledge, his considerable musical talent which made him a notable composer as well as an editor and theorist, his selfless desire to further the art, his uncompromising honesty, his openness and affability as a human being which made him welcome alike to high and low, mark him as one of the most interesting and impressive people who has ever had to do with the music of the pipe."
Fascinating also is Donaldson's assertion that the great G.S. McLennan, son of the aforementioned John McLennan, actually had his greatness stymied, again, by the piping establishment. G.S.'s unflinching support of his father's stance on piobaireachd in the wake of the Piobaireachd Society's rising influence resulted in fewer prizes and limited teaching opportunities, possibly among them, Brown and Nicol.
"[Nicol] and Bob Brown had been sent to John MacDonald at the behest of the Society. This involved a long and awkward journey to Inverness, and we may recollect that there was a master player within an easy day's travel from Aberdeen to whom they were pointedly not sent, namely G.S. McLennan. From 1953 to 1958 Nicol was the Society's instructor in the Uists. Brown was in close contact with J.P. Grant and Archibald Campbell during the 1950s and seems to have frequently consulted the latter about permissible interpretations of the set tunes from year to year."
At 163 pages, Pipers packs unparalleled punch. Donaldson provides not only an illuminating and lucid summary of the culture of piping for the uninitiated, he creates a work that will open the eyes of even the most experienced and knowledgeable players. Above all, Pipers is readable, informed and factual. Unlike Thomason and McLennan, William Donaldson's authority and contributions cannot and should not be denied.
p|d
What do you think? We always want to hear from our readers, so please use our comment system to provide your thoughts!
Do you have a product that you would like to have considered for review? Be sure to contact pipes|drums. We can't report what we don't know about! Please remember to support the businesses that advertise and make the not-for-profit p|d possible.