Unused pipes "amnesty" launches for students

The Scottish Schools Pipes & Drums Trust knows that there are untold sets of bagpipes lying unplayed and unwanted under beds and in cupboards around Scotland, the UK and the world, so the organization is declaring an "amnesty" for those who want to put their dormant instruments to good use for kids in need.
The Trust today – on Robert Burns Day – launched a charity appeal for old bagpipes to be donated "to give new young players a better chance in life."
The Scottish Schools Pipes & Drums Trust provides free tuition to more than a thousand students in schools across Scotland, many in disadvantaged areas where families can't afford to purchase new or even used instruments.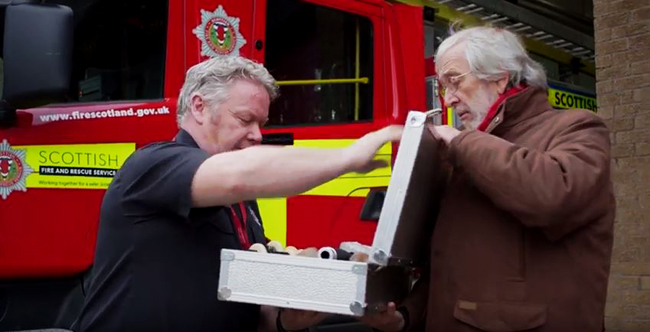 Taking the cue from familiar police amnesty initiatives for gun owners, organization's Bagpipe Amnesty – "Old Pipes for New Players" – enables those with unused pipes to be handed in to any of 66 designated fire stations across Scotland.
Instruments in need of repair will be refurbished by Wallace Bagpipes of Scotland, which has stepped up to provide its services for free. Scottish telecommunications company Genius PPT is providing a free-of-charge "Freephone" service for anyone interested in donating their pipes but can't make it to a designated fire station.
"We have a feeling that there may be lots of unused instruments lying round in lofts and cupboards, perhaps someone's given up or even died," said David Johnston, an organizer of the Fair Play for Pipes Campaign. "Wallace Bagpipes have generously offered to refurbish and we can get these pipes singing again for the next generation. The opportunities provided by pipes are well known to pipes|drums readers and we think it will be wonderful if people are prepared to donate unused pipes to us to give young people that opportunity.
"We are hugely grateful to the Scottish Fire and Rescue Service for supporting this campaign and to Craig Munro and the team of Wallace Bagpipes for their commitment to helping the next generation of pipers."
Donations can be made from February 1st to 14th. Information on where and how to donate pipes can be obtained by phoning 0808-281-9405 toll-free or visiting the Scottish Schools Pipes & Drums Trust's website.
Johnston said that his organization plans to track each set it receives to allow donors to see where the pipes end up and "the good that their generosity is doing."