Wallacestone at 130 views Grade 2, looking for L-D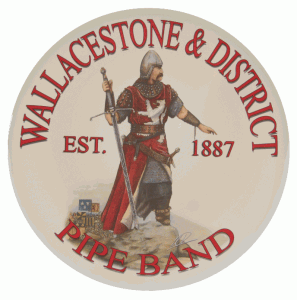 Pipe-Major Neil Henderson of the currently Grade 3A Wallacestone & District of the Stirlingshire area of Scotland, said that his group "has a view to playing in Grade 2" in 2018 after winning the RSPBA's Grade 3A aggregate Champion of Champions title, and that the band will do so with a new lead-drummer.
Incumbent L-D Stewart Gardener retired from his profession with Police Scotland and accepted a job teaching pipe band drumming in Oman, thus creating the opening for the right candidate to take over "a full drum corps."
"It's an ideal opportunity for someone to come in and have a solid foundation to work with," Henderson said. "The band are working hard on new material for next season with the view to playing in Grade 2. We have also been asked to perform at a concert in the Ardennes region of France next May."

Wallacestone is considered the world's oldest civilian pipe band and is celebrating its 130th anniversary in 2017, marking the milestone with events and projects, culminating with a dinner-dance at the Lea Park hotel in Grangemouth, Scotland, on November 24th that will include former members and local dignitaries.
During its long history, Wallacestone rose to Grade 1 status in the late-1980s but, like all bands, has had its ups and downs. In a concerted rebuilding process, the band was promoted to Grade 3A after the 2016 season, and last year won the grade at the European and UK championships.
Henderson said that applicants for the lead-drummer position require a track record playing in Grade 1 and, ideally, have been lead-drummer of a band. Applications should go through the form on the band's website.
The band was established in 1887 in the village of Wallacestone, near Falkirk. Neil Henderson has been the band's pipe-major since 2011, taking the band from Grade 4A to, potentially, Grade 2 in five seasons.
+ Neil Henderson new Wallacestone Pipe-Major
The RSPBA is expected to make its regrading decisions for member bands later in September, with Wallacestone anticipated by many to move to Grade 2, and Glasgow Skye Association and Lomond & Cyde to move to Grade 1.