With another record entry, Winter Storm considering adding fourth day to 2020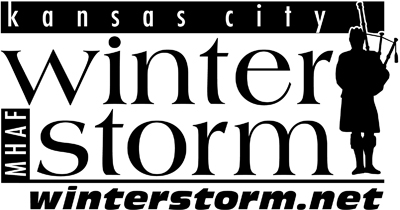 The eighteenth annual Winter Storm Weekend is reporting another record registration for master classes and competitions in Kansas City, Missouri, January 18-20, to the point that the organizers, the Midwest Highland Arts Fund, are already considering adding a fourth day in 2020.
The potential move is seen as necessary to accommodate expanded interest in amateur solo contests, primarily, though there are also higher numbers in the professional categories.
The event works closely with the Midwest Pipe Band Association, which will hold qualifying contests for the association's March 2019 Pipe-Major Ian Swinton Professional and Terry McHugh Memorial Regional Amateur solo competitions.
Beth Wilson, president of the Midwest Highland Arts Fund, the official charity that runs the event, said that students and competitors are travelling from as far away as Japan, Hawaii and Alaska to participate.
"Winter Storm is kind of a post-World Pipe Band Championships reunion," Wilson said. "We have a homegrown group of volunteers that help the Midwest Highland Arts Fund to showcase the world's best players here for an annual workshop, contest and concert. The all-volunteer team is amazing. Everything truly is up to date in Kansas City."
The Professional competitions include designated Gold Medal events in solo piping and drumming. Some 45 pipers have entered for the top solo events, while 15 top-rank snare drummers are registered.
Judges mainly double as recitalists, culminating in a ticketed concert, including Murray Blair, Hugh Cameron, Kahlil Cappuccino, Stephen Creighton, Brian Donaldson, Ken Eller, John Fisher, Steve Foley, Simon Hodgett, Jack Lee, Terry Lee, Stuart Liddell, Ian K. MacDonald, R.S. MacDonald, Colin MacLellan, Roddy MacLeod, Stevie McQuillan, Steven McWhirter, Duncan Millar, Fred Morrison, Jason Paguio, Richard Parkes, Jim Sim, Doug Stronach, and Eric Ward.
Following the concert is the Winter Steam after-party, featuring the Winter Steam Ceilidh Challenge and a US$500 first-prize. Harp and Smithwick's beers will be on offer.
The Alliance of North American Pipe Band Associations is planning to hold a two-day summit during the weekend, chaired by Sim, who is also president of the Midwest Pipe Band Association.
Winter Storm has a long list of sponsors, including Cameron's Drumming Studio, Lee & Sons Bagpipes, McCallum Bagpipes, R.G. Hardie & Co., and the Tone Protector.