2017 Masters' Champion: Jack Lee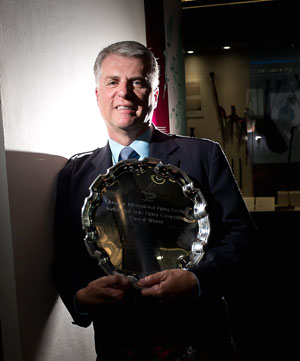 Glasgow – August 7, 2017 – A total of 20 pipers played in the annual Masters Solo Piping Competition held at the National Piping Centre as part of the first full day of the Piping Live! Glasgow International Festival of Piping. There was a three-way tie for the overall prize, but Jack Lee was the winner due to piobaireachd preference. Lee gains an invitation to the 2017 Glenfiddich Championships.
Eligibility is restricted, for the piobaireachd, to those who have won a Highland Society of London Gold Medal, and, for the MSR, to those who have gained eligibility to compete in the former winners MSR at the Argyllshire Gathering or the Northern Meeting. The competition was livestreamed worldwide, with between 150 and 250 viewers at any given time. The event was sponsored by Glenfiddich and the livestream was sponsored by R.G. Hardie.
Piobaireachd (16 competed)
1st Jack Lee, Surrey British Columbia, "Lament For Colin Roy MacKenzie" (£500)
2nd Glenn Brown, Glasgow, "Ronald Macdonald of Morar's Lament" (£350)
3rd Niall Stewart, Kyle of Lochalsh, Scotland, "Lament for Donald Duaghal MacKay" (£200)
4th Roddy MacLeod, Glasgow, "The Lament for MacSwan of Roaig" (£150)
Judges: Stuart Samson, Bill Wotherspoon, Andrew Wright
Also competing in the piobaireachd event but not in the prizes: Wilson Brown, Glasgow; Andrew Hayes, Ottawa; Callum Beaumont, Linlithgow, Scotland; John Angus Smith, London; Wilie McCallum, Bearsden, Scotland; Finlay Johnston, Glasgow; Brian Donaldson, Wisconsin; Ian K. Macdonald, Aurora, Ontario; Faye Henderson, Kirriemuir, Scotland; Donald MacPhee, Alexandria, Scotland; and Stuart Liddell, Inveraray, Scotland.
March, Strathspey & Reel (16 competed)
1st Angus MacColl, Benderloch, Scotland, "Arthur Bignold of Lochrosque," "Susan Macleod," "Alick C. MacGregor" (£350)
2nd Caig Sutherland, Crieff, Scotland, ""MacLean of Pennycross," "Dora MacLeod," "Miss Proud" (£200)
3rd Niall Stewart, "Parker's Welcome to Perthshire," "Sandy MacPherson," "Drumlithie" (£150)
4th Roddy MacLeod, "The Marchioness of Tullibardine," "Shepherd's Crook," "Ca' the Ewes" (£100)
Judges: James Banks, Walter Cowan, Iain MacLellan
Also competing in the MSR event but not in the prizes: Ian K. Macdonald; Cameron Drummond, Edinburgh; Peter Hunt, Glasgow; Brian Donaldson; Angus MacColl; Andrew Hayes; Finlay Johnston; Stuart Liddell; Willie McCallum; Gordon McCready, Paisley, Scotland; Jack Lee; Glenn Brown; and Donald MacPhee.