2023 World Championships Day 1 done and dusted for Grade 1 bands in much smaller arena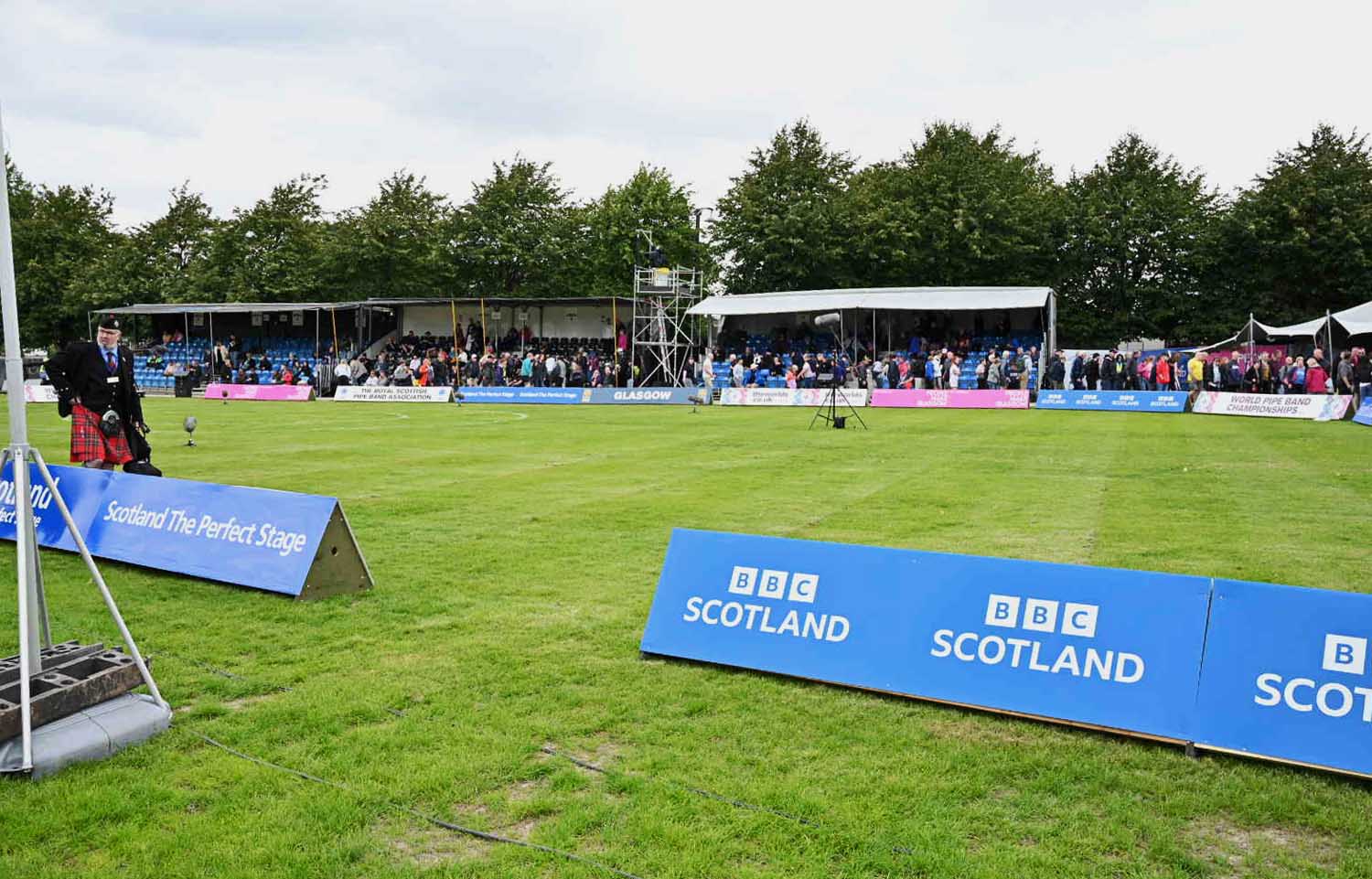 The 16 bands competing in the Grade 1 competition at the World Pipe Band Championships played in a main arena with about a third of the seating enthusiasts had been accustomed to over the last decade, which one person said looked more like Markinch Highland Games than the globe's biggest pipe band contest.
The day was overcast but dry and breezy, with temperatures rising to about 19°C, relatively ideal for setting up fickle instruments.
Results from the Friday MSR and Medley events were kept secret so as not to sway judges' perceptions of the next day's mirrored events.
The Friday events were live-streamed for free by organizers Glasgow Life. Even with the no cost to watch, worldwide viewership topped out at about 3,000.
The judges for the Medley were Jim Semple, John Connor (piping); Gordon Parkes (drumming); and Tony Sloane (ensemble). Judging the MSR: Mark Faloon, Nat Russell (piping); Paul Brown (drumming); and Jim Campbell (ensemble).
Judges' tasks were again made even more difficult by having to assess and compare bands with as many as 25 pipers and 13 snare drummers against those almost half the size.
The events were again ably hosted by Fergus Muirhead, who provided welcomed brief introductions and acknowledgements and no opinionated commentary on the performances – perhaps appropriate given his lack of experience actually playing in a pipe band.
The MSR event started at 10:30 am, and the Medley concluded at about noon, each band landing at the starting line exactly at their assigned time.
With fewer seats available, the now partially covered stands were priced at £35.90 ($61) – £5 more than in 2022. Nonetheless, everything was sold out well in advance.
Tickets to enter the park on Friday were priced at about £9 ($15). Hundreds opted to stand to the side where they were closer to the competitors and, perhaps, the beer tent.
While those who paid £35.90 for a sheltered seat, competing bands that invested as much as $150,000 to get to Scotland were subjected to whatever elements met them when they performed.
The monetary award for the Grade 1 World Champion is reportedly again £1,500. The award itself is priceless.
The cost of two burgers, fries and Cokes from one vendor was £33.15, or about $57 — maybe enough to buy the winning band's members and accompanying family and friends a burger van meal.
The competition continues on Saturday, with all grades going at it back at Glasgow Green. The weather forecast is slightly warmer, with rain showers likely.
The Grade 1 performances, along with commentary and behind-the-scenes interviews, will be broadcast via BBC Scotland: www.bbc.co.uk/events/ervrn3 with Canterbury Caledonian Society, also from New Zealand, landing on the four-part-tunes MSR trigger at 10:30 am GMT.