78th Fraser Highlanders win Georgetown
Georgetown, Ontario – June 9, 2018 – The Pipers & Pipe Band Society of Ontario's outdoor circuit began with the Georgetown Highland Games in near-perfect conditions: warm, overcast, slightly humid, and no wind. In a two-band Grade 1 contest, the 78th Fraser Highlanders came out on top on ensemble preference, and the Peel Regional Police took the Grade 2 competition against two others. Ian K. MacDonald was the aggregate winner in the Professional Solo Piping. The competition is the first of eight in Ontario over the summer.
See videos from the Grade 1 and Grade 2 band events at the following link.
+ Georgetown 2018 videos: Grade 1 and Grade 2 contests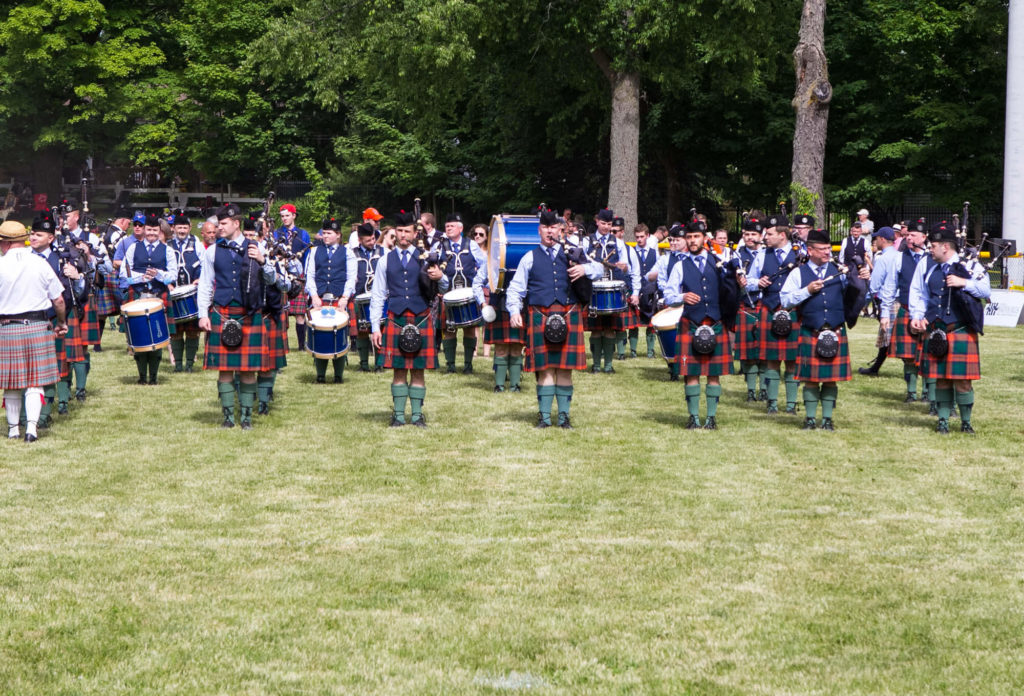 Grade 1 (MSR, two competed)
1st 78th Fraser Highlanders (ens.pref.) (2,2,1,1)
2nd Toronto Police (1,1,2,2)
Judges: Charlie MacDonald, Eddie Gorman (piping); Al Savage (drumming); Michael Grey (ensemble)
Grade 2 (Medley, three competed)
1st Peel Regional Police (1,1,1,1)
2nd 400 Squadron (3,2,3,2)
3rd Hamilton Police (2,3,2,3)
Judges: Charlie MacDonald, Eddie Gorman (piping); Al Savage (drumming); Michael Grey (ensemble)
Grade 3 (MSR, six competed)
1st Toronto Police (Gr3) (1,1,1,3)
2nd Guelph (3,2,5,1)
3rd Rob Roy (2,4,4,5)
4th Fredericton Society of Saint Andrew (6,6,2,2)
5th Buffalo Bagpipe Band Club (5,5,3,4)
6th Glengarry (4,3,6,6)
Judges: Lynda Mackay, Calum MacDonald (piping); Greg Dinsdale (drumming); Jim McGillivray (ensemble)
Grade 4 (Medley, 10 competed)
1st 8 Wing RCAF (2,1,5,1)
2nd Ryan Russell Memorial (5,2,1,3)
3rd Border Cities Caledonian (4,5,2,2)
4th Durham Regional Police (3,3,4,4)
5th Niagara Regional Police (1,4,6,5)
6th Hamilton Police (Gr4) (7,6,7,6)
7th London Fire Fighters (6,7,9,7)
8th Cambridge & District (9,10,3,8)
9th Paris-Port Dover (10,8,8,9)
10th Georgetown (8,9,10,10)
Judges: Lynda Mackay, Calum MacDonald (piping); Greg Dinsdale (drumming); Jim McGillivray (ensemble)
Grade 5 (March Medley, seven competed)
1st Guelph (Gr5) (1,1,4,3)
2nd Peel Regional Police (Gr5) (3,3,3,1)
3rd Toronto Fire (4,5,2,2)
4th Niagara Regional Police (Gr5) (2,2,6,4)
5th Paris-Port Dover (Gr5) (5,4,1,5)
6th London Fire Fighters (Gr5) (6,6,5,6)
7th Ontario Fire Services (7,7,7,7)
Judges: Charlie MacDonald, Eddie Gorman (piping); Al Savage (drumming); Michael Grey (ensemble)
Solo Piping
Professional
Piobaireachd
A Division (seven competed)
1st Ian K. MacDonald
2nd Andrea Boyd
3rd Jacob Dicker
4th Matt MacIsaac
5th Callum Harper
6th Doug MacRae
Judge: Michael Grey
B Division (six competed)
1st Tyler Bridge
2nd Tyler Johnson
3rd Tyler Harris
4th Robyn Gray
Judges: Bob Worrall
Light Music (14 competed)
March
1st Matt MacIsaac
2nd Callum Harper
3rd Graham Thompson
4th Ian K. MacDonald
5th Tyler Harris
6th Andrea Boyd
Judge: Bob Worrall
Strathspey & Reel
1st Ian K. MacDonald
2nd Andrea Boyd
3rd Graham Thompson
4th Tyler Bridge
5th Matt MacIsaac
6th Callum Harper
Judge: John Elliott
Jig
1st Ian K. MacDonald
2nd Matt MacIsaac
3rd Doug MacRae
4th Jacob Dicker
5th Andrea Boyd
6th Tyler Bridge
Judge: John Cairns
Professional Solo Snare Drumming (two competed)
MSR
1st Iain Bell
2nd Kyle Wardell
Judge: Al Savage
Hornpipe & Jig
1st Iain Bell
2nd Kyle Wardell
Judge: Greg Dinsdale