A major problem
While on the surface, the loss of a major RSPBA pipe band championship might seem of little consequence to those outside of the UK, it presents not a few questions and concerns.
For those not familiar with the matter, here's the gist of it:
The RSPBA is bound as a "charitable" organization to stage five major championships yearly as part of its charitable mandate.

These have been the British, European, Scottish, UK/Cowal and World Pipe Band Championships since the organization's inception in 1947.

The RSPBA sells the rights to these championships to municipalities in the UK, generally bought by regional councils as arts and culture festivals. According to RSPBA financials, municipalities/councils in 2022 pay a considerable amount annually for the right to stage a major championship, each bringing in £70,000 to £80,000 to the association. The 2022 World Championships brought in total revenue of £323,595.

The RSPBA does not run the majors, per se. They run only the pipe band and drum-major competitions. The council sells sponsorships, stalls, tickets, and so forth. This model is similar to most pipe band associations around the world.

In August 2021, Renfrewshire Council, which had purchased the rights to the British Championships since 2016 and held the event at Paisley, pulled out, citing constraints brought on by pandemic-related cancellations.

Early in 2022, the RSPBA struck a deal with Inverclyde Council to stage the British in Greenock, Scotland.

In November 2022, Inverclyde Council revealed that it would not renew its deal to hold the British.

In early February, the association revealed that the British was in doubt. The organization indicated that it was exploring ways to compensate for the various graded events, possibly by holding them at a series of non-championship "minor" competitions.

In February, RSPBA announced that it had not found a buyer or replacement solution for the British and cancelled the 2023 event outright.

Later in February 2023, before its annual general meeting, the RSPBA issued its Order Paper to member pipe bands. Audited financials showed that the organization had restored its cash to £323,595 (about $538,400).
That's the essential background.
A representation of RSPBA members attended the association's annual general meeting. The pipe band world expected a lively discussion regarding losing a major championship, but according to multiple sources, little was said about the issue.
"At the AGM, it was pretty obvious the RSPBA made no real effort to try and run it themselves and although they posted that they were considering spreading it over some of the smaller contests that was never seriously discussed with the smaller games either," said a leader of a band present at the meeting, who spoke on condition their name was not used.*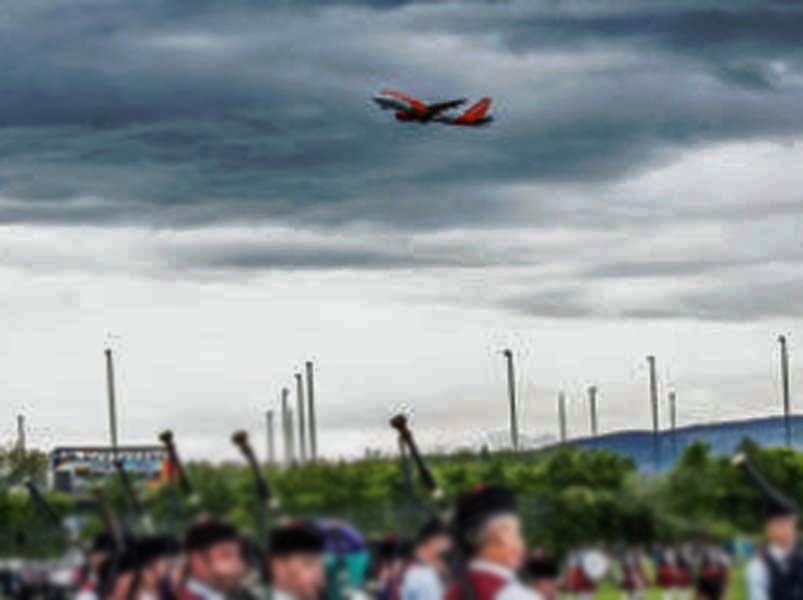 So, why does this matter?
It matters because it foreshadows what is likely to happen more and more frequently, given the general decline in public interest in pipe band competitions in the UK and many parts of the world and the ability of municipalities and event organizers to make ends meet.
And even when an organization like the RSPBA receives around £75,000 (licensing and entry fees) for a championship, the RSPBA usually takes a loss, according to its financials. If municipalities and councils want these events at all, they'll want to pay less. Meanwhile, if the association's financials are a gauge, the RSPBA will want more for them.
"Local governments in Scotland and indeed across the UK & Northern Ireland are at a breaking point financially and are seeing events like pipe band championships as non-essentials," said one RSPBA insider who spoke on condition of anonymity. "Other than the World's, the local economy doesn't exactly benefit from holding a major in their town. It's different in a city like Glasgow or Belfast where the majority of bands and spectators are staying there for up to a week and spending money."
Until Armagh City, Banbridge & Craigavon Borough Council, the local government that currently licenses the UK Pipe Band Championships from the RSPBA, confirmed that the June 10th competition was going ahead. Rumours had circulated in the wake of the cancellation of the British that the Northern Ireland major was in doubt.
Since most bands travel from Scotland, such an event is supposed to be great for the local economy.
"Take Lurgan in Northern Ireland for example," our source added. "The town isn't exactly geared for tourism and all the traveling bands who do stay are in Belfast or the outskirts and outlying areas. No money is going back into the local economy in Lurgan & Craigavon. I very much doubt that it will be a renewed venture for 2024."
It's all a recipe for trouble, but not unique to the world's most powerful association. Other organizations that take the same one-size-fits / take-it-or-leave-it approach to licensing their turnkey competitions will almost certainly be faced with more municipalities balking at the cost. 
We can anticipate more events choosing instead to hire a few pipe bands on their own to get that bagpipe sound for their festival. They don't necessarily want all that relatively uninteresting competition – especially the solo events – that the unconnected public doesn't understand anyway. They want entertaining performances.
One might have assumed that with £323,595 in cash, the RSPBA could have staged their own British Championships, rented a nice park, drew some chalk circles, collected the entry fees, assigned the stewards, hired the judges, and so forth.
That's a reasonable assumption, but the organization, as is their custom, has said next to nothing about it publicly. At their AGM, they reportedly said that holding the event on their own would cost approximately £170,000, all told. We're unsure how they arrived at that figure, but we'll take it at face value.
Precedence
Let's back up a few years to 2017 when a major fire damaged the RSPBA's Glasgow headquarters at 45 Washington Street.
In 2018, they decided to use the substantial cash funds the association was required to have on hand if the organization needed to operate for a year in a crisis.
They used the rainy-day reserve fund and bank loans to pay for the £1-million-plus HQ building project. They planned to restore cash holdings starting in 2020 through payments from major championships, registration dues and entry fees.
But then, the unpredictable and extraordinary happened: the pandemic, leaving the organization with a fraction of its usual revenues for two straight seasons.
Thanks to more grants and enough member bands paying annual dues to help keep the organization running, the association was able to limp into 2022 and an entire season of events, restoring the coffers.
There is a precedent for using emergency reserve funds: renovating a Victorian-era building that reportedly very few use. One would assume that such reserve funds could be used to put on a major championship to fulfill the association's charitable mandate to hold five majors annually.
"Precedent" is the important word. While there is a precedent for using reserve funds as an extraordinary measure in extraordinary times, the RSPBA felt that putting on a major championship on its own wasn't extraordinary enough.

Regarding their competitions, the association has been historically reluctant to create precedence. For example, there have been alleged instances over the years when the association declined offers from companies to sponsor competitions directly with substantially more prize money for bands: "The _____ Grade 1 Championship sponsored by _____."
You may well ask, Why on earth would they do that?
The answer is that it would set a precedent. Presumably, the questionable thinking is that if you raise prize money at one event, the bands will expect it at all events. That puts power into the hands of the members, who would expect and even demand a minimum level of prize money.
Similarly, suppose the organization shows that it can put on a major championship on its own. In that case, it not only sets a significant precedent but also changes the association's scope from being a competition administrator to an event manager.
True, the association puts on and manages the World Solo Drumming Championship from start to finish. But that indoor event is a far cry from staging an outdoor major championship for 120-odd bands. And according to the RSPBA's financial report, the World Solo Drumming operates at a loss for the association.
Staging a major is far more complex than simply drawing chalk circles in a local park. Park space must be negotiated, security coordinated, liability insurance paid, public address systems sourced, legal music licenses to PRS for Music paid, tickets sold, beer license secured, post-event cleanup, and so forth.
Who the heck knows how to do all that? Not one-trick-pony pipe band associations, that's for sure.
"[The RSPBA] was in discussions with a few prospective councils up until the last minute," our insider source said. "Personally . . . I don't believe they could have organized it themselves, bearing in mind the amount of infrastructure that needs to be put in place, policing, health and safety, possible road closures, etc."
"One would think that the loss of a major championship and, thus, the inability to fulfill a mandate is extraordinary and needs an extraordinary measure."
But, the thing is, there are plenty of companies that do know how to stage events. Coincidentally, they're called "event management companies." Tell them what you want and need, and have three or four of them return with a quote. Based on our experience, we guarantee that it would be far less than £170,000, let alone £323,595 – and that's before revenues from concessions, beer tent, stalls, sponsorships and so on are factored in.
Again, we don't know the ins and outs of the RSPBA's considerations regarding replacing the British, and nor do the member bands. But one would think that the loss of a major championship and, thus, the inability to fulfill a mandate is extraordinary and needs an extraordinary measure.
"There are still six months between now and the end of the 2023 season with £300,000+ funds available at the Board of Director's disposal," said Scott Currie, a former World Champion Grade 1 bass drummer who's not currently active in competition. Currie has been an outspoken critic of the association. "So, with both time and finances on their side, I was as shocked as the next person that the British was so hastily canceled outright for the year without leaving the door open. The failure by the Board of Directors to secure a sponsor is essentially moot in these circumstances and the lack of a British Championships for our bands is entirely in their hands. Their apparent refusal to fund and host the event at an alternative venue later in the year or to temporarily transfer championship-status and support to an existing branch competition is as inexplicable as it is sad for our long-suffering pipe bands, all of whom are have worked hard over the winter and paid their dues in the hardest of times only to be so dreadfully short-changed in return."
The RSPBA's membership deserves a complete and transparent account of everything. Any association's membership deserves complete clarity. The association is not the administrators and officials; the association is the members.
The RSPBA also recently decided to cancel the Highland dancing championship traditionally held in conjunction with the World's. As the association was getting back on its feet in 2022, the dancing wasn't held then, either. But in either case, there was no announcement to RSPBA members, no explanation, and most members didn't even realize their association paid for it.
"Canceling the Highland dancing at the World Championships is another example of the RSPBA doing things in secret," our UK pipe band leader added. "The AGM would have been a perfect place to inform the membership that this may be happening."
Options
The Piping Live! Festival takes over numerous venues during the week leading up to the World's. Does the National Piping Centre, which runs Piping Live!, organize every event independently? No, they outsource much of it to an event management company or companies.
Piping Live! occupies George Square for the week. One option could have been to hold a unique major championship there before or after the World's, partnering with the National Piping Centre. Perhaps the RSPBA considered that. We don't know.
Or the National Piping Centre could even have staged an independent pipe band competition as part of Piping Live! They run the International Quartets, after all. But history has shown that any group trying to run a pipe band competition without the RSPBA's administration is clamped down on hard. In the case of the ill-fated Spring Gatherin' in Northern Ireland, RSPBA members were reportedly threatened with suspension if they participated in the contest, and that put paid to competition.
Again, we don't know what goes on behind the scenes at 45 Washington Street, whether it's clamping down on perceived threats or exploring ways to replace a major championship.
We do know that silence and non-transparency breed contempt and erode trust. That's PR 101.
"The actions of the Board of Directors are akin to adults eating dinner and refusing to feed the kids while there is a fridge full of food."
Regardless, the point is there are options. If a million-pound-plus renovation of a largely unused building warrants draining the bank account, using some reserve funds to tide over a major championship would fit the bill.
"If the Board of Directors will not spend . . . money on pipe band activity when it is required to uphold the charitable aims of the organization, then for whose benefit are they actually working and for what purpose are they once again accruing significant excess revenue?" Currie said. "Refusing to spend a penny of its own money on its own charitable activities when circumstances justify and even dictate it is necessary is antithetical to its charitable status and the spirit of the organization's core objectives. In doing so, while simultaneously seeking reinstatement of allowances, the actions of the Board of Directors are akin to adults eating dinner and refusing to feed the kids while there is a fridge full of food."
While officials are elected and appointed to act on behalf of and in members' best interests, absolute clarity must be given to how decisions are made. Ambiguous brief announcements posted on weekends only further undermine trust.
"The money belongs to the membership, so it should have been put to the bands whether they wanted to run the five majors, which is in the constitution, not decided by the board of directors," said the UK pipe band leader who spoke on condition their name isn't used.
Again, why does this matter to you? It matters because associations will likely be confronted with situations like these more often in the future and sooner than you might think.
The future of piping and drumming competitions and performance will be interesting. To be sure, we'd love for non-piping people to finally appreciate just how wonderful our relentless and impossible pursuit of technical perfection is and come out in droves to our competitions. But we've been pining for that forever, and it has not happened.
And it will never happen unless we change what we play, how we play it, where we play it, and – most importantly – our associations enable us to do it by altering their fundamental function from competition administration to event management.
The RSPBA might be forgiven for nixing the British Championship altogether. They're not positioned to take on the management of a complete event on their own. It's different from what it or any other association is structured or mandated to do. Some alternatives might have tide things over for a year that they might not have considered.
Regardless, they and all associations would be wise to prepare for a very different future.
What do you think? Please use the Comments feature that follows to express your own views on the topic.

* Why do we use anonymous sources? In the politically fraught and hyper-sensitive world of competitive piping and drumming, it is extremely difficult to find active participants to speak on the record for fear of retribution in competition to them or their band. We wish this were not the case, but it's an unfortunate reality. The use of anonymous sources is sometimes crucial to the news. But we recognize that it strains our most valuable and delicate asset: our trust with readers. Granting anonymity allows us to reveal the opinions and perspectives of those directly involved to provide important context to the story.When we reach out to trusted sources for their input, we encourage them to put their name to their words but make it clear that, if they so choose, we will not disclose their identity.