A message of thanks
On May 22, 2017, the world was shocked, angered and saddened by the terrorist bombing at a concert in Manchester, England, where 23 people died and some 250 were injured. Among the victims was young Eilidh MacLeod, a piper from the Isle of Barra in the Outer Hebrides of Scotland.
When the piping and drumming world learned that the attack had also hit us, there was an outpouring of grief and condolence for Eilidh MacLeod's family and friends.
pipes|drums received a message from Eilidh's father, Roddy, who asked if we would publish a letter from him, expressing his family's appreciation and thanks to the piping and drumming world. The letter follows here. Our thoughts and sympathies continue to be with the MacLeod family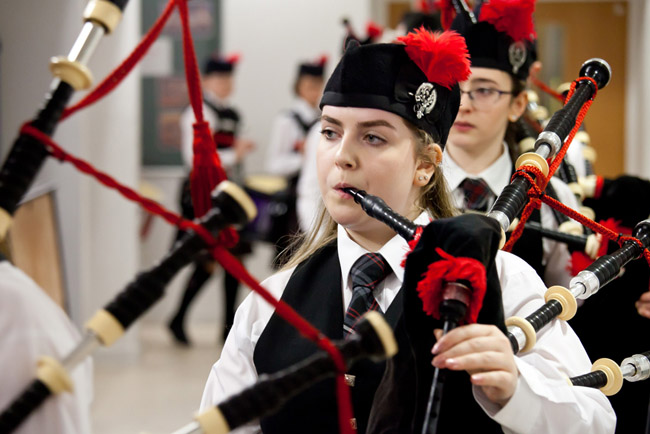 Dear Pipers and Drummers,
We, the family of Eilidh MacLeod would like to thank you from the bottom of our hearts for your kind messages and generosity following the tragic loss of our darling daughter Eilidh.
Our hearts are broken, yet we have taken some comfort that our Eilidh's short life has touched so many people from all walks of life. As we take time to rebuild our lives we would like to thank the many bands and musicians who offered support to us, Eilidh's friend Laura, her family and the other innocent people lost and injured in the attack at Manchester Arena.
On the day we left Manchester to take Eilidh on her final journey home to Barra. We were truly touched that so many pipers and drummers from the North West of England and beyond, gathered in Manchester to remember the people caught up in that horrific event on the 22nd May. We were honoured that the banners displayed that day reflected that Eilidh was "one of their own." We would particularly like to thank Colin Murphy, Graham Houghton and the bands of Manchester for rallying and standing together.
Eilidh was extremely proud to be a piper, and she practiced regularly so she could be the best band member and solo player that she could possibly be. She loved the fun and camaraderie with her bandmates and the trips that took her off Barra to practice, perform and compete. Eilidh also loved these opportunities to meet and make new friends with other young pipers, drummers, dancers and their friends. We take great comfort that Eilidh is so fondly remembered by so many young people in their cards to us and on social media.
There are just too many organisations, bands and individuals to name here. We would like to thank you all for your support at this difficult time, but a few we would especially like to thank are;
Donald Patrick Nicholson
Donald "Bhan" MacDonald
Sgoil Lionacleit Pipe Band
Duncan Nicholson
Red Hot Chilli Pipers
Wasatch & District Pipe Band
Lewis Pipe Band
Feis Bharraigh Pipers
Mick MacNeil
Scottish Schools Pipes & Drums Trust
Ullapool & District Junior Pipe Band
Eddie Strachan
McCallum Bagpipes
Iain Neosa & Friends
Shotts & Dykehead Caledonia Pipe Band
From the overwhelming support we have received, we now have a real understanding of the family that is the "Piping World," and for that we thank you.
With love and the very best wishes,
Roddy, Marion, Shona and Laura MacLeod xxx