Alex Connell, 1933-2019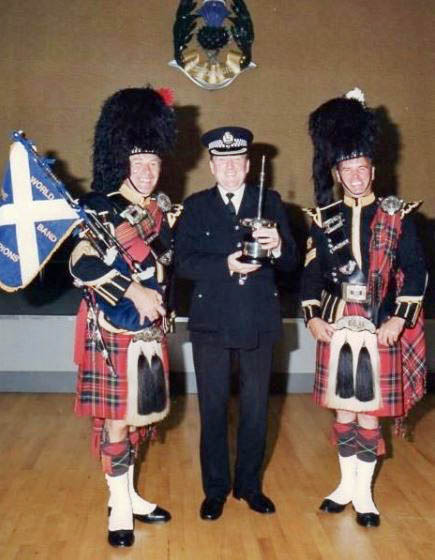 The great pipe band drummer Alex Connell passed away on the morning of April 26 at the age of 85.
Following John Walley, Connell was lead-drummer of the legendary Glasgow/Strathclyde Police Pipe Band from 1961 until 1985, working with pipe-majors Angus MacDonald, Ronnie Lawrie and Ian McLellan, helping to guide the band to seven World Championship titles in 1976, '79 and '81-'85.
He is credited with playing a major role in establishing the signature "Polis" sound, retiring from the police force in 1985, giving way to the band's next lead-drummer, John Kirkwood.
Like many greats, he learned his drumming in the Boys Brigade, a member of the 214 Glasgow Company BB in the 1940s, along with McLellan and several other eventual members of the Glasgow/Strathclyde Police.
Alex Connell's playing and scores can be heard on several vintage LP recordings of the Glasgow/Strathclyde Police made in the 1960s, '70s and '80s.
On behalf of pipers and drummers around the world, we extend our sympathies to Alex Connell's family and friends at this sad time, and thank him for his service and contributions to the art.