All-star drummers added to Live In Ireland 87 In Scotland cast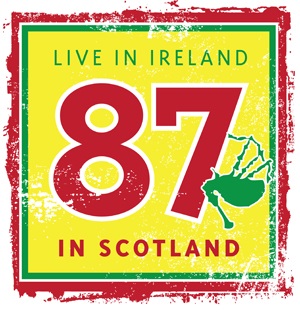 A cadre of pipe band snare drummers with nearly 20 World Solo Championships between them have been confirmed for the January 30, 2016, "Live In Ireland 87 In Scotland" concert, joining Leading-Drummer Reid Maxwell at the centre of the Glasgow Royal Concert Hall stage.
Gordon Brown (Boghall & Bathgate Caledonia), Stephen Creighton (St. Laurence O'Toole), Jim Kilpatrick, (ex-Shotts & Dykehead Caledonia), Paul Turner (ex-Dysart & Dundonald, ex-Vale of Atholl), and Eric Ward (Greater Glasgow Police Scotland) have each joined the concert, which reprises the 78th Fraser Highlanders Pipe Band's vaunted 1987 show in Ballymena, Northern Ireland, which was recorded, resulting in Live In Ireland, probably the most successful competition pipe band album of all-time in terms of sales.
Bill Livingstone, the pipe-major at the 1987 concert, returns to lead the 29th anniversary show. At age 73, Livingstone is a member of the Grade 1 Toronto Police Pipe Band, which he joined in 2011 after departing the 78th Fraser Highlanders, which he had led since 1980.
Those already committed to the event include, on the piping side, Tom Bowen, Ross Brown, Iain Donaldson, Bruce Gandy, Michael Grey, Gordon MacRae, Brian Pollock and Jake Watson, who played in the original concert; several current pipe-majors of Grade 1 bands: Ryan Canning (Shotts & Dykehead Caledonia), Stuart Liddell (Inveraray & District), Roddy MacLeod (Spirit of Scotland), Sean McKeown (Toronto Police), Richard Parkes (Field Marshal Montgomery), Alen Tully (St. Laurence O'Toole); and a number of piping personalities such as Bernard Bouhadana (P-M of Grade 2 Balagan), Ian Duncan (former P-M Vale of Atholl), Jenny Hazzard (a 78th Fraser Highlanders member in the 1990s), Ian K. MacDonald (former P-M Toronto Police), Duncan Nicholson (former P-M and current pipe-sergeant Greater Glasgow Police Scotland), Terry Tully (former P-M St. Laurence O'Toole) and Ross Walker (former P-M Boghall & Bathgate Caledonia).
Drummers from the 1987 concert include Sean Allan, Scott Brown, Stu Liddell and Tim Murphy, and Gavin MacRae, Grant Maxwell, Steven McWhirter (Inveraray & District)a and Duncan Millar had already committed to the event.
"I am very excited to have the opportunity to participate in the 'Live In Ireland 87' concert which is one of the all-time great, if not the all-time greatest, pipe band live recording," McWhirter said. "I've been the butt of many J. Reid Maxwell jokes for not attending the 1987 concert as a Ballymena man – but like to remind him I was only four years old. I lived only three miles from the concert venue so when the opportunity came up to participate how could I say no! Playing alongside the original band members who made this great recording is one thing, but playing alongside the all-star cast is going to be something that I hope will be remembered and continues to shape the pipe band movement for a long time to come."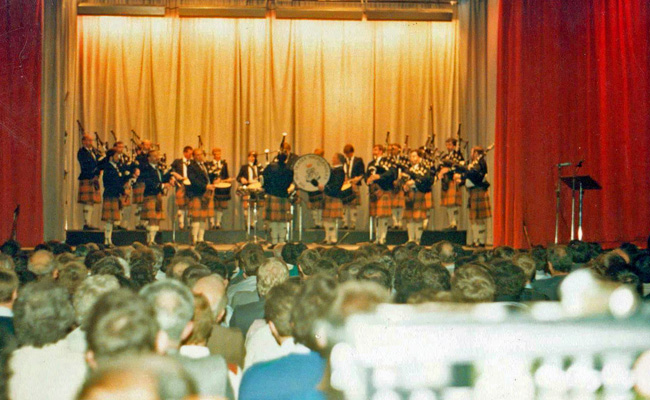 The concert is part of the annual Celtic Connections festival in Glasgow, but is funded primarily through crowd-sourcing, with participants paying their own way to travel to the event, which reportedly will be preceded by several days of rehearsals in Glasgow.
John Wilson and Bob Worrall are reportedly on board as co-hosts of the concert.
Less than three-months out, organizers said the ticket sales in the "main area" are more than half-sold. Tickets are priced from £14 to £17.
It is not known if the concert will be a faithful reproduction of the 1987 version including solo spots or if it will expand with different content. The most celebrated piece from Live In Ireland was the Canadian jazz composer Don Thompson's "Journey To Skye," which he wrote expressly for the band.
The question as to what the group will wear remains – whether somehow gathering together enough of the original iconic bright orange 78th Fraser Highlander tartan kilts (a tartan currently worn by the Grade 3 Atlanta Pipe Band), abandoned by the band in 1998 in favour of a new 78th Fraser Highlanders Pipe Band tartan which the competing band wears today, or something entirely different.
The group will play chanters provided by McCallum Bagpipes and reeds from David Chesney.