All-star lineup prepping for Uist & Barra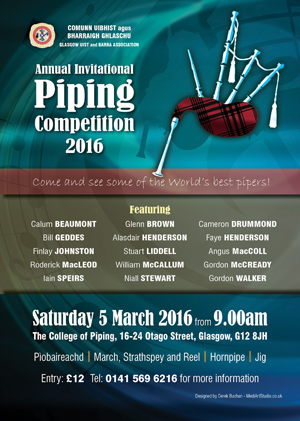 Nearly every major UK solo contest prizewinner in 2015 has confirmed attendance at the annual Uist & Barra Invitational Solo Piping Competition on March 5th at the College of Piping. Fifteen of the world's best will vie for awards in the Piobaireachd, MSR and Hornpipe & Jig events throughout the day:
Callum Beaumont, Linlithgow, Scotland
Glenn Brown, Glasgow
Cameron Drummond, Edinburgh
Bill Geddes, Glasgow
Alasdair Henderson, Dunoon, Scotland
Faye Henderson, Kirriemuir, Scotland
Finlay Johnston, Glasgow
Stuart Liddell, Inveraray, Scotland
Angus MacColl, Benderloch, Scotland
Roddy MacLeod, Glasgow
Willie McCallum, Bearsden, Scotland
Gordon McCready, Renfrew, Scotland
Iain Speirs, Edinburgh
Niall Stewart, Kyle of Lochalsh, Scotland
Gordon Walker, Galston, Scotland
Last year's Uist & Barra saw Faye Henderson, Gordon Walker and Alasdair Henderson win the Piobaireachd, MSR and Hornpipe & Jig events, respectively.
The Uist & Barra is traditionally the first significant solo event of the UK season, and its history goes back almost a century. The competition is put on by the Glasgow Uist & Barra Association.
Tickets are available in advance from the College of Piping and are priced at £12.
Judges for each of the three events are Ian Duncan, Stuart Shedden and Andrew Wright.