Alt Pibroch Club claims library completion
Californian David Hester has declared that his Alt Pibroch Club website now contains every public domain musical notations of piobaireachd – or "pibroch," as many prefer – from before 1841 in searchable digital format, following years of collaborative work with, among others, the National Library  of Scotland, the Piobaireachd Society, and the pibroch/piobaireachd scholar and master piper Allan MacDonald.
"There has never been a moment in the entire history of the musical class of pibroch when this has been true: all primary sources are now available, searchable, at a single place, free and universally accessible," Hester said. "Maybe that's not a big deal to an older generation of pipers that think the Piobaireachd Society's Collection is the ultimate authority. Maybe that's a threat to competitors who have a deeply vested interest in maintaining the status quo, because of their own successes and their promises of success to their students."
Hester said that he was inspired by Dr. William Donaldson's Set Tunes Series on pipes|drums that began in 2000. The series numbers more than 150 piobaireachds, collated with known manuscripts and commentary from Donaldson, who was a pupil of Robert Nicol for nine years, and currently a lecturer in Scottish Literary Studies at the Massachusetts Institute of Technology. Donaldson's book, The Highland Pipe & Scottish Society, is considered a seminal study of the evolution and playing of ceol mor since 1850.
"The Set Tune Series is simply brilliant, and that kind of analysis is absolutely necessary," Hester added, and said that he was also motivated by the work of Steve Scaife of Illinois, who scanned public domain piobaireachd manuscripts and offered them for free online, numbering more than 7,000 separate settings.
Hester is a piper in San Francisco who left the instrument after being gunned down while practicing in Golden Gate Park. He picked up pipes again six years ago.
Hester also worked with the piobaireachd enthusiasts and amateur scholars Barnaby Brown, Keith Sanger and the late Roderick Cannon to complete the project.
"There has never been a time, ever, in the entire history of the musical art form when anyone from anywhere can access everything that exists of the primary source material of pibroch. Never," Hester emphasized. "Every single piece of notation, dating as far back as 1741, is now available.  For direct, unmediated access to the tunes as captured by these brilliant, early transcribers of staff and canntaireachd notation who effectively rescued the art from oblivion."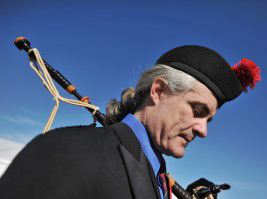 The site, he said, "resolves" 313 compositions, and, referring to the Piobaireachd Society's Collection, that "instead of trying to piece together a setting from the footnotes, pibroch performers can play from the settings directly.  Much as they do at the MacDonald Quaich."
The MacDonald Quaich is a competition in Skye, Scotland, that requires invited elite pipers to compete with tunes from the Donald MacDonald manuscript of piobaireachd of 1822, considered one of the greatest works in the ceol mor repertory.
When asked about the Piobaireachd Society's take on Alt Pibroch Club, President Jack Taylor said, "The Piobaireachd Society is fully supportive, and I think it's great that somebody has had the enthusiasm and drive to fully collect and catalog the stuff. Of course it all started with Willie Donaldson and Steve Scaife, then ourselves, now Alt Pibroch. All we don't have really on our site is the MacArthur MacGregor facsimiles. I'd argue our site is easier to follow – look up a tune by its common name and you find all the sources. I'd say that Alt Pibroch is pretty well towards the more radical end of the spectrum, and the Piobaireachd Society, while supportive, would want to take in all tastes."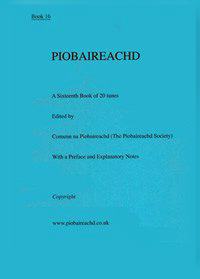 The opportunities that online publishing bring to pipers, which William Donaldson and pipes|drums first recognized in 1999 when plans for the Set Tunes Series came together, mean that printed collections of piobaireachd on their own have become anachronisms, unless accompanied with other materials, such as Colin MacLellan's recent and well-reviewed printed collection bundled with two CDs of sound recordings of the music.
The Piobaireachd Society reportedly printed as few as 150 copies of Book 16 of its Collection, released in 2015, although Taylor said that copies are available via print-on-demand technology.
The Piobaireachd Society, which was founded in 1903, has traditionally prescribed the tunes and musical requirements for the major ceol mor competitions in Scotland at the Northern Meeting in Inverness and the Argyllshire Gathering in Oban. Competitors are allowed to use any "known" setting of designated public domain tunes, but rarely deviate from the standardized arrangements in the organization's Collection or the Kilberry Book of Ceol Mor, a compilation assembled by Archibald Campbell. Campbell was the head of the Piobaireachd Society for many years, and who oversaw the compilation and settings of the tunes in the first 10 books of the organization's Collection.