Angus J. MacDowell, 1937-2018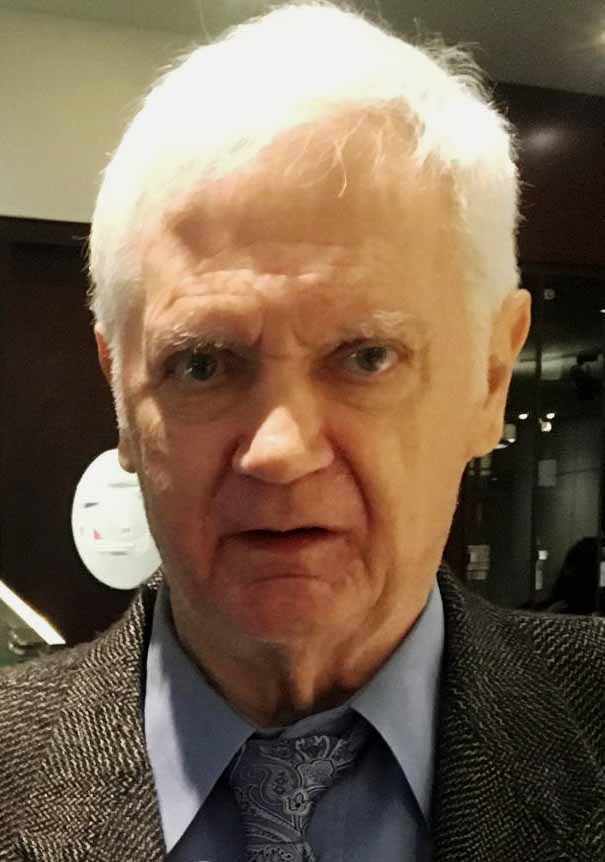 Canada has lost a valuable connection to piping's old guard with the passing of Angus MacDowell at Montreal General Hospital on the morning of Friday, August 24, 2018.
Born in Montreal in 1937, he was the son of Norah-Jean Hodgson and Col. Thain Wendell MacDowall, who was awarded the Victoria Cross for gallantry in battle at Vimy Ridge in 1917.
Angus joined the 401 Squadron RCAF Pipe Band in Westmount in March 1954 as a drummer before switching to pipes in the fall of 1957. He had been taught drumming by Larry Sheehan, a pupil of the late Jim Blackley.
Adam Annandale, who was Best Man at Angus's wedding, recalls that this young drummer kept asking the pipers how to play certain movements on the practice chanter. Pipe-Major Alex McNeill, son of the famed Blind Archie MacNeill and a pupil of John MacColl, became impatient with the young man, exclaiming, "Why are you asking these things? You are a drummer!" MacNeill challenged the drummer to play something, and to the amazement of all, Angus played a tune at a level beyond most of the pipers in the band. He had taught himself.
Angus went on to take lessons with Alex MacNeill, and when Blind Archie visited Montreal from Scotland in the summer of 1956 Angus would receive piobaireachd tuition from him. In July 1958, 401 Squadron re-formed as the City of Montreal Pipe Band and Angus became pipe-major briefly in 1961.
It was a short-lived appointment though, as he stepped down in 1962 when famed composer and ex-Scots Guards and Edinburgh Police piper George Grant immigrated to the Montreal area and was invited to take over the band. Angus remained as pipe sergeant. He would receive further tuition from George.
Like many Canadian pipers after him, Angus trekked to Scotland, arriving in May 1963 for a four-year stay. He worked for various companies, but also attained a Higher National Certificate from Stow College of Engineering, and a BSc. in Mechanical Engineering from Strathclyde University. He would meet and marry his wife Patricia in Glasgow. He also played in the Clan MacRae Society Pipe Band under Alec MacLeod in 1963-64, and then in the Renfrew Pipe Band under Tom Anderson in late 1964 and 1965.
He returned to Canada in 1967 and rejoined the City of Montreal Pipe Band that summer. However, the sudden and tragic passing of George Grant in October 1965 dealt the band a blow from which it never recovered, and it ceased competing in 1968.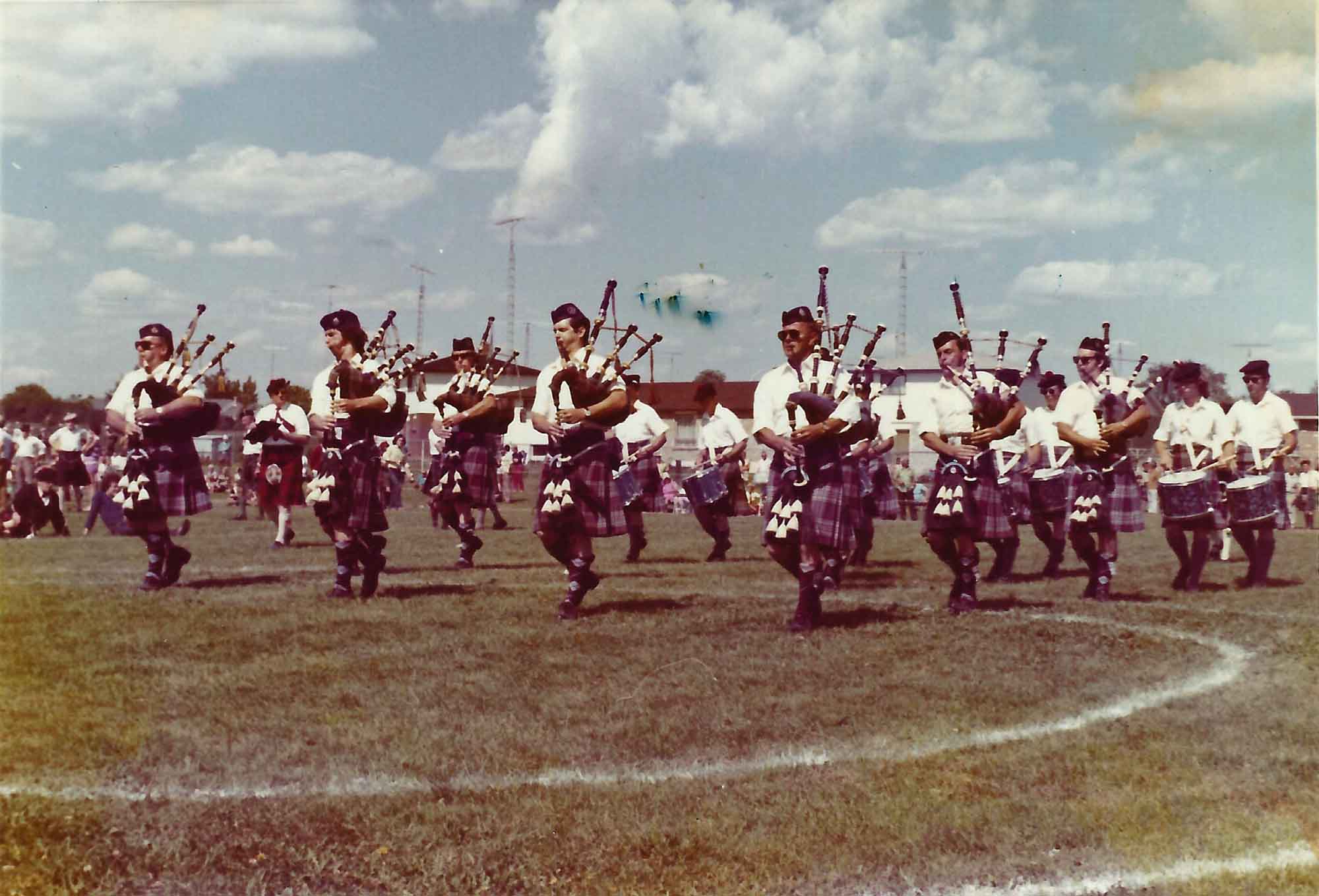 Angus was not involved in competing pipe bands for several years, but when plans were announced for the massive 1972 Intercontinental Pipe Band Championships to take place in Toronto as part of a memorable tattoo at the Canadian National Exhibition, he joined Ottawa's Canadian Forces Base Rockcliffe Pipe Band under Pipe-Major Archie Cairns. He played for the 1972 season and also received tuition from Archie.
He left the piping scene for some before becoming associated with the British Caledonian Airways Pipe Band during a six-month stay in London, England beginning in the fall of 1979.
He would return to the Canadian pipe band scene again as a side drummer and tenor drummer with the 48th Highlanders in the summer of 1981 and played in the band's famous Military Musical Pageant at London's Wembley Stadium.
Angus was a prolific and successful composer. Two of his tunes were played by the Canadian contingent at Wembley and several have been included on 48th Highlanders CDs.
From 1983 until 1989 he played as a piper and drummer in Montreal's Black Watch Association Pipe Band. In recent years he has been inactive in piping and drumming matters, with the exception of the composing of new pipe music, most of which has been preserved, but unpublished.
Two more of his tunes – "Reay Mackay's Hornpipe" and "The Waverunner" – were included in the 2017 publication of Reay Mackay's Book 1. He told me on more than one occasion that Reay Mackay was the finest man he ever met, and the best piper he ever heard.
Click to hear Jim McGillivray playing Angus MacDowell's "The Irish Guards' Welcome to Toronto" on a Deger chanter.
Aside from his extensive piping resumé, Angus was a brilliant and unique individual. His interests and passions were wide and included an extensive classical music record collection, electric trains, and automobile and marine motors. He maintained his membership at the Montreal Badminton and Squash (Atwater Club) for over 60 years and played badminton well into his 70s. He had a great sense of humour and was always willing to put the kettle on for a cup of tea and conversation. His photographic memory allowed him to recall dates, places and people, so he was a vast source of information and entertainment.
Angus had been living in a seniors' home in Montreal, and suffered from Alzheimer's disease during the last two years. He passed away surrounded by immediate family.
A memorial service will take place at the Complexe Funéraire Mont-Royal, 1297 Chemin de la Forêt, Outrement, Québec on Monday, August 27, at 11 am.
— Submitted by Michael MacDonald
Michael MacDonald is a piper from Montreal who met Angus in 1967 when he first returned from Scotland. Michael was 14 years old at the time, and they remained friends ever since.