Another 78th Frasers win, 400 Squadron takes Grade 2 at Kincardine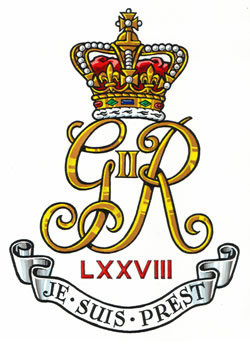 Kincardine, Ontario – July 7,2018 – Another pristine, cloudless, sunny day was ordered up for the Kincardine Scottish Festival on the shores of Lake Huron, where the 78th Fraser Highlanders won again on ensemble preference in the two-band Grade 1 MSR, and the 400 Squadron Tactical Helicopter were victorious in the Grade 2 against four other bands, also by ensemble preference. 400 Squadron competed with the minimum number of pipers for the grade.
Matt MacIsaac was the overall winner in the Professional Solo Piping, and Cameron McKail had two firsts in the Professional Snare Drumming to take the equivalent prize there.
Stay tuned to pipes|drums for video of the Grade 1 and Grade 2 band competitions from Kincardine.
Bands
Grade 1st (MSR, two competed)
1st 78th Fraser Highlanders (ens.pref.) (2,2,1,1)
2nd Toronto Police (1,1,2,2)
Best bass section: 78th Fraser Highlanders
Judges: John Elliott, Ed Gorman (piping); Jim Sim (drumming); Andrew Berthoff (ensemble)
Grade 2nd (Medley, five competed)
1st 400 Squadron Tactical Helicopter (ens.pref.) (1,2,5,1)
2nd Peel Regional Police (2,1,2,4)
3rd Great Lakes (5,4,1,2)
4th Hamilton Police (4,3,3,3)
5th Greater Midwest (3,5,4,5)
Best bass section: 400 Squadron
Judges: Lynda Mackay, Ed Gorman (piping); Jim Sim (drumming); Andrew Berthoff (ensemble)
Grade 3rd (Medley, four competed)
1st Toronto Police (Gr3)  (ens.pref.) (2,2,1,1)
2nd Guelph (1,1,2,2)
3rd Windsor Police (ens.pref.) (3,3,4,3)
4th Chicago Celtic (4,4,3,4)
Best bass section: Toronto Police
Judges: Lynda Mackay, Ed Gorman (piping); Jim Sim (drumming); Andrew Berthoff (ensemble)
Grade 4 (March Medley, nine competed)
1st Ryan Russell Memorial (2,2,2,1)
2nd 8 Wing RCAF (1,1,5,3)
3rd Durham Regional Police (4,4,4,4)
4th Hamilton Police (Gr4) (ens.pref.) (5,7,3,2)
5th Border Cities Caledonian (6,3,1,7)
6th Cambridge & District (3,9,7,5)
7th Paris-Port Dover (7,5,6,8)
8th Georgetown (8,8,9,6)
9th London Fire Fighters (9,6,8,9)
Best bass section: Ryan Russell Memorial
Judges: Lynda Mackay, Ed Gorman (piping); Jim Sim (drumming); Andrew Berthoff (ensemble)
Grade 5 (March Medley, seven competed)
1st Guelph (Gr5) (1,1,1,1)
2nd Paris-Port Dover (Gr5) (2,4,2,2)
3rd Peel Regional Police (Gr5) (3,2,4,3)
4th Grand Celtic (5,3,6,4)
5th Ontario Fire Services (4,5,7,5)
6th London Fire Fighters (6,7,3,6)
7th Flint Scottish (7,6,5,7)
Best bass section: Paris-Port Dover
Judges: Lynda Mackay, Ed Gorman (piping); Jim Sim (drumming); Andrew Berthoff (ensemble)
Professional Solo Piping
Piobaireachd
Group A (eight competed)
1st Matt MacIsaac
2nd Doug MacRae
3rd Jacob Dicker
4th Sean McKeown
5th Callum Harper
6th Ian K. MacDonald
Judge: Pete Aumonier
Group B (seven competed)
1st Dylan Whittemore, "MacCrimmon's Sweetheart"
2nd Laureano Thomas-Sanchez, "Lament for the Earl of Antrim"
3rd Tyler Bridge, "Glengarry's March" (Donald MacDonald setting)
4th Tyler Johnson, "The Battle of the Pass of Crieff"
5th Tyler Harris, "The King's taxes"
6th Andrew Hutton, "The Battle of Waternish"
Judge: Andrew Berthoff
Light Music (16 competed)
March
1st Matt MacIsaac
2nd Ian K. MacDonald
3rd Glenn Walpole
4th Callum Harper
5th Jacob Dicker
6th Graham Thompson
Judge: John Cairns
Strathspey & Reel
1st Ian K. MacDonald
2nd Matt MacIsaac
3rd Sean McKeown
4th Callum Harper
5th Jacob Dicker
6th Tyler Harris
Judge: Jake Watson
Jigs
1st Doug MacRae
2nd Sean McKeown
3rd Tyler Johnson
4th Matt MacIsaac
5th Ian K. MacDonald
6th Tyler Harris
Judge: Steve MacNeil
Professional Solo Drumming
MSR
1st Cameron McKail
2nd Kyle Wardell
3rd Neil Birkett
Judge: Steve Hill
Hornpipe & Jig
1st Cameron McKail
2nd Neil Birkett
3rd Kyle Wardell