At least 120 schools in March 2018 contest
What could be the biggest single contest ever for young pipers and drummers will be staged on March 11, 2018, when at least 120 Scottish schools will participate in the Scottish Schools Pipe Band Championships in Livingston, Scotland, with an expected collective entry of more than 800 individual players competing in quartet and other events.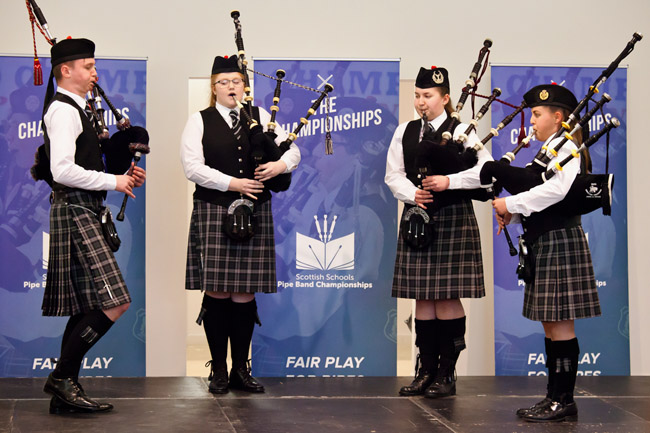 The eighth annual competition is being organized by the Scottish Schools Pipes & Drums Trust (SSPDT), the national charity that provides piping and drumming tuition for pupils in state schools, encouraging the formation of school pipe bands.
Organizers are stressing that entries close on January 19th, and all a school needs to enter a quartet are three pipers and their instructor if it doesn't yet have four students on the pipes, let alone a full band.
The competition will also a feature a popular "Freestyle" event that encourages creativity, even though it could offend foosty traditionalists.
"The [competition] was established in 2011 to encourage the formation of school pipe bands, and offers a positive and friendly experience for players who are new to competition, as well a forum for bands at the very top of their game," said Alexandra Duncan, Chief Executive of the SSPDT. "This year we are delighted to see entries from new schools pipe bands that have been created with the Trust's help. The Trust can help more state schools in Scotland to expand music opportunities for pupils by introducing piping and drumming tuition, and we invite teachers and parents to contact us."
The organization is also sponsoring a composing contest for young music creators: "Piping Hit 2018." The competition is open to all young musicians, not just pipers, in Scotland.
"The pipes are used in so many different types of music now and we want to encourage all pupils to get involved, whether they play the pipes or not, " said Kenny Forsyth a judge of the composing contest. "The tune doesn't have to be what is considered a typical traditional Scottish melody, it could be as modern as Ed Sheeran or Katy Perry – it's up to the composer!"
Up for grabs is a cash prize of £250 for the winner and £1,000 for the winner's school's music department. The composition will be performed at the Championships in March.
In addition to the establishment of massive success stories like the National Piping Centre and the piping degree program at the Royal Conservatoire of Scotland in Glasgow, Scotland has steadily increased teaching of piping and pipe band drumming in both public and private schools for the last 20 years, producing more players for ever larger bands and helping to maintain and build standards across every grade.