Beaumont continues red hot streak at red hot Chatsworth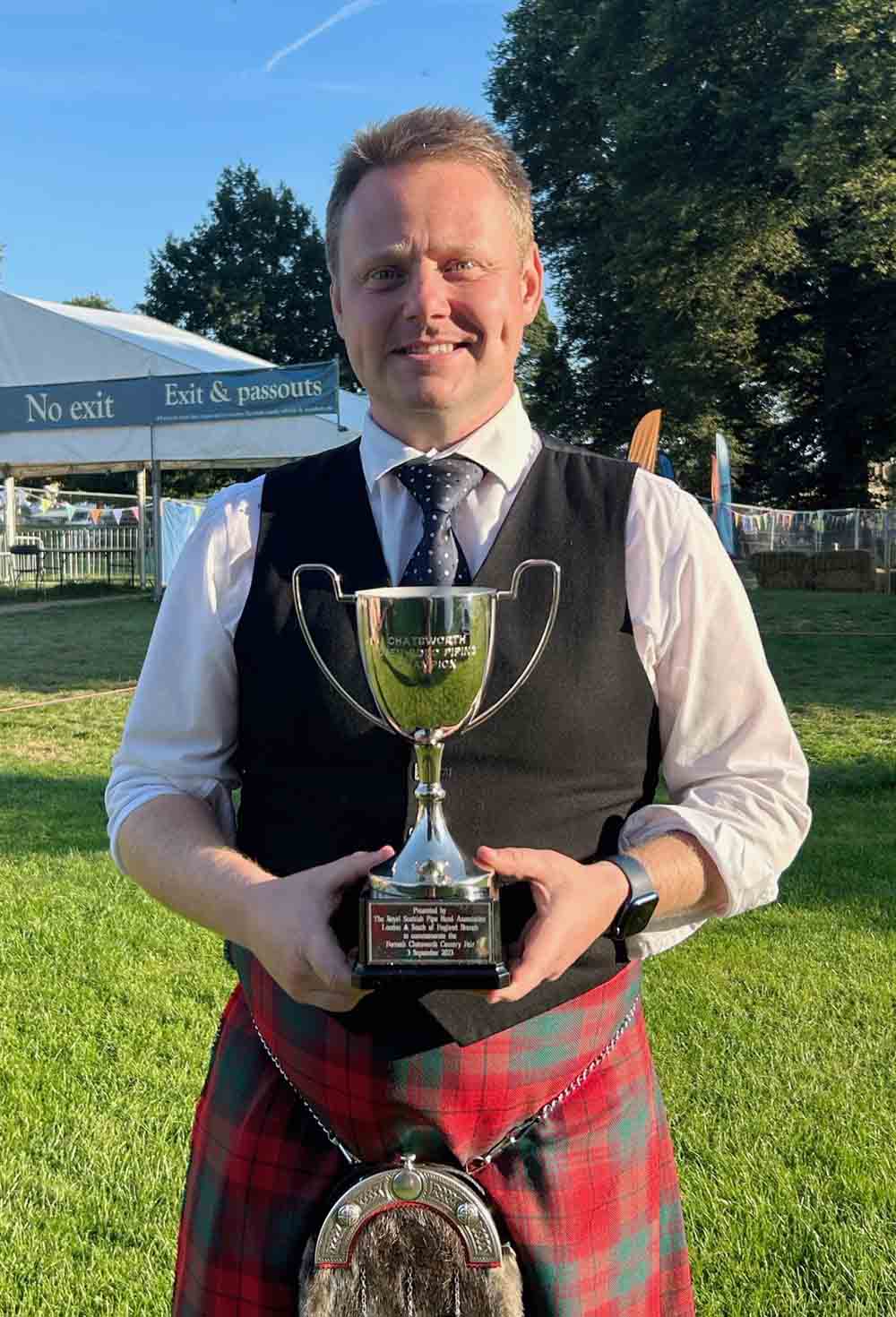 Bakewell, England – September 3, 2023 – Hot on the heels of winning both the Clasp and the Silver Star MSR at the Northern Meeting, Callum Beaumont of Sat. Andrews, Scotland, had the most successful day of the 16 pipers who competed at the annual solo piping competitions on the grounds of the extraordinary Chatsworth House in the Derbyshire Dales. The event offers more than £3,500 in total prize money, making it one of the world's most lucrative contests for those who do well. The weather was warm and bright. Beaumont received an additional £100 for being the overall champion.
The competitions are run by the RSPBA's London & South of England Branch on behalf of the Chatsworth Country Fair. The contest was started in 1981. Beaumont also won the overall at Chatsworth in 2022.
Piobaireachd
1st Callum Beaumont, "Lament for MacLeod of Colbeck" (£420)
2nd Willie McCallum, Bearsden, Scotland, "The Phantom Piper of Corrieyairick" (£330)
3rd Ed MacIlwaine, Vancouver, "Lament for the Departure of King James" (£270)
4th Derek Midgley, Tinton Falls, New Jersey, "Port Urlar" (£210)
5th Nick Hudson, Houston, "Farewell to the Queen's Ferry" (£180)
6th Alasdair Henderson, Edinburgh, "I Got a Kiss of the King's Hand" (£150)
7th Bradley Boxall, Perth, Scotland, "Lament for MacDonald of Kinlochmoidart" #1 (£120)
8th Neill Esslemont, Aylesbury, England, "Lament for Mary MacLeod" (£100)
Judges: Roger Huth, Roddy Livingstone
2/4 March
1st Callum Beaumont, "The Glasgow Skye Association Centenary" (£120)
2nd Willie McCallum, "Angus Campbell's Farewell to Stirling" (£105)
3rd Alasdair Henderson, "Colonel MacLean of Ardgour" (£90)
4th Derek Midgley, "The Knightswood Ceilidh" (£75)
5th Nick Hudson, "Brigadier General Cheape of Tiroran" (£60)
6th Daniel Johnstone, Glasgow, "Trevison's March" (£45)
7th Bradley Boxall, "The Lochaber Gathering" (£35)
8th Ed MacIlwaine, "The Braes of Castle Grant" (£30)
Judges: Roger Huth, Roddy Livingstone
Strathspey & Reel
1st Willie McCallum, "Lady MacKenzie of Gairloch," "Roddy MacDonald's Fancy" (£120)
2nd Callum Beaumont, "Lady Louden," "Drumlithie" (£105)
3rd Alasdair Henderson, "Glentruim," "Restalrig Road" (£90)
4th Derek Midgley, "John Roy Stewart," "The Brown Haired Maid" (£75)
5th Nick Hudson, "Piper's Bonnet," "Sandy Cameron" (£60)
6th Neill Esslemont, "Arniston Castle," "Dolina MacKay" (£45)
7th Daniel Johnstone, "The Shepherd's Crook," "Lt-Col D.J.S. Murray" (£35)
8th Ed MacIlwaine, "Cabar Feidh," "The Grey Bob" (£30)
Judges: Roger Huth, Roddy Livingstone
6/8 March
1st Nick Hudson, "The Bonawe Highlanders" (£55)
2nd Willie McCallum, "Ballochyle" (45)
3rd Callum Beaumont, "Tug Argan Gap" (£35)
4th Derek Midgley, "Mrs. MacDonald of Uig" (£30)
5th Alasdair Henderson, "The Highland Brigade Depot" (£25)
6th Bradley Boxall, "Pipe-Sergeant John Barclay" (£20)
7th Neill Esslemont, "The Trees of South Uist" (£15)
8th Daniel Johnstone, "The Heights of Casino" (£10)
Judges: Roger Huth, Roddy Livingstone
Hornpipe & Jig
1st Callum Beaumont, "Michael Grey," "Turf Lodge" (£55)
2nd Alasdair Henderson, "Dora Watt," "Chloe's Passion" (£45)
3rd Derek Midgley, "Redondo Beach," "The Skylark's Ascension" (£35)
4th Willie McCallum, "Dr. MacInnes's Fancy," "Brae Riach" (£30)
5th Nick Hudson, "Jack Adrift," "John MacDonald's Exercise" (£25)
6th Scott Armstrong, "Lucy Cassidy," "The Bobs of Balmoral" (£20)
7th David Rischmiller, "The Man from Skye," "The Seagull" (£15)
8th Robert Low, "G.Y. Slater," "The Fittie Boatman" (£10)
Judges: Roger Huth, Roddy Livingstone