Beaumont, Duncan, Walker big winners at Lochaber
Fort William, Scotland – August 20, 2016 – Callum Beaumont won the top piobaireachd prize and also took the Open Hornpipe & Jig at the annual Lochaber Gathering held at the Nevis Centre. The competition attracted a reasonably good entry. The piobaireachd prize is a small, solid gold axe.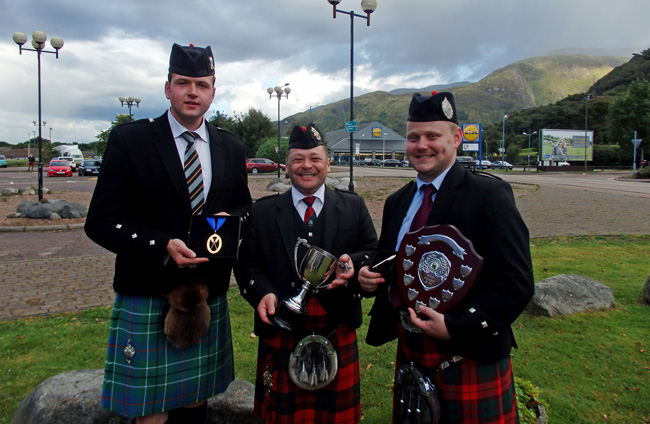 Premier & A-Grade
Piobaireachd (An Tuagh Oir)
1st Callum Beaumont, Linlithgow, Scotland
2nd Gordon McCready, Glasgow
3rd Euan MacCrimmon, Inverness
4th Derek Midgley, Tinton Falls, New Jersey
March (Lochaber Gathering Gold Medal)
1st Ben Duncan, Edinburgh
2nd Gordon Walker, Galston, Scotland
3rd Bill Geddes, Glasgow
4th Gordon McCready, Renfrew, Scotland
Strathspey & Reel (Leek's Taxis Trophy)
1st Gordon Walker
2nd Ben Duncan
3rd Nick Hudson, Pittsburgh
4th Callum Beaumont, Linlithgow, Scotland
B- & C-Grade
Piobaireachd (An Tuagh Airged)
1st Jason Craig, Australia
2nd Mael Sicard-Cras, Glasgow
3rd Andrew Donlon, Washington , DC
4th Bruce MacDonald, Portree, Scotland
MSR (Clydesdale Bank Trophy)
1st Matt Pantaleoni, St. Louis
2nd Duncan Beattie, Linlithgow, Scotland
3rd Andrew Bell, Catrine, Scotland
4th Greig Canning, Edinburgh
Open Hornpipe & Jig (Lochaber Gathering Shield)
1st Callum Beaumont
2nd Gordon Walker
3rd Gordon McCready
4th Ross Cowan, Motherwell, Scotland
Events were judged by Barry Donaldson, Alan Forbes, Andrew Frater, Archie MacLean, Niell Mulvie, and Robert Wallace.
Got results? Send them to pipes|drums!