Beaumont to provide even more punch to Toronto knockout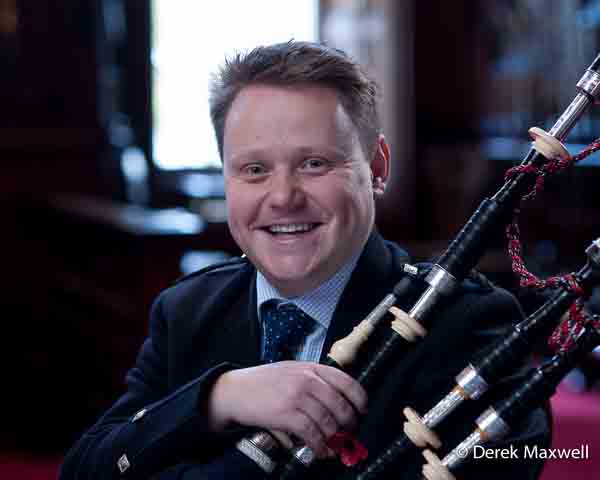 As one of the world's consistently top-five solo pipers, Linlithgow, Scotland's Callum Beaumont had accomplished more before the age of 25 than almost anyone in competitive piping history. On the evening of Saturday, March 2, the 30-year-old Beaumont will be in recital to cap off the Pipers & Pipe Band Society of Ontario's Toronto Branch day of piobaireachd tuition and competitions at Moss Park Armoury in downtown Toronto.
During the day, Beaumont, double Gold Medallist John Cairns and Peter Aumonier, will be teachers at the annual More Ceol Mor piobaireachd workshop, with each instructor playing a tune or two at the conclusion.
After a break for dinner, the final rounds of both Professional and Amateur solo piping and snare drumming knockout events will be held, starting at 6 pm. The events are the culmination of a series of rounds in which players accrue points, the top six gaining entry to the final. A total of 23 competitors qualified to compete for the overall Knockout Series title of their respective divisions.
The Professional Piping section enjoyed a strong entry, and competing in the final round are Tyler Bridge, Guelph, Ontario; Andrea Boyd, Toronto; Laureano Thomas-Sanchez, Cleveland; Ian K. MacDonald, Whitby, Ontario; Sean McKeown, Toronto; and Dylan Whittemore, Kitchener, Ontario.
Beaumont will judge the professional piping, Glenna Mackay-Johnstone and Greg Dinsdale will handle the amateur piping and snare drumming events, respectively.
Beaumont's recital following the competitions will be the first time that he has performed in Ontario.
All events are taking place at Moss Park Armoury in downtown Toronto.
The knockout events break up an interminably miserable Ontario winter. The PPBSO's Toronto Branch also runs the annual Toronto Indoor Games, also at Moss Park Armoury, always a joyous event as the last of the snow melts outside.