Beaumont wins 2016 Metro Cup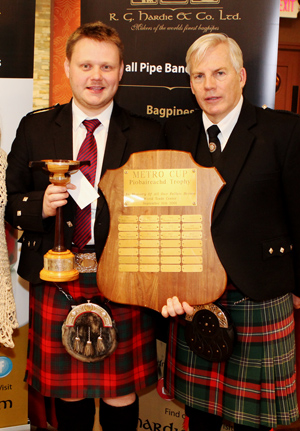 Newark, New Jersey – February 20, 2016 – Callum Beaumont of Linlithgow, Scotland, was the overall winner of the 2016 Metro Cup Solo Invitational Piping Competition, held before a sizable and appreciative audience at the Ramada Newark Airport Hotel. It was Beaumont's second win of the event. In addition to the prize money, the overall winner receives a solid gold medallion, valued at more than US$1200. The event is organized by the Metro New York Branch of the Eastern United States Pipe Band Association, and a team of volunteers led by Eric Stein. A well run silent auction raised substantial funds to offset costs, as did regional pipe bands sponsoring competitors to attend and conduct workshops and recitals especially for them.
In the P-M George Bell Amateur Championship held in the morning, Sean Moloney of Limerick, Ireland, won the overall award with a second in the piobaireachd event, which was adjuidicated by Brian Donaldson, and a first in the MSR, judged by James P. Troy.
Piobaireachd
1st Callum Beaumont, "Lament for the Earl of Antrim" (US$1000)
2nd Willie McCallum, Bearsden, Scotland, "MacNeill of Barra's March" ($600)
3rd Gordon Walker, Galston, Scotland, "Scarce of Fishing" ($400)
4th Bruce Gandy, Dartmouth, Nova Scotia, "The Earl of Seaforth's Salute" ($200)
5th James P. Troy, Victoria, British Columbia, "Lament for the Laird of Anapool" ($100)
Medley (own choice, 5-7 minutes)
1st Gordon Walker ($1000)
2nd Callum Beaumont ($600)
3rd Willie McCallum ($400)
4th Alasdair Henderson, Dunoon, Scotland ($200)
5th Glenn Brown, Glasgow ($100)
Also competing but not in the prizes were Brian Donaldson, Wisconsin; Alex Gandy, Dartmouth, Nova Scotia; Nick Hudson, Pittsburgh; Andrew Lee, Vancouver; Stuart Liddell, Inveraray, Scotland; and John Patrick, Kilsyth, Scotland.
Judges for both events were Jim Bell, Andrew Berthoff and Jim McGillivray.
Stay tuned to pipes|drums for video from the medley performances.