Boghall extends Peoples Ford sponsorship

On the brink of the first major championship of the 2016 RSPBA season, the Grade 1 Peoples Ford Boghall & Bathgate Caledonia will continue to be supported by the prominent car dealership.
The West Lothian, Scotland-based perennial contenders at the top of the world's premier grade first secured sponsorship with Peoples Ford in 2014, and the relationship has continued with the Bathgate business, which has had more informal links since at least 1986.
Pipe-Major Ross Harvey commented, "The renewal of our sponsorship with Peoples Ford is a huge help towards the significant costs of running an organization of our size.
"We teach over 80 young people in West Lothian which is of mutual benefit to both the organisation and the local community. Our teaching program allows us to grow and nurture our own talent and keep up the supply of quality players into the Grade 1 band. Our kids are left with skills that will serve them well throughout their professional and personal lives including teamwork, dedication, discipline and lifelong friendships."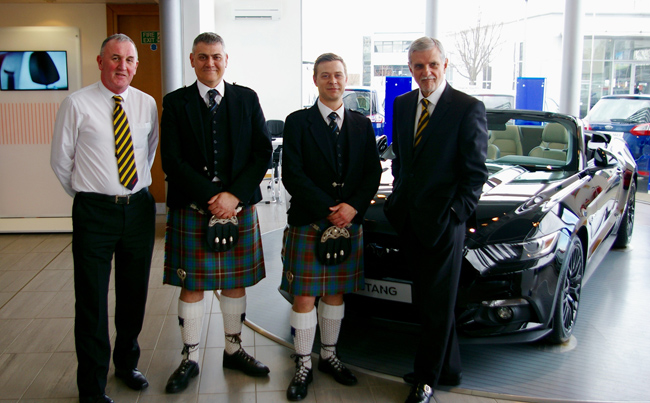 The Boghall & Bathgate organization is one of the most successful in the pipe band world, sustaining three competing bands in Grade 1, Juvenile and Novice Juvenile A. Boghall & Bathgate was, along with the now defunct Dysart & Dundonald, one of the early creators of the modern-day teaching system now used by many prominent pipe band organizations. The system has allowed the Grade 1 band to sustain a consistent level of excellence without having to resort to bringing in temporary players.
"The continued support of Peoples Ford allows us get on with our teaching and preparations for the competition season. We sincerely appreciate our partnership and the support we get from Peoples Ford and hope that this will continue into the future," Harvey added.
The Peoples organization employs more than 400 people at seven dealerships in Scotland and the northwest of England.
"I get lots of sponsorship requests but the reality is I can only participate in a selected few. This sponsorship is a thank you to not only to Boghall and Bathgate Caledonia, a superb and proud band at all levels, but to my many friends and customers in West Lothian," said Peoples chairman Brian Gilda.
Boghall & Bathgate also announced that Alexander Scougall has been appointed Pipe-Sergeant of the Grade 1 band.