Oban: Gandy wins Senior Piob; Murray takes Gold; Forrest Silver; Liddell MSR
Oban, Scotland – August 27, 2014 – Bruce Gandy won the Senior Piobaireachd at the Argyllshire Gathering, the top event at the competition, and one of the biggest awards in solo Highland piping. It was the first time Gandy has captured the prize.
In the Gold Medal, Douglas Murray of Cupar, Scotland, won the Highland Society of London Gold Medal, at the top of a list that followed with four Canadian-born pipers. American émigré to Scotland Decker Forrest took home the Silver Medal.
Later in the evening, a large group competed in the Former Winners Silver Star March, Strathspey & Reel
Senior Piobaireachd (16 competed)
1st Bruce Gandy, Dartmouth, Nova Scotia, Canada, "Lament for the Laird of Annapool"
2nd Stuart Liddell, Inveraray, Scotland, "Lament for the Laird of Annapool"
3rd Angus MacColl, Benderloch, Scotland, "Donald Gruamach's March"
4th Faye Henderson, Kirriemuir, Scotland, "The Red Speckled Bull"
5th Willie McCallum, Bearsden, Scotland, "Abercairney's Salute"
Judges: Colin MacLellan, Malcolm McRae, Andrew Wright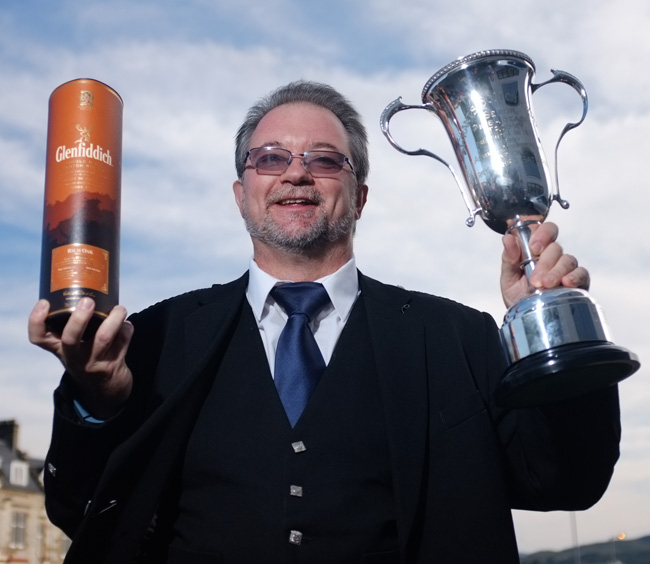 Highland Society of London Gold Medal (27 competed)
1st Douglas Murray, "MacNeill of Barra's March"
2nd Ian K. MacDonald, Toronto, "Lament for the Only Son"
3rd Andrea Boyd, Ottawa, "The Big Spree"
4th Glenn Brown, Glasgow, "Lament for the Departure of King James"
5th Andrew Hayes, Ottawa, "The Big Spree"
Judges: Iain MacFadyen, Robert Wallace, John Wilson
Silver Medal (29 competed)
1st Decker Forrest, Skye, Scotland, "MacLeod of Raasay's Salute"
2nd Angus J. MacColl, Oban, "MacLeod of Raasay's Salute"
3rd Sean McKeown, Toronto, "Kinlochmoidart No. 1"
4th Stuart Easton, New Zealand, "The Groat"
5th Sandy Cameron, "The Battle of Aldearn" No.2
Judges: Patrick Molard, Willie Morrison, Stuart Samson
MacGregor Medal
1st Cameron MacDougall, Nigg, Scotland, "The Battle of Auldearn" #2
2nd Scott Barrie, Ayr, Scotland, "Lament for Donald Duaghal MacKay"
3rd Irsa Beckford, Maine, USA, "The Unjust Incarceration"
Judges: Ian Duncan, Ronnie McShannon, Stuart Shedden, Bob Worrall
The MacGregor was run in two heats, and the all four judges adjudicated the final.
Silver Star Former Winners MSR (26 competed)
1st Stuart Liddell
2nd Willie MacCallum
3rd Gordon McReady, Renfrew, Scotland
4th Angus MacColl
5th Gordon Walker, Galston, Scotland
Judges: Walter Cowan, Barry Donaldson, John MacDougall
Stay tuned to pipes|drums Magazine for more results from Oban as they become available.