Canterbury Caledonian return as New Zealand Champions
Dunedin, New Zealand – March 29, 2019 – Canterbury Caledonian returned as winners of the New Zealand Pipe Band Championship, capturing the award in the second day of events, which featured all Grade 1 and Grade 2 bands, playing for large crowds in near-perfect, at 19°C and sunny conditions. The event was livestreamed and included commentary and interviews by Tyler Fry. Results from the Grades 3, 4, and Juvenile were also announced.
The competition once again saw an influx of "guest" players added to Grade 1 rosters, with one band reportedly competing with only six New Zealand residents in its pipe section. The Royal New Zealand Pipe Band Association allows any number of fly-in players provided they are released and added as registered members within the stipulated period of time.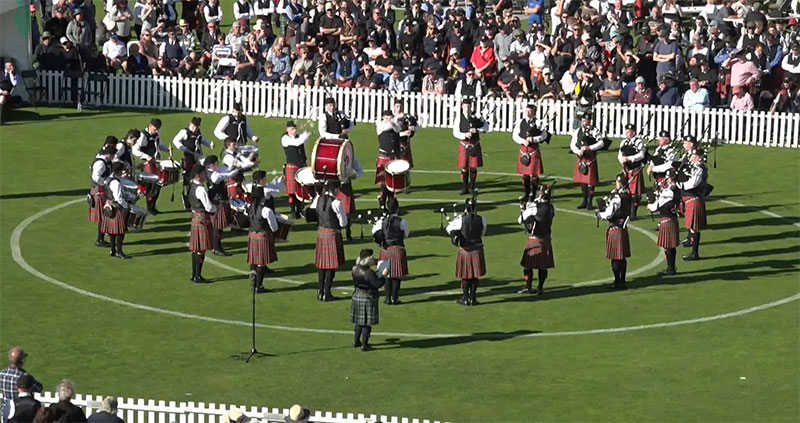 Grade 1 (4 competed)
Overall
1st Canterbury Caledonian Society
2nd New Zealand Police
3rd Manawatu Scottish
4th Auckland & District
Medley
1st Canterbury Caledonian Society (1,3,1,2)
2nd Manawatu Scottish (3,2,2,1)
3rd New Zealand Police (2,1,3,3)
4th Auckland & District (4,4,4,4)
Judges: Martin Frewen, Nigel Foster (piping); Richard Parkes (ensemble); Adam Alexander (drumming)
MSR
1st New Zealand Police (2,2,1,2)
2nd Canterbury Caledonian Society (1,1,2,3)
3rd Manawatu Scottish (3,3,3,1)
4th Auckland & District (4,4,4,4)
Judges: Iain Blakely, Brian Switalla (piping); Chris Stevens (ensemble); Jim Baxter (drumming)
Grade 2 (eight competed)
Overall
1st ILT City of Invercargill Highland
2nd St. Andrew's College
3rd Celtic
4th Wellington RedHackle
5th Northland Caledonian
6th South Canterbury
7th Canterbury Caledonian Society (Gr2)
8th Hamilton Caledonian
Grade 3 (five competed)
Overall
1st Scottish Society of New Zealand
2nd Manwatu Scottish, No.2
3rd City of Tauranga
4th Hawkes Bay Caledonian
5th City of Wellington
Grade 4A (12 competed)
Overall
1st Scots College
2nd ILT City of Invercargill (Gr4A)
3rd Canterbury Caledonian Society (Gr4)
4th Papakura
5th Hokonui Celtic
6th Celtic (Nelson)
Grade 4B
Overall
1st City of Rotorua
2nd City of Dunedin
3rd ILT City of Invercargill (Gr4B)
4th Hamilton Caledonian Development
5th South Canetrbury Development
6thCityofSails
Juvenile (10 competed)
1st St. Andrew's College A
2nd ILT City of Invercargill (Juvenile)
3rd Celtic
4th Canetrbury Caledonian (Juvenile)
5th Scots College
6th Lewis Turrell Memorial Trust
---
Related stories

Perfect scores for New Zealand Police at NZ Champs

---

Wellington Hawkes Bay goes to New Zealand Police

---