Chanters silenced: pipers lost in the Great War – G.S.'s brother and the youngest pipe-major
The disruption of World War I on Scottish piping families was profound. In this installment of Chanters Silenced, we see the impact on the famous McLennan family, and the death of the great George Stewart "G.S." McLennan's brother, another killed at the Battle of the Somme on July 25, 1916.
Previous entries:
+ Chanters silenced: pipers lost in the Great War
+ Chanters silenced: pipers lost in the Great War – Angus Morrison, a heroic Uist piper killed
+ Chanters silenced: pipers lost in the Great War – losses on common ground
We hope that you appreciate this series, and pause to reflect on the courage of these men.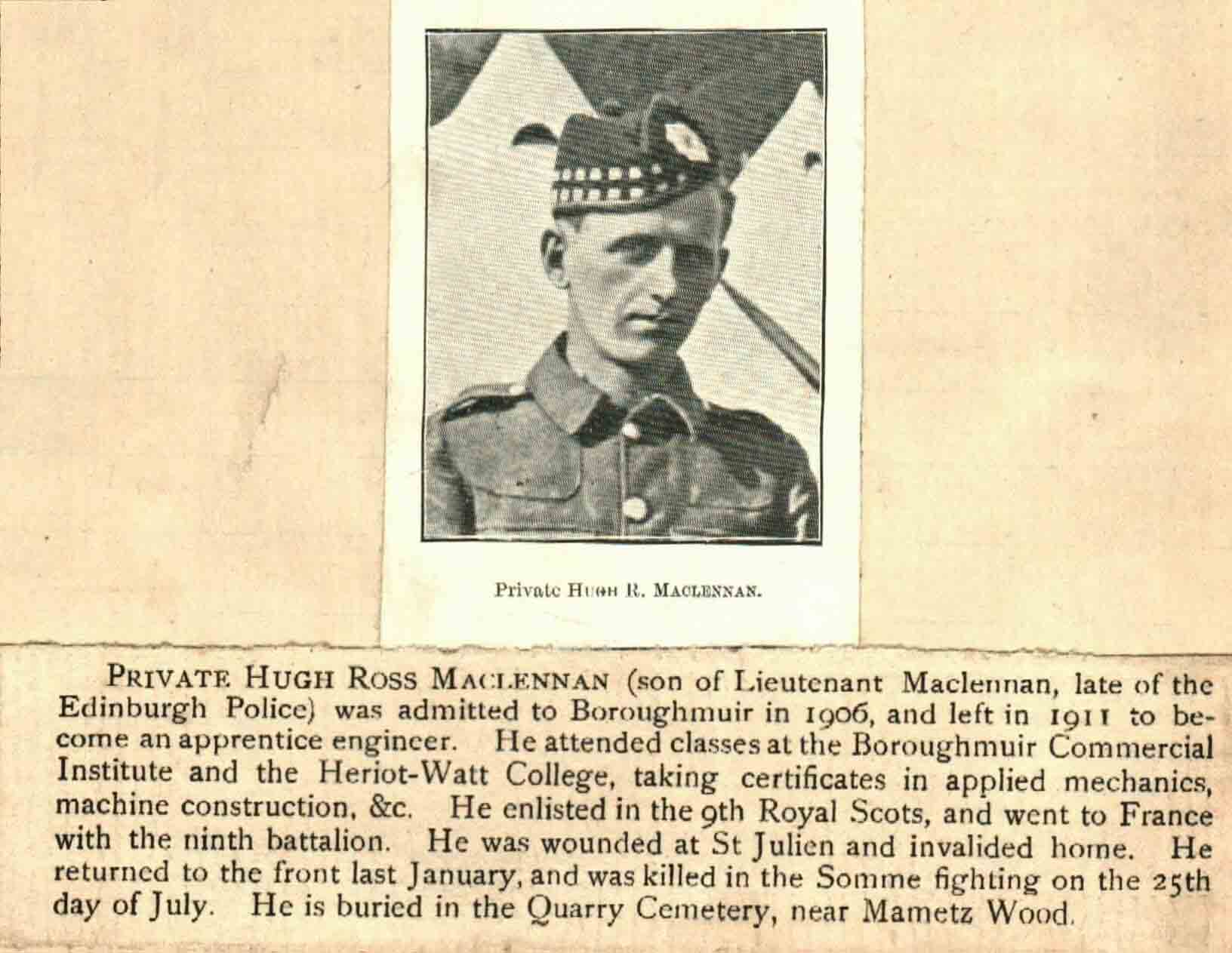 Private HUGH R. MACLENNAN
PRIVATE HUGH ROSS MACLENNAN (son of Lieutenant MacLennan, late of the Edinburgh Police) was admitted to Boroughmuir in 1906, and left in 1911 to become an apprentice engineer. He attended classes at Boroughmuir Commercial Institute and the Heriot-Watt College, taking certificates in applied mechanics, machine construction, &c. He enlisted in the Royal Scots , and went to France with the ninth battalion. He was wounded at St Julien and invalided home. He returned to the front last January, and was killed in the Somme fighting on the 25th day of July. He is buried in the Quarry Cemetery, near Mametz Wood.
And an account of a history-making young piper . . .
MILITARY APPOINTMENT FOR A GLASGOW PIPER.
YOUNGEST PIPE MAJOR.
[Hand dated: O.T. (Oban Times) 24-10-14]
His many friends in Glasgow and elsewhere will be delighted to learn that Mr Charles Stewart has been appointed Pipe-Major to the Duke of Cambridge's Own Middlesex Regiment, and as they had not hitherto a Pipe Band, Mr Stewart was entrusted with its formation.
The young Pipe-Major, who is only in his 20th year, will be the youngest holding such a position in the British Army, and it is an honour of which he may justly be proud. Mr Stewart was a member of the 7th Blythswood H.L.I. (Ter.) Pipe Band for four years, under Pipe-Major Farquhar MacRae, and when the City of Glasgow Pipe Band was formed nine months ago, he became attached to it. He is a son of Mr Donald Stewart, a well-known member of the Atholl and Breadalbane Association, whose family takes a lively interest in all Highland matters in the city. It may also be mentioned that the young piper is a brother of Miss Nettie Stewart, the favourite Gaelic and English vocalist, and both of them for several years past have been popularly known to the Highlanders of Glasgow. Another brother, Iain Stewart, a Mod Junior Medallist, is with the Glasgow Highland Territorials. Mr Alexander Stewart, Glenlyon, the well-known Gaelic writer, is a grand-uncle.
Pipe-major in this case carries with it the rank of Bandmaster Warrant Officer, as there will be no brass band in the Universities and Public Schools Battalion.
Pipe-Major Stewart, with the band of pipers and drummers, left the Central Station, Glasgow, on Friday evening last to join his regiment. He had a hearty send-off from his many friends and wellwishers in the city.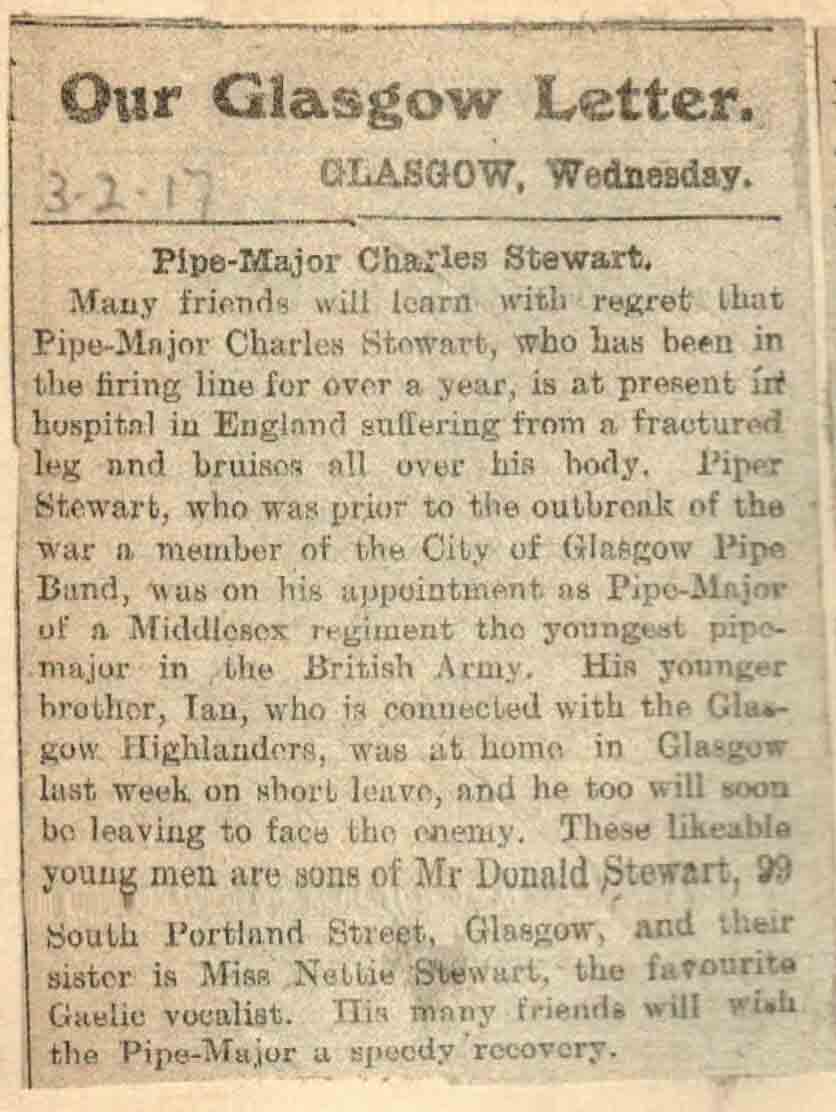 Approximately two-and-a-half years later, bad news arrived about this promising piper. We don't know what became of him.
Our Glasgow Letter.
Glasgow, Wednesday
Pipe-Major Charles Stewart
(Hand dated: 3-2-17)
Many friends will learn with regret that Pipe-Major Charles Stewart, who has been in the firing line for over a year, is at present in hospital in England with a fractured leg and bruises all over his body. Piper Stewart, who was prior to the outbreak of the war a member of the City of Glasgow Glasgow Pipe Band, was on his appointment as Pipe-Major of the Middlesex regiment the youngest pipe-major in the British Army. His younger brother, Ian, who is connected with the Glasgow Highlanders, was at home in Glasgow last week on short leave, and he too will soon be leaving to face the enemy. These likeable young men are sons of Mr Donald Stewart, 99 South Portland Street, Glasgow, and their sister is Miss Nettie Stewart, the favourite Gaelic vocalist. His many friends will wish the Pipe-Major a speedy recovery.
Stay tuned to pipes|drums for the next in our ongoing "Chanters silenced: pipers lost in the Great War" series, leading up to November 11.