Chanters silenced: pipers lost in the Great War – losses on common ground

We continue our series of excerpts from publications of the time, reporting on losses of pipers serving in the Great War. There is no known account of the exact number of Highland pipers who were killed in action, but records show that at least 400 served in the war.
The accounts below, from the Oban Times, are of a piper killed in action, with the report appearing on Christmas Day, 1915, while another archive piece is an account of the well known story of an impromptu football match on Christmas Day, 1914. The story, which some historians have maintained could be apocryphal, is from the early months of the war, with a German soldier predicting that the conflict would end in another matter of months.
It would actually go on for another three years, with millions of lives lost.
One piper, in the final account, was narrowly spared, but his pipes were lost in battle.
In case you missed previous
+ Chanters silenced: pipers lost in the Great War
+ Chanters silenced: pipers lost in the Great War – Angus Morrison, a heroic Uist piper killed
We hope that you appreciate this series, and pause to reflect on the courage of these Highland pipers.
SATURDAY DECEMBER 25, 1915
CARRIED THE WOUNDED FROM THE FIELD.
Piper DUNCAN MACKENZIE.
The above is a portrait of Piper Duncan Mackenzie, Scottish Rifles. He was an ex member of the 86th Glasgow Boys Brigade and Eglinton Toll Pipe Bands. Information has been received by his mother, Mrs Kennedy, 80 South Portland Street, Glasgow, that he was killed in France on 17th November while carrying the wounded from the field. Prior to enlistment, Piper Mackenzie was employed by Messrs Carter & Pratt, Glasgow.

MULL PIPER AT THE FRONT.
TALKING WITH THE ENEMY.
A vivid letter from Piper Archibald Macpherson, Scots Guards, a native of Bunessan, was recently published in "The Oban Times." A further communication has been received from the gallant piper by relatives in Glasgow, and from this the following extracts are given: —
We had a glorious time of it on Christmas Day. There was a keen frost and snow falling slightly. On Christmas Eve the Germans shouted from their trenches, which are only 100 yards from ours, in these terms – "A merry Christmas, Scottie Guardies. We are not going to fire to-morrow; we will have a holiday and a game of football." Our fellows agreed. Next morning, sure enough, the Germans came out of their trenches, and began to saunter over to ours unarmed. At this, our chaps went over half-way to meet them. They greeted one another like the best of friends and shook hands. You would have thought the war was at an end. We exchanged cigarettes for cigars, tobacco, etc. They brought over ever so many things as souvenirs. A German officer gave me a button off his coat for my capstar. We were chatting all day.
I was talking to a German who was four years in London. He could speak fine English. I asked him when did he think the war would be over. He said in six months' time. I remarked that they were getting the worst of it now; and he said that if they were beaten it was taking four countries to do it. They said they were getting tired of it. They seem to be as well off as we are, and have plenty of everything. One German gave our officer a letter to post to a lady he knows in Essex. I had such a funny feeling talking to our enemy, who would seek to shoot us on the morrow; but there was another surprise for us. Next day they came over and stood up on the trenches. We could walk and go where we liked.
Later the same night we herd that they were going to make an attack, so we prepared for it by getting our artillery ready to shell them; but not a rifle shot was fired, and they didn't attack. Next morning, being the third morning of peace, they came over half-way to inquire what was the matter with our artillery last night, that it had killed a lot of their chaps. They came to the conclusion that it was the French. All day they never fired a shot. In the evening we were relieved by the ————–. The Germans knew we were being relieved, and asked us to tell them not to fire, and if they got the order to fire high, and they would do the same. I don't know how they got on since, but we are going back to-morrow. That would never end a war, would it? I think the Germans are tired of it, and would never shoot if we did'nt shoot first. I must say some of them are very nice fellows, and did not show any hatred, which makes me think they are forced to fight. I wrote you a letter telling you we made a bayonet attack. I wonder if you got it. We lost a few men. The Germans helped us to bury them on Christmas Day.
(Hand dated: O.T. 23-1-15)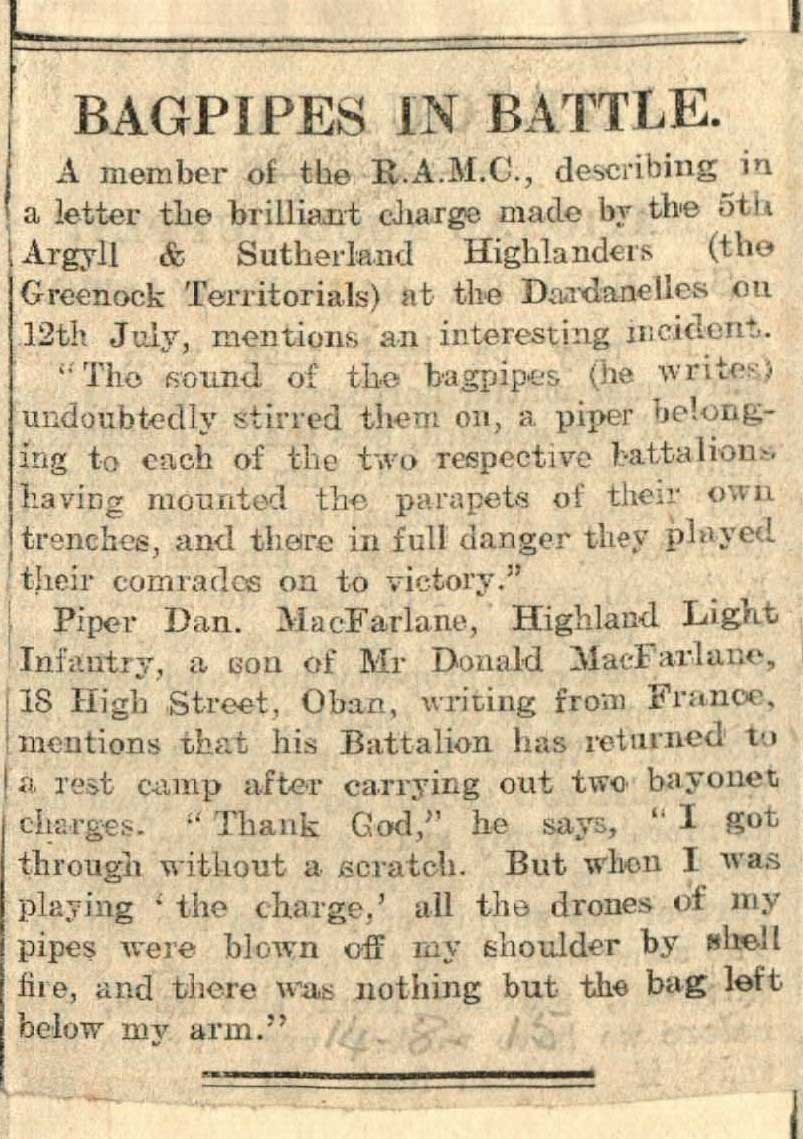 BAGPIPES IN BATTLE.
A member of the R.A.M.C., describing in a letter the brilliant charge made by the 5th Argyll & Sutherland Highlanders (the Greenock Territorials) at the Dardanelles on 12th July, mentions an interesting incident.
"The sound of the bagpipes (he writes) undoubtedly stirred them on, a piper belonging to each of the two respective battalions having mounted the parapets of their own trenches, and there in full danger they played their comrades on to victory."
Piper Dan. MacFarlane, Highland Light Infantry, a son of Mr Donald MacFarlane, 18 High Street, Oban, writing from France, mentions that his Battalion has returned to a rest camp after carrying out two bayonet charges. "Thank God," he says, "I got through without a scratch. But when I was playing 'the charge,' all the drones of my pipes were blown off my shoulder by shell fire, and there was nothing but the bag left under my arm."
(Hand dated: 14-8-15)
Stay tuned to pipes|drums for the next in our ongoing "Chanters silenced: pipers lost in the Great War" series, leading up to November 11.