Chisholm and charity win at the 2019 Boney Music Memorial Invitational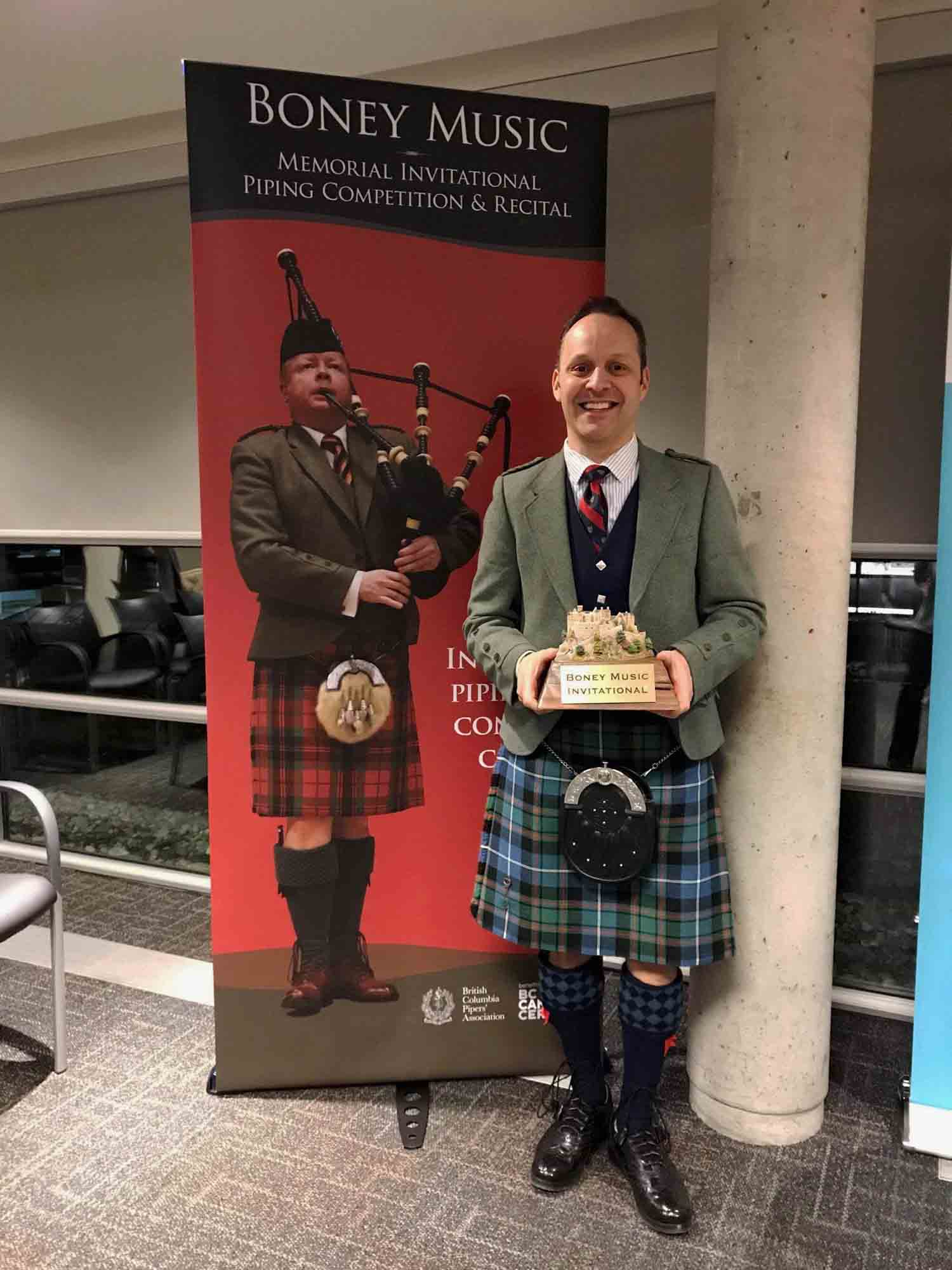 February 9, 2019 – Burnaby, British Columbia – Jori Chisholm of Seattle won the fourth annual Boney Music Memorial Invitational Piping Competition & Recital, held at the Halpern Centre on the Burnaby campus of Simon Fraser University.
1st Jori Chisholm
2nd Alastair Lee, Surrey, British Columbia
3rd John Lee, Surrey, British Columbia
Also competing were Zephan Knichel, of Surrey, British Columbia, and Andrew Lee, also of Surrey. All pipers put on significantly entertaining performances, each playing for up to 20 minutes, including tuning, with the only requirements:
At least one tune written by Andrew Bonar played at any point during their recital.
Ground of a piobaireachd.
At least three two-parted reels.
At least one tune that is not in a typical bagpipe time signature (i.e., not 2/2, 2/4, 3/4, 4/4, 6/8, 9/8 or 12/8).
At least two 3/4 marches (minimum two parts each).
David Hilder, Rob Menzies and Hal Senyk judged, but were not identified as adjudicators until the prize giving.
Terry Lee emceed the event, and Dr. Brian Thiessen, Chair of the brain tumor group of the BC Cancer Agency, who cared for Andrew Bonar during his surgery and treatment, spoke on the treatment advances being made at the BC Cancer Agency and how donations support this important research.
At the time of announcing the results, the event raised more than $2,300 for brain cancer research for the British Columbia Cancer Foundation, $800 of which was donated from viewers watching the event online on the British Columbia Pipers Association's Facebook page.
In addition to making the 150 mile trek north to event, Chisholm contended with unusually heavy snow that blanketed the Seattle area.
The BC Pipers' Association continued the event that BCPA Life Member Andrew Bonar began in 2016 to utilize piping to further advance charitable causes. Nearly 90 people attended the event and a peak of 85 people watched online, the second year the event was livestreamed.
One of the world's best pipers and a five-time winner of the World Pipe Band Championship with Simon Fraser University, with which he played for most of 30 years, Andrew Bonar died at the age of 51 due to complications from a rare form of brain cancer.
Donations to the Boney Music Memorial Fund, which helps support the event and other causes that were dear to Andrew Bonar, can be made here.