Collection of more than 6,000 piping and drumming stories now available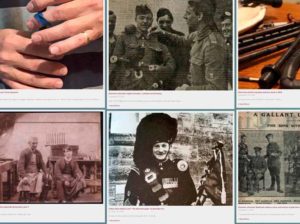 A collection of more than 6,000 interviews, features and videos about piping and drumming about some of the greatest pipers and drummers and lovingly written by many of the world's best exponents of the art is now available, just in time for Christmas.
Imagine you or your best piper/drummer friends while away the relaxing holidays with a nice cup of tea or fine dram, absorbing this wondrous collection.
If we told you that this incredible compendium of the best that the piping and drumming world has to offer is yours for less than $13 / £8 a year, would you believe it?
Well, it's true! You've drunk the piping and drumming Kool-Aid. You are committed to this lifelong obsession. You have no problem (quite right) parting with several hundred bucks/pounds for a new chanter or dropping several thousand to trek to Glasgow to kiss the cornerstone of the National Piping Centre.
There is no going back.
It's time to treat yourself to this fabulous, extraordinary, unique, and always original Christmas present by clicking right here for a subscription to pipes|drums!
Or, if you're one of the thousands who already faithfully subscribes – first, thank you, and, second, how about gifting this incredible collection to your piping /drumming bestie?!
As that piping savant Bruce Gandy says, "My annual subscription to pipes|drums gives me first 'go-to' access for all of my piping needs. Results, headline news, varying general interest stories, all well covered, combined with the thoughtful editorials, make for great reading. Add to that, pipes|drums contributes a lot of money each year to charities and contests to support the big picture and you realize quickly the added value of a yearly subscription."
Listen to Bruce. He knows what he's talking about.
We hope that you subscribe, and curl up next to a source of heat (or air conditioning if you're in Oz or NZ or SA or Brazil or Equador . . . or wherever else pipes|drums is read in the southern hemisphere), and enjoy everything that we have put together, just for you, over the last 30 years.
pipes|drums doesn't sell anything except subscriptions and advertising. We don't pocket a penny and never have. All funds are plowed back into the publication and, whatever is left over, we give to similar non-profit piping/drumming causes.
Okay, after all that, and you still won't pry open your moldy sporran for a subscription, how about a donation of $5 or more? Trust, us, after reading all that free content, your conscience will appreciate it!
At any rate, thanks for reading, and we hope that you enjoy pipes|drums.
And, as always, stay tuned.