Cook the right recipe for Glasgow Skye L-D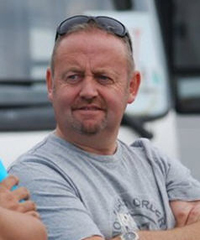 The Grade 1 Denny & Dunipace Gleneagles and the Grade 2 Glasgow Skye Association each announced that they'd be looking for new leading-drummers at almost the same day, now it turns out that Denny's former-L-D Arthur Cook has been selected for the open Glasgow Skye post.
Cook, a former World Solo Drumming Champion, replaces Jim Whitfield, who had held the position for seven years, and played with the band through the end of the 2015 season.
"This is an exciting time for the band and during this period of rebuilding the band are looking to invite interested pipers and drummers to join our ranks," said Glasgow Skye treasurer Dougie Orr in a statement to pipes|drums.
The move follows the August 2014 appointment of Ewan Henderson as pipe-major of Glasgow Skye.
Both bands were out of the prize-lists at the 2015 RSPBA majors. Glasgow Skye finished as high as a seventh at the European Championships, and competed at a total of six events in the season. Denny & Dunipace was consistently at or near the bottom in Grade 1 majors.
Glasgow Skye will celebrate its fiftieth anniversary in 2018.
"The band is looking to develop and progress as we work towards the milestone," Orr added.
Denny & Dunipace has not yet announced who its new L-D will be.