Cover story: Greg Scott of Highland Gear innovates with the essentials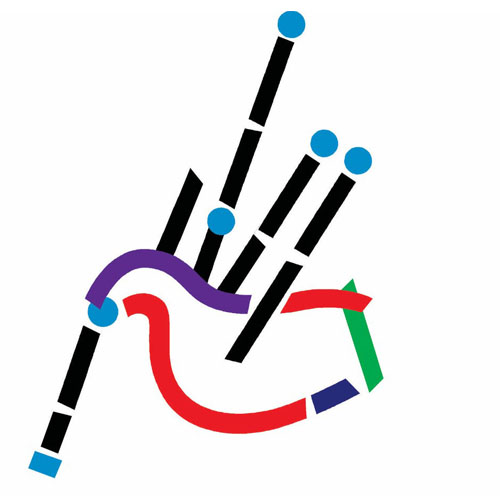 If you thought there couldn't be much room for innovation with such a basic item like a bag cover, well, you'd be wrong.
For more than a century, at least, the cloth covering for the pipe bag didn't have much variety. You could get it in wool, or velvet, or maybe if you were really adventurous . . . corduroy.
By the early 1980s, pipers were seriously tired of their bag slipping down their arm. They'd try everything to keep the dang thing up. Exasperated players would glue rubber jar openers to it, sew on scouring pads for dishes. In one famous instance, a Grade 1 band pipe-major even cut out the entire left side of his kilt jacket to keep the bag pressed more securely against his ribs.
It seemed like a lost cause.
But Greg Scott of Newmarket, Ontario, recognized an opportunity to help.
He took his skills as a textile craftsman to work, and in the early-1990s, came out with his first custom line of bag covers. They precisely fit the contour of the player's pipe bag. The covers caught on, the requests from bands started to come in as word-of-mouth took over, and ultimately Highland Gear was formalized as a company.
Over the years, Scott has expanded his offerings. Today they include bag covers with custom embroidery and trim and covers made with Sunbrella water-repellent fabric – essentially a tasteful raincoat for one of the most sensitive parts of the sensitive instrument. Most recently, he launched a cover with a mechanism that promises to keep the bag locked under the arm.
He's launched product extensions like custom waterproof covers for pipe band drums, custom embroidered flashes, and products for the storage of complete uniforms.
He's been successful with his innovations to the point where he now has to compete with others who have taken inspiration, launching their own products trying to improve on what only a few decades ago hadn't changed since MacCrimmon.
A testament to his success is the fact that five of the six Grade 1 prize winners at the 2019 World Championships played Highland Gear bag covers, including World Champions Inveraray & District. Greg Scott proudly displays a framed gift from the band that features the bag cover that Pipe-Major Stuart Liddell used to win the prize – returning the favour, with thanks.
After almost 30 years of new ideas for piping and drumming products, we thought it was about time to put a face to the name. We sat down for a brief video conversation with Greg Scott to discuss the evolution of his company, his products and his expanding worldwide roster of satisfied customers.
Editor's note: Highland Gear is a long-time advertiser with pipes|drums.
---
Related

Something wicked this way covers

---

G1 at 10: the prominent reed and chanter maker celebrates a decade (video)