Videos: Diepenhorst wins 20th annual Sherriff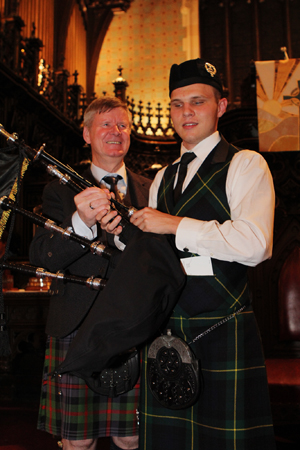 Hamilton, Ontario – November 21, 2015 – The 20th annual George Sherriff Memorial Amateur Invitational Solo Piping Competition was won by Austin Diepenhorst of San Diego against a field of nine others from across North America in the three-event contest. Diepenhorst emerged the winner after winning the March, Strathspey & Reel and 6/8 Marches events. Kevin McLean of Maple Ridge, British Columbia, who won the Piobaireachd and was third in the 6/8 Marches and fifth in the MSR was second overall. The competition is organized by the Pipers & Pipe Band Society of Ontario and managed by Bob Worrall. Trish Kirkwood was emcee throughout the day, which started at 10 am and finished around 9:30 pm, and was held at St. Paul's United Church in downtown Hamilton.
The competition had more than 40 sponsors, including pipes|drums, Iain MacDonald Reelpipes, John Walsh Bagpipes, R.G. Hardie & Co. and McCallum Bagpipes.
Overall
1st Austin Diepenhorst
2nd Kevin McLean
3rd Ryan Praskovich, Pittsburgh
4th Tyler Bridge, Guelph, Ontario
5th Andrew Hutton, Brantford, Ontario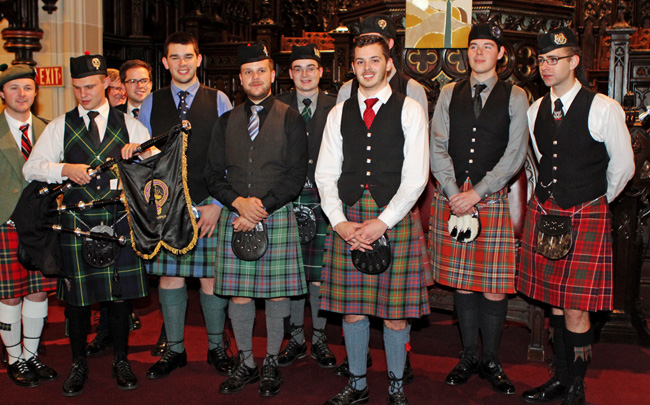 Piobaireachd
1st Kevin McLean, "The Groat"
2nd Ryan Praskovich, "The MacGregors' Salute"
3rd Tyler Bridge, "The Big Spree"
4th Sean Regan, Woodstock, Virginia, "The King's Taxes"
5th James Dyson, Dartmouth, Nova Scotia, "Scarce of Fishing"
MSR
1st Austin Diepenhorst, "John MacColl's Farewell to Kilbowie Cottage," "The Islay Ball," "The Grey Bob"
2nd Ryan Praskovich, "Knightswood Ceilidh," "The Piper's Bonnet," "Miss Proud"
3rd Christian Rhoads, St. Louis, "Colin Thompson," "John Roy Stewart," "Alick C. MacGregor"
4th Jack Toohey, Newberg, Oregon, "Arthur Bignold of Lochrosque," "Lady Louden," "Bessie McIntyre"
5th Kevin McLean, "John MacDonald of Glencoe," "Tulloch Castle," "The Sheepwife"
6/8 Marches
1st Austin Diepenhorst
2nd Andrew Hutton, "Miss Ishbel T. MacDonald," "The Price of a Bottle of Beer"
3rd Kevin McLean, "Cameron MacFadyen," "Jean Mauchline"
4th James Dyson, The MacNeils of Ugadale," "All the Blue Bonnets are Over the Border"
5th Tyler Bridge, "Bonawe Highlanders," "Dundee Police Pipe Band"
Also playing but not in the prizes was Blaise Theriault, Halifax, Nova Scotia.
All of the events were judged by Andrew Berthoff, Andrea Boyd and Ian Duncan.
Videos from the MSR begin on the next page.