Dowco Triumph Street takes un-fly-in tack for World's

The Grade 1 Dowco Triumph Street Pipe Band of Vancouver like most bands is in recruitment mode. Unlike most Grade 1 bands, they're recruiting from 4,500 miles away, encouraging interested pipers and drummers in the UK to inquire about joining monthly practices in Glasgow.
According to Pipe-Major David Hilder the band already has at least 10 players in Scotland committed to the band, and practices will be run usually by Ullapool, Scotland-based Gary Nimmo, who has been a member of the Dowco Triumph Street for a few years.
The idea of "fly-in" players is familiar, especially to non-UK bands that load up the ranks for bigger contests, chief among them the World Pipe Band Championships each August in Glasgow. Belfast-based Field Marshal Montgomery has a strong contingent of members from Scotland, and Glasgow-based pipe-sergeant Alastair Dunn runs regular practices in Glasgow.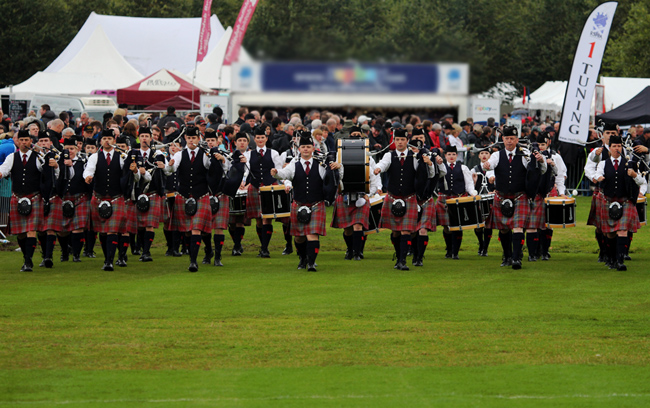 Hilder also plans to make the 13 total flight-hours journey to Glasgow a few times in the year. The Dowco Triumph Street approach is likely a first for a North American band.
"In the age of out of town players to field a strong and competitive band, often the out of town players feel left out," Hilder said. "The connection to the band in the off-season is something that the players have told me they want. This will give the Scotland group a sense of belonging and have them get together to get a really good feel for the music."
When asked whether the full complement of pipers and drummers will be available to compete with the band at any contests apart from the World Championships, Hilder said, "I think it's always the intent of every band to field their full band as many times as possible in the season, we are no different. Dowco Triumph Street will target the key contests and put a strong band out every time."
As Grade 1 bands have become larger and more complex, many talented pipers and drummers around the world are joining bands as occasional players in competition, attending practices only occasionally, choosing instead to prepare mostly from home. The approach allows them to avoid the expectation or pressure to attend weekly or twice-weekly practices if they played with a local band.
Hilder did not respond when asked if any of the UK-based players will displace any members based in the Vancouver area when the band competes at the World Championships.
Dowco Triumph Street has qualified for the Grade 1 World's Final the last several years, including last year, but so far has not made the prize-list.