Down under, up and over: the Victoria Police World's win 20 years later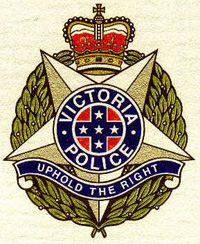 How World Pipe Band Champions are treated by history is always decided by time. Years have to pass before we realize the historical significance of some wins over others.
In 1977, Dysart & Dundonald showed that a bunch of mostly homegrown youngsters from Fife could rapidly rise through the grades to become world-beaters against wizened pipe band veterans.
The Strathclyde Police in 1986 were in seemingly unbeatable form, completing their sixth consecutive capture of World's glory under Pipe-Major Ian McLellan.
The pinnacle of pipe band success of course left for Canada for the first time in 1987, when the 78th Fraser Highlanders picked off the prize, making history.
St. Laurence O'Toole in 2010 showed that the notion that Irish bands can't play strathspeys was absurd, with a stellar two performances gaining the title.
Field Marshal Montgomery's 11 World's wins seemed to take the standard to the next level, and, of course the 2015 Shotts & Dykehead Caledonia victory demonstrated just how fast a band can come from almost dissolving to top-of-the-world glory.
Inveraray & District's 2017 win showed that it's possible to come from Novice Juvenile to World Champions in only a decade.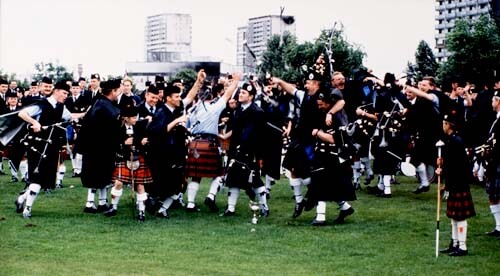 Twenty years ago, on August 15, the Victoria Police Pipe Band of Melbourne, Australia, made a significant impact on pipe band history when Pipe-Major Nat Russell attached the famed RSPBA banner to his bass drone.
Here was a band that routinely travelled 11,000 miles to Glasgow, in the middle of the Australian winter and their competition off-season, using new technology in near-scientific ways to mark a turning point in how bands operate, tune and literally attack the competition. The band brought with them a then unparalleled commitment, with single-minded focus on gaining the biggest prize there is.
And it worked.
The Victoria Police had risen through the ranks under Russell, who immigrated to Australia in 1987 from Northern Ireland. He had been pipe-major of the Grade 1 Royal Ulster Constabulary Pipe Band, which he had brought up from Grade 3 to be a consistent Grade 1 prizewinner at major championships. In Melbourne, Russell took over a Grade 2 unit of pipers and drummers, the nucleus of a band with potential.
He brought with him fiercely competitive can-do leadership skills, and set about whipping the band into shape. He would introduce them to Grade 2 competition in Scotland, where his players quickly realized what was needed to be successful at a world level.
With a promotion to Grade 1, in 1989, the "Vicky Police" by 1992 found itself finishing third at the World's, and steadfastly returned each year essentially to hold steady, in and out of the top-three, competing head on with perennial contenders and winners Simon Fraser University under Pipe-Major Terry Lee, Pipe-Major Robert Mathieson's Shotts & Dykehead Caledonia, Boghall & Bathgate Caledonia under Pipe-Major Ross Walker, and Field Marshal Montgomery led by Pipe-Major Richard Parkes.
Victoria Police tied second and placed third on ensemble preference at the 1997 World's, a hair's breadth from securing the title. Coming so close, the band returned home wondering whether they could ever bust through the door it had been knocking on continually for the better part of a decade.