Duncan wins Wheel; Hazzard gets the Joke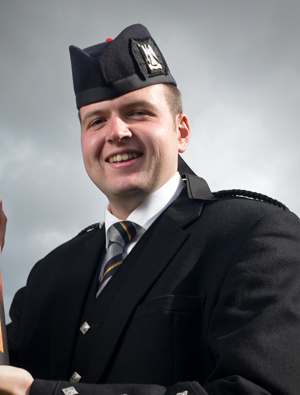 Danderhall, Scotland – February 11, 2017 – Ben Duncan of Edinburgh was the overall winner of the annual Pipe-Majors Wheel of Fortune solo piping and humour competition, held at the Danderhall Miners' Club and put on by and as a fundraiser for the Grade 2 City of Edinburgh Pipe Band. The contest has contestants playing three sets of tunes, starting with an MSR of their choice, then a light music medley of their choice, and then a selection of tunes determined by spinning the Golden Chanter on the Wheel of Fortune.
The competitors then have to tell a joke that is judged by the audience.
Overall
1st Ben Duncan
2nd Sarah Muir, Campbeltown, Scotland
3rd = Lachie Dick, Edinburgh, and Jenny Hazzard, Edinburgh
Duncan won the MSR and Hazzard won the Joke event, which was judged by the audience. Her joke featured the characters Barry, Rab and Seumas.
Also competing were Gordon Bruce, Kilwinning, Scotland; and Jonathon Simpson, Bo'ness, Scotland. Allan Russell, Kelty, Scotland, couldn't make the event due to car trouble, and 2016 winner Douglas Murray had to withdraw from the event in January.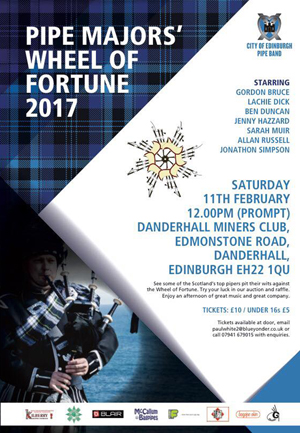 Four of the five tune categories in the selection are determined by competitors spinning the wheel when they arrive at the competition, and the final category of tune is determined by a member of the audience spinning the chanter as each competitor comes on stage. Competitors have a Joker that they can use once to deselect a category they don't like.
The tunes can be played in any order but must be combined to form a continuous medley.
This year's tune categories were 1. a Donald MacLeod composition, 2. a 4/4 march, 3. a Gaelic or Irish air, 4. a tune composed by Gordon Duncan, 5. a tune written by G.S McLennan tune, 6. a hornpipe, 7. a 9/8 march, 8. a composition written by the competitors, 9. the ground of a piobaireachd, 10. a polka, 11. two Irish jigs, 12. two Irish reels.
Judging the piping were Ian Duncan, Allan Forbes and Alan MacDonald, and Angus Clarke served as Fear an Tighe.